Thanks so much for keeping up with my commentary on the game and I hoped you enjoyed Brazil's six minute masterclass of how to win a game in such a great way.
One man who didn't coat himself in glory is Tite, who took a huge tumble in Brazil's goal celebration, hopefully he doesn't carry on with these celebrations otherwise he will end up in hospital if he's not careful!
Brazil had chance after chance during that second half and my goodness they left it late to get all three points.
Costa Rica were unlucky to be beaten but it now makes their chances of qualification that much more harder if not impossible if Serbia beat Switzerland later.
A lovely photo of the two matches winner who in the last six minutes have made Brazil's chance of qualifying for the quarter-finals much more likely.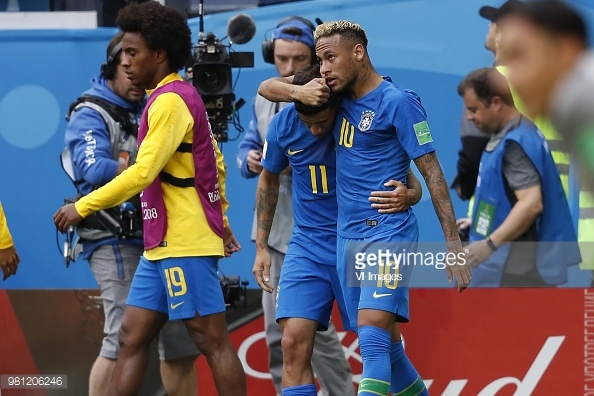 Full time Brazil 2-0 Costa Rica.
96- Fernandinho plays in Costa who put the ball across the box for Neymar to tap into an empty net to make it 2-0.
93- A great one two from Firmino and Coutinho and the Liverpool striker puts his effort past the post.
92- Firmino is now the lone striker.
92- Jesus is replaced by his Manchester City teammate Fernandinho.
90- Right on time Brazil make it 1-0. What a goal Marcelo's cross is knocked down by Firmino to Jesus who lays it onto Coutinho who puts it through Navas' legs.
90- There will be six minutes of added time.
86- Costa puts the ball back for Casemiro whose effort is straight at Navas.
84- Coutinho's curled effort balloons up and into the arms of Navas.
83- Acosta is booked for time-wasting.
82- Guzman is replaced by Nelson Tejada.
80- Neymar gets the first card of the game and not surprising with him and Kuipers having words all throughout the game.
79- Referee Kuipers turns it over and Costa Rica survive a major scare.
78- VAR are looking at this.
77- Great play by Brazil sees Jesus backheel to Neymar who then cuts inside and is pulled down for a penalty.
75- The corner comes to nothing.
75- The ball finds it way to Neymar, but his effort is deflected away for a corner.
75- Gamboa is replaced by Francisco Calvo.
72- Gamboa makes a mistake and Neymar picks it up and tries to curl it into the top right corner, but he puts it just past the post.
70- from the resulting corner, Casemiro heads his effort straight at Navas.
69- Casemiro cross is deflected behind for a corner.
68- The resulting corner comes to nothing.
68- Coutinho picks out Neymar, but his touch lets him down again and Oviedo puts it out for a corner.
67- Paulinho is replaced by Liverpool striker Roberto Firmino.
63- Neymar's effort from just outside the box is comfortable for Navas.
57- Paulinho puts another cut back into the box and Costa touches it back to Coutinho, who fires straight at Navas.
56- The following corner comes to nothing
55- Paulinho cut back cross picks out Neymar whose effort is acrobatically tipped over the bar by Navas.
54 - Christian Bolanos replaced Urena for Costa Rica.
49- The following corner comes to nothing.
49- More like it from Brazil as Paulinho's cut back pass finds Coutinho who then sees his effort deflected just past the post.
48- Jesus's header comes off the crossbar when it looked destined to find the top corner.
47- Coutinho's cross just evades Neymar and is claimed by Navas, however Navas does take a whack on the knee from Neymar in the process.
A half time change for Brazil, Willian is off and replaced by Juventus winger Douglas Costa.
And we are back underway in Saint Petersburg.
Neymar struggled to get into the game early on, however when he moved out to the left wing he has got more joy than he did centrally.
Half time 0-0. Costa Rica created the best chance of the game so far when Borges fired wide just 13 minutes in. Brazil will feel though that they should have a penalty for a foul on Paulinho from a corner.
40- Marcelo comes inside and hits an effort, but it is comfortable for Navas.
The Paulinho incident looks a bit like the Kane vs Tunisia incident where he was wrestled to the floor.
38- from the resulting corner Paulinho looks to have been pulled down in the box, but referee Kuipers waves it away.
38- Willian's cross comes off Oviedo for a corner.
31- Neymar gets the ball inside the box and drops the shoulder and stands one up on the back post, but Oviedo gets his head on it before Jesus, but it does not matter as again Jesus is offside.
29- Coutinho drives in off the left flank and curls one from 25 yards, but it goes over the bar.
26- Neymar gets in behind the Costa Rica defence, thanks to Coutinho's lovely pass, but his first touch let's him down and Navas comes out to thwart him.
26- Jesus fires in Marcelo's deflected effort, but it is ruled out for offside.
24- Neymar's delivery lets him down again and he over hits his cross.
17- A great flick from Neymar over the head of Gamboa and he is fouled once again.
16- Neymar's delivery into the box from the free kick is well defended by Costa Rica.
16- Make that a second foul on Neymar and he looks to be limping now, which is not good news.
14- Neymar has already been fouled early on.
13- what a chance! Gamboa gets down the right wing and pulls it back for Borges who fires his effort wide of the left hand post.
12- Casemiro is back on the pitch.
11- Casemiro kicks the ball out of play due to him suffering a nose bleed so Brazil continue for the minute with ten men.
09- The resulting free kick from Neymar comes to nothing.
08- Willian is fouled from behind by Guzman just outside the box.
06- Christian Gamboa picks up the ball 30 yards out and fires his effort into the stands.
03- Coutinho beats Ruiz to the ball just outside the area and lets fly but it goes over the bar.
02- As expected Brazil are enjoying most of the possession in the early stages of the match.
Bjorn Kuipers blows his whistle and we are underway!
It's great to see the Brazil squad belting out their national anthem with such enthusiasm.
The crowd is dominated by Brazil supporters today who will be hoping their team can produce the form, which has everyone fancying them to win the tournament.
The teams are out of the tunnels.
Just ten minutes till kick off now!
The Costa Rica fans look in great spirits heading into the game and will enjoy ever moment of seeing their team go toe to toe with one of the tournament favourites.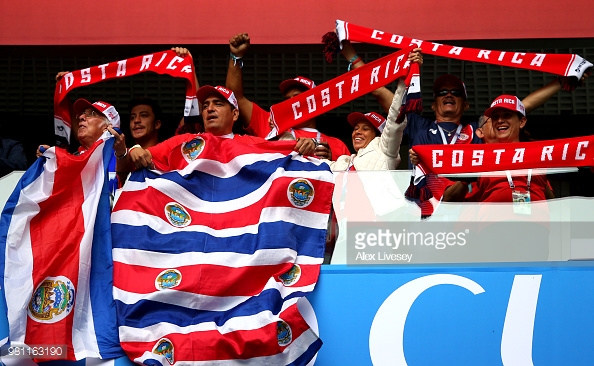 The home side look very focussed on the task in hand, which is keeping their World Cup hopes alive and it starts in just under 20 minutes!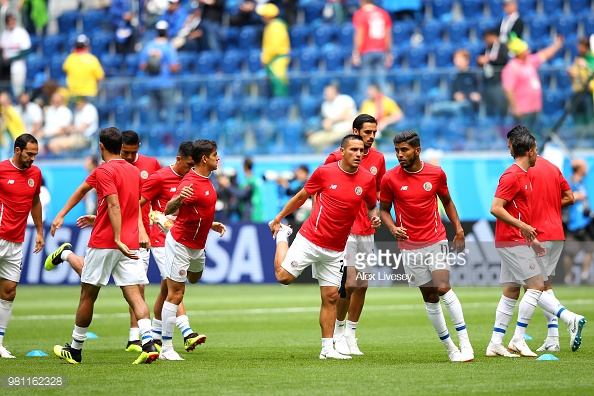 Another interesting decision from Costa Rica was the decision not to start Arsenal's Joel Campbell who is an exciting winger, whose pace and skill would have been key. Instead he on the bench, but may Ramirez is saving him for later and the chance to run at a tired Brazil defence late on.
The whole Brazil team look relaxed going into the game, but hopefully they are not that relaxed on the pitch as it may means they underestimate what is a tough task in Costa Rica.
And by contrast here is the World's most expensive player, looking very relaxed with kick off under half an hour away.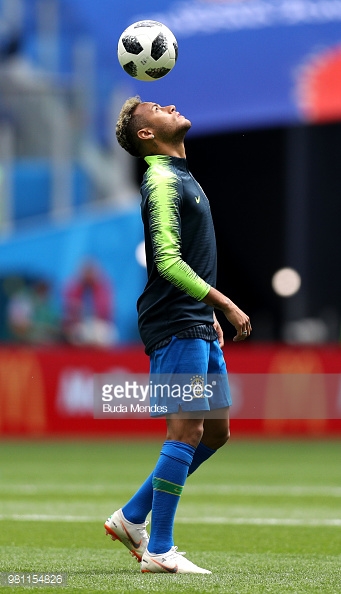 Below is a lovely photo of Johan Venegas praying on the pitch just a short while ago and my does he need to pray for a miracle if Costa Rica are going to keep their World Cup hopes alive!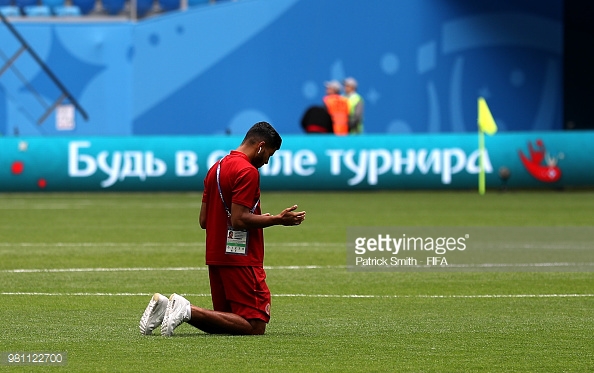 Costa Rica will be out of the World Cup if they lose against Brazil
It's wide open as you can see, with Serbia taking on Switzerland later, but if Brazil can get all three points they will go top temporarily.
A reminder of how the Group E looks heading into matchday two picture courtesy of Sky Sports:

Another interesting point will be how Costa mark Neymar, Switzerland did a great job of it. They fouled him nine times in the game. Costa Rica coach Oscar Ramirez admitted Neymar will be closely tracked: "Maybe we will mark him with two men, we will see."
It will be interesting to see how Costa Rica come out do they go out and attack Brazil and get an early goal, or do they sit back and try and hit Brazil with their pace on the counter?
The home side will be hoping one of their key players, captain Bryan Ruiz cam put in a good performance as he will have to if they stand any chance of winning.
Brazil will be hoping Philippe Coutinho can pick up where he left off against Switzerland and he was one of their standout performers in their draw against Switzerland.
It will be interesting to see how Brazil's front three get onto today, with them failing to do much in the draw against Switzerland in matchday one of Group E.
The only change for Costa Rica from their defeat sees former Everton full-back Bryan Oviedo replace Calvo
The only change for Brazil sees the injured Manchester City full-back Danilo replaced by Fagner
Then we have the five-time champions Brazil whose lineup is: Alisson, Fágner, Thiago Silva, Miranda, Marcelo, Coutinho, Casemiro, Paulinho, Willian, Gabriel Jesús, Neymar
Let's start with Costa Rica who lineup as follows: Navas, Gamboa, Acosta, González, Duarte, Oviedo, Venegas, Guzmán, Borges, Bryan Ruiz, Ureña
With just over an hour till kick-off, the lineups have announced.
Brazil have won nine of their 10 previous internationals against Costa Rica, losing only in a friendly in March 1960.
This is the third meeting between Brazil and Costa Rica at the World Cup, with the former inflicting Costa Rica's first ever defeat on them at the tournament in 1990 (1-0), before a 5-2 victory in 2002.
Costa Rica's only previous World Cup victory against South American opposition came in the 2014 tournament (3-1 vs Uruguay). They'd lost their previous three games against South American sides before that.
Neymar is set to start for Brazil, despite not having the best game in the draw against Switzerland. He also limped out of training earlier in the week, but is set to start despite this.
Neymar was also a huge target for Switzerland, where he spent a large majority of the game on the floor, as every time he got it he was fouled by The Swiss.
He will be looking to bounce back for this and show why he is the most expensive player in the world at £250 million.
Costa Rica have no injury concerns going into the game and are likely to stick with the same side that lost to Serbia.
They may also try to sit back and hit Brazil on the counter, but this would not be a wise idea with a side of the quality of Brazil being their opponents.
Costa Rica will be relying of their experience players like captain Bryan Ruiz and Keylor Navas to name a couple to lead from the front and help pull off an upset.
This means that like Brazil they will be hoping to bounce back with a result against one of the favourites for the tournament if they are to keep their World Cup hopes alive.
Costa Rica like Brazil did not make the start they wanted to their World Cup campaign, after they were beaten 2-1 by Serbia in their opening game.
This would be a massive shock if they did especially considering the quality of the squad with the likes of Neymar, Coutinho, Gabriel Jesus and Roberto Firmino to name just a few names.
They were left disappointed after taking the lead from Philippe Coutinho's stunning curled effort. However, a Stephen Zuber effort levelled proceedings and meant the Brazilian's were left with just a point rather than all three.
Brazil head into the game, looking to bounce back from their opening game draw against Switzerland.
Costa Rica head into their game against Brazil knowing that they need at least a point to keep their World Cup hopes alive.
Good afternoon ladies and gents and welcome to VAVEL UK's live minute-by-minute commentary of Brazil vs Costa Rica. I'm Adam Stenning and I'll be taking you through the game, with kick-off at 1PM UK time.