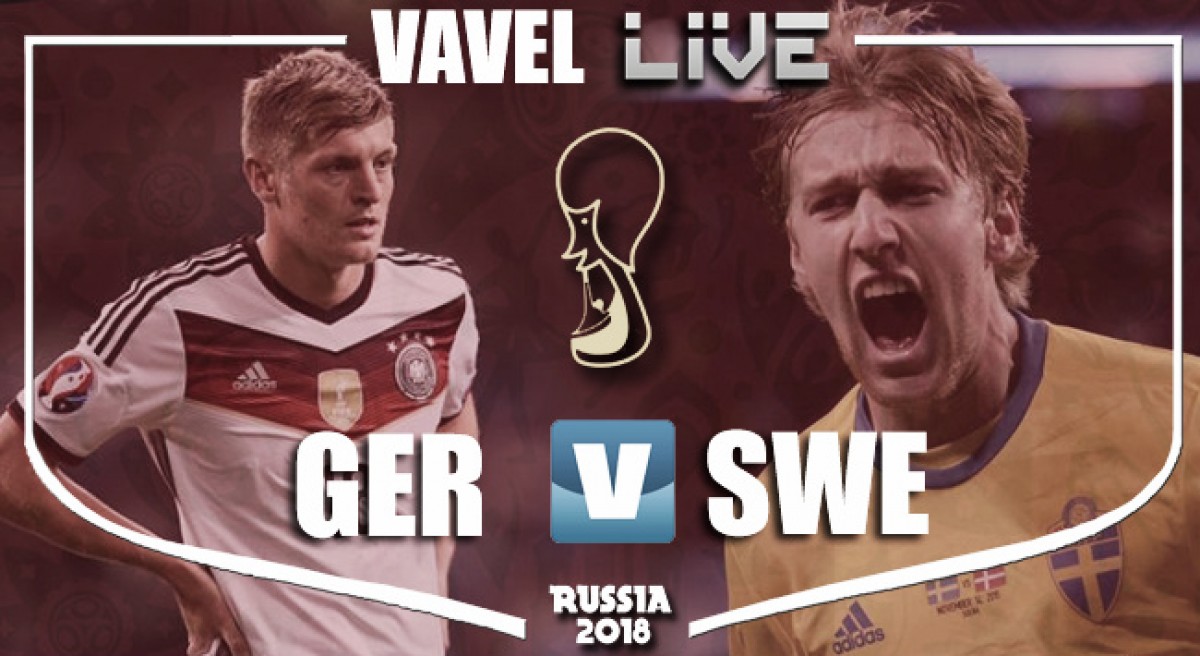 It was a pleasure commentating on this game for you, this wraps up the day for us. I've been Jakub Bobro, and I'll see you next time.
Some credit must be given to Sweden, as they hold on until the last minute, having only 29% of possession, and Germans completing three times as many passes.
Toni Kroos gives Germans to win, puts them tied on points with Sweden.
Assistant coaches and substitute players from both sides get into a bit of a fight, not shown by the broadcasters, only told to us by the referees.
Full time!
90+5: Kroos plays it short to Reus, who stops the ball and Kroos puts it behind Olsen with extraordinary bend and power. 2-1 Germany!
GOOAAAALLL!!!!! I WAS SO INCREDIBLY WRONG AND TONI KROOS PROVES IT!!!!
90+4: A free kick from Germany, not an angle to score from.
90+2: HOW DID THEY NOT SCORE!? Brandt hits the post from 20 yards out, and Werner can't get the rebound into the empty net.
5 added minutes! Germany are still forward, looking for the winner.
89: Substitution: Striker Marcus Berg comes off for Isaac Kiese Thelin, fresh legs.
88: Robin Olsen absolutely saves Sweden! Mario Gomez gets a header from just eight yards out and Olsen saves with incredible reflexes.
87: Substitution: Left-back Jonas Hector comes off for left-mid Julian Brandt. Germany are going for the win with ten men.
84: Guidetti almost gets Sweden ahead, but Neuer produces an incredible late save to keep Germany in this World Cup.
82: Boateng comes in with a strong tackle from the back on Berg, on a yellow, gets red carded. Didn't do it initially, probably advised by VAR or assistant referee. A terrible tackle from Boateng. Germany will finish the match with ten men.
81: Timo Werner tries to redirect a strong low cross from Kimmich, but scuffs it over the bar.
77: Substitution: The Swedish hero Ola Toivonen will get replaced by striker John Guidetti. Fresh legs, hoping to see the game out.
76: Forsberg takes a left-footed volley and makes Neuer save it. Worth a try, Sweden, and especially the fans, seem to be satisfied with a draw.
74: Substitution: Viktor Claesson gets replaced by Jimmy Durmaz. A like-for-like change, looking for some fresh legs.
72: Sweden almost score an own goal as Werner's pass gets backheeled by Larsson, but it hits Olsen instead of going in the net.
71: Forsberg driving forward by himself, draws a foul from Boateng and the centre half gets rewarded with a yellow card.
68: Hesitation from the German forwards after a Boateng ball over the top may have cost them a goal. Gomez got there in the end but only put it over the bar and was called offside, though VAR would have probably corrected that decision if a goal was scored.
65: The ball bounces to Kroos just outside of the box after a Gomez header, Berg's deflection makes it fly way over.
61: Big chance for Germany as Kimmich squares the ball across, catches Reus behind his body and he tries to catch it with a backheel, Gomez doesn't react fast enough to the miss, but he was near the ball as well.
59: Some solid defending on both sides in the last couple of minutes. Nice side-to-side football, but the defenders deal with the two-on-two and similar situations well.
57: Hector gets inside the box and gets a volley away, but a solid save from Olsen came.
53: Albin Ekdal gets shown a yellow after a hard tackle on Muller. First booking of the game.
51: Muller heads the ball just wide after a Kroos free kick. Germany are looking for a second right away.
48: Timo Werner squared the ball across the box, Gomez brings the ball up and Reus knees it in. Germany can catch their breath.
GOAAAAAAAL!!! MARCO REUS TIES THE GAME UP!
Germany kick off the second half!
Substitution: Mario Gomez comes on for Julian Draxler. Adds some threat in the air and it seems that Germany will switch to a 4-4-2 or more like a 4-2-4.
Halftime!
45+2: Neuer comes up with an incredible save to finish the first half. Berg gets a header away after a free kick, and Sweden were almost 2-0 up!
45: Boateng takes the shot outside the box with his left, catching the keeper by surprise but missing narrowly.
2 added minutes!
44: Sweden produce another great chance. Forsberg curves the ball, it gets to Claesson who fails to take it first time and is close down by Hector.
39: Germany now with a huge chance! Gundogan's shot gets deflected and Olsen struggles to make a save, Lustig gets to the ball fractions of a second before Muller.
36: Germans look a bit more nervy in their buildup and Sweden are incredibly active in the defense, intercepting balls left and right.
33: An incredible surprise! Berg intercepted a pass from Kroos, a long ball to Ola Toivonen who runs between Kimmich and Rudiger and chips the ball past Manuel Neuer! Toivonen scored only twice this season for Tolouse, but puts Sweden ahead here. If the result holds, Germany would be eliminated after just two matches as defending champions.
GOOAAAAAALLLLL!!!!!!!!! OLA TOIVONEN PUTS SWEDEN AHEAD!!!!!
30: Substiution: Ilkay Gundogan comes on for Sebastian Rudy, who was very visibly frustrated with the decision
29: Sweden have had a nice attacking spell here, trying to take advantage of playing against ten men temporarily. Hector clears a cross in front of Toivonen.
27: Rudy not back on the pitch yet, Gundogan and Khedira are warming up.
25: Stop has been played for Sebastian Rudy after he received the left foot of Ola Toivonen in the face. A lot of gushing blood from the centre midfielder's face. No foul as Rudy slid in and Toivonen just happened to catch him in the face as he jumped over him.
21: Germans are still the ones controlling the game with their build-up play, but Sweden do get the occasional long ball to Marcus Berg.
18: Berg gets a shot just outside the box but it is blocked.
16: No review done. Definitely a mistake by VAR to not call the ref to have a look on the screen.
13: Incredible chance for Sweden! Marcus Berg got on a breakaway counter-attack and had just the keeper to beat before Boateng came in with a last ditch tackle. The move started with last-man Rudiger lost the ball to Toivonen. To me it seems Boateng got none of the ball and we should see have seen a penalty for Sweden.
11: The pass ratio after 10 minutes is 122 to 6 in the favor of Germany.
9: It's just chance after chance. Kimmich plays Reus through on the right of the box and Lindelof has to turn it away just in front of Werner.
8: Draxler squared the ball across the box, but Werner doesn't slide into it.
7: Aaaaaand I jinxed it. Forsberg works the ball from the half-line to the box but is closed down well.
6: Sweden haven't really had possession in the opposition half yet.
3: Solid chance for Germany as they work the ball into the box but Timo Werner can't tuck it behind Olsen.
1: Sweden are sitting back from minute one. Germany got forward but Muller didn't find anyone with his cross. A correction: Marco Reus is sitting behind Werner, Draxler on the left.
And Sweden have kicked off the match!
The players are out, anthems are being sung.
The crowd seems to be predominantly German fans, but there are some pockets of yellow, and one particularly large Swedish island in one of the corners.
Janne Anderson makes only one change in his eleven, as Victor Lindelof comes in to replace the ill Pontus Jansson. We're less than 45 minutes away from kick-off now!
Joachim Low went for four changes from his team against Mexico. Jonas Hector came in to replace Marvin Plattenhardt at left-back, Antonio Rudiger is in for the injured star centre half Mats Hummels, Sebastian Rudy replaces Sami Khedira in the centre of midfield, and a surprise change as Marco Reus gets picked at left midfield and Julian Draxler shifts behind the striker instead of Mesut Ozil who will start the match on the bench.
Sweden XI (4-4-2): Olsen; Lustig, Lindelof, Granqvist, Augustinsson; Claesson, Larsson, Ekdal, Forsberg; Berg, Toivonen.
Germany XI (4-2-3-1): Neuer; Kimmich, Rudiger, Boateng, Hector; Rudy, Kroos; Muller, Draxler, Reus; Werner.
Lineups are announced!
Predicted XI (4-4-2): Olsen: Lustig, Lindelof, Granqvist, Augustinsson; Claesson, Larsson, Ekdal, Forsberg; Berg, Toivonen.
How will Sweden line up? They are not among the deepest of teams in this World Cup, so other than the necessary replacement centre half for Jansson. We might see a change up top, perhaps John Guidetti coming in for Ola Toivonen to give Sweden a little more pace, but Toivonen could work as a target man, as his six-foot-three frame gives him a better chance to win some aerial challenges against Germany's world class centre-backs.
Predicted XI (4-2-3-1): Neuer; Kimmich, Boateng, Süle, Plattenhardt; Gündoğan, Kroos; Müller, Özil, Reus; Werner.
How will Germany line up? The loss has certainly given Low something to think about, and while a change in the tactics is unlikely, we might see some personnel change. Hummels is injured, Sami Khedira looked very slow and a poor decision-maker, and Julian Draxler also wasn't very efficient on the left. Those are the positions I would expect changes in.
The Swedish squad have suffered with a stomach illness as starting centre-back Pontus Jansson, and unused substitutes Filip Helander and Marcus Rohden will not fly to Sochi with the rest of the squad as they do not want to risk spreading the disease. Victor Lindelof has recovered from the stomach bug and is expected to replace Jansson.
The major headline out of the German camp is Joachim Löw essentially ruling out centre-back Mats Hummels out of the match. Hummels twisted his neck, probably due to a counter-attacking Mexican zooming past him, and Low has marked him as unlikely to start.
Fisht Stadium in Sochi is the second-ever stadium to host both a World Cup and the Olympic Games alongside the Stadio Olimpico in Turin. Fisht Stadium can host up to 44,000 and this will be the third of six matches played there at this World Cup. So far, the fans in Sochi have seen nine goals in two matches, so Germany and Sweden will have a lot to live up to.
Sweden's opening 1-0 win over South Korea was a bit of a snoozefest. The Koreans sat back and seemed to be looking for a draw from the start. That changed when captain Andreas Granqvist slotted home a penalty in the 65th minute. South Korea were unable to tie the game and Sweden were off to a victorious start. It will be fascinating to see whether Sweden sit back and hope for a draw or whether they will be inspired by Mexico's quick counter attacks. I'm afraid that the former is more likely as the pace of Chicharito or Hirving Lozano is lacking in the Swedish squad.
For those that have been resting under a comfortable boulder for the last few weeks, Germany lost their opener to Mexico 0-1 after a disappointing performance. Had Mexico, and especially Miguel Layn, been more clinical, Manuel Neuer could have shipped three or four, as Mexico kept getting into three-on-two counter-attacks.
Germany and Sweden have played each other 22 times since 1911, the last match being a crazy 5-3 win for Germany during the qualification for the last World Cup in 2014. The reverse ficture earlier in the campaign ended 4-4, but I'm a bit doubtful that we will see eight goals on Saturday, as both of the teams' opening games saw only one goal each.
Hello and welcome to VAVEL UK's live minute-by-minute match coverage and commentary. Today, Saturday, 23rd June 2018, sees Germany face off with Sweden in the 2018 World Cup. This evening's game kicks off at 19:00 GMT, closing out the day. Until then - we'll have plenty of pre-match build-up and analysis from me, Jakub Bobro. Make sure you stay following.