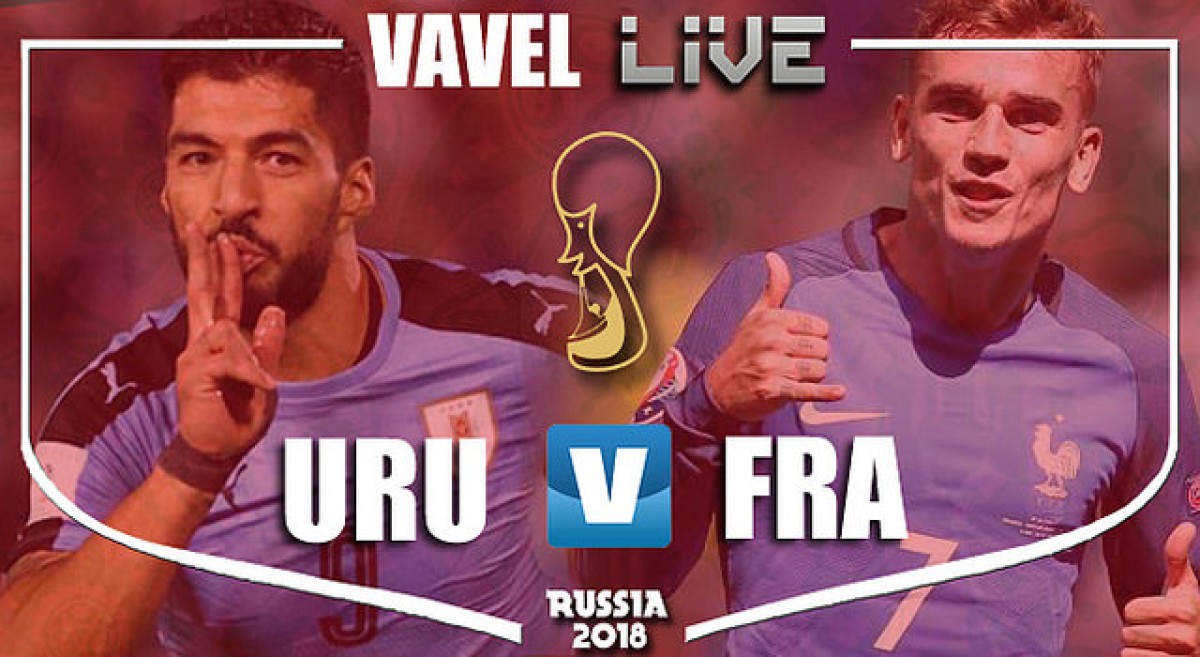 Unfortunately, that's all we've got time for today. I've been Oliver Emmerson, taking you through this World Cup quarter final, France progressing.
France deserve the win after managing the game well following their opening goal, but Belgium and Brazil won't be shaking with fear after a fairly lowkey attacking performance from Deschamps' side.
All over and France are into the last four, courtesy of goals from Varane and Griezmann.
Full-time: Uruguay 0-2 France
90+3: Griezmann off for Fekir.
90: Five minutes of stoppage time, in credit to France they've managed the game beautifully since going 2-0 up.
89: Griezmann smashes a free-kick over the bar from range, woeful effort. Gimenez is in tears in the wall, unaware the match is still being played.
88: One French prodigy off for another as Dembele replaces Mbappe.
80: N'Zonzi on for France who seem to be coasting to victory, he replaces Tolisso.
73: We're well back underway and Tolisso is found in space by Pogba, curling his shot over.
68: This is all going off, a little. Mbappe and Rodriguez get carded. Looks like a big dive to me from Mbappe to start the whole thing off. Godin steams in to get involved, scratches his arm as he lifts him up. Pogba and Nandez are scrapping, the Frenchman probably luckier of the two to avoid a booking for pulling Nandez' head down.
67: There's a scuffle going on as Mbappe hits the deck from a challenge. Uruguay, involved in a scuffle? I hear you ask.
64: Uruguay know they've got to throw the kitchen sink now, Rodriguez strikes narrowly wide as a corner is half cleared.
That might be that for Uruguay's World Cup hopes! Griezmann takes a pot shot from range, it swerves a little and Muslera tries to parry rather than catch, spilling the ball into his own net. The Frenchman almost looks to embarrassed to celebrate, such is the level of error that he's profited from.
GOAL! Griezmann scores, a huge error from Muslera!
59: Two Uruguay changes, Stuani and Bentancur off for Gomez and Rodriguez as they look to shake things up going forward.
56: Umtiti loses the ball under pressure in his own area, Nandez wasting the resulting chance with a wild shot.
53: Pavard has already scored one banger at this tournament and is after another as he launches a half-volley towards goal from 30 yards, but it ends up about 30 yards wide.
50: Good stuff from Muslera there as Mbappe thumps a crossed free-kick into the area, the 'keeper out quickly to punch away from the incoming Paul Pogba.
45: We're up and running again.
Uruguay threatened after going behind and France will be glad to get into the changing room and re-assess at half-time, they'll be looking to counter-attack in the second half whilst holding strong from Uruguay set-pieces.
That was an entertaining 45 minutes of football, let's have more of the same after the break. Each side desperate to win, evidenced by some of the challenges going in, but it's France that lead with Varane's header.
Half-time: Uruguay 0-1 France
44: WHAT A SAVE! Simply spectacular from Hugo Lloris, leaping brilliantly across goal to keep out Caceres' header, that's a contender for save of the tournament. Godin got onto the rebound, bizarrely blazing over as if he thought he was clearing the ball at the other end!
42: Nandez lashes a speculative one at goal after a corner is cleared, nicely taken by Lloris.
40: Griezmann delays his run-up and it confuses the Uruguayan defensive line, his delivery is good and Varane leaps brilliantly to flick a header across goal and into the bottom left hand corner. 1-0 France!
GOAL! Varane scores for France!
39: Bentancur gets a yellow for a little hack at Tolisso, that'll keep him out of any potential semi-final. Griezmann over the free-kick.
35: Better for France as Pogba gets Mbappe in-behind down the right, but neither Giroud or Griezmann are in the penalty area to get on the end of his low cross.
33: Yellow for Hernandez, he gives the ball away to Nandez (yes I'm laughing too) and then tugs him down to prevent a counter.
31: I think Caceres has just had a shot from his own half. That's the only logical explanation for what came from his foot. It didn't go in, if you were confused.
26: It's fair to say that the game has settled down a little after a rapid start. It's fair to say that France look a little nervous about conceding, believing they'd struggle to break down a Uruguay team defending a 1-0 lead. They're struggling to break down a Uruguay team with a 0-0 currently, as another corner is wasted.
22: France get their first corner of the game, angled into the front post by Griezmann and easily dealt with. Kante puts the ball back into the mixer but Uruguay hold firm.
15: Huge chance! Giroud does well to head Pavard's cross back across goal to a wide open Mbappe, who doesn't seem to know he has time to bring the ball down and shoot as he rushes a header over the bar. You'd have backed him to finish there.
14: Gimenez does well to power a header down from the corner, Stuani sniffing around until Lloris does well to push the ball away from danger.
13: Lots of fouls here, Suarez the latest victim as Umtiti goes through the back of him. That's a battle to keep an eye on, as the first corner of the game goes to Uruguay.
10: Hernandez isn't happy as Nandez comes in with a late one to the back, he's lucky to avoid a yellow.
6: Uruguay have started nicely here, some good feet from Bentancur in midfield is wasted as Laxalt can't deliver well down the left.
4: A real mess at the back for France after a Varane pass goes stray, Stuani unable to make good of his chance after picking the ball up at the back post.
2: Giroud is down clutching his foot, pointing at Giminez. It was an off the ball incident that nobody seems to have picked up on, replays showing a little kick by Giminez. The striker's back up though and we'll carry on.
0: Kick-off, we're underway in this one!
The two teams are out and the anthems have passionately blared, it's crunch time! Kick off imminent.
Uruguay XI: Muslera, Caceres, Godin, Gimenez, Laxalt, Torreira, Nandez, Vecino, Bentancur, Stuani and Suarez. After the departing the win over Portugal with injury, Cavani is only an option from the bench.
France XI: Lloris, Pavard, Umtiti, Varane, Hernandez, Kante, Pogba, Tolisso, Mbappe, Griezmann and Giroud.
Team News is in and here's how it shapes up for the two sides...
With these two facing a tough game today, they'll be really feeling the effects of the 'harder' side of the draw, as it's been dubbed. The winners will face Brazil or Belgium, who play later today, in the semi final - Sweden, Croatia, Russia and England will produce a finalist on the other side of the draw.
France's main selection issues come through Blaise Matuidi's suspension, with Corentin Tolisso likely to replace the Juventus man.There's been lots of criticism of the French style so far, but Olivier Giroud's presence seems to have offered more chance for the Mbappe's and Griezmann's to showcase their talents. He'll likely start in this one.
Unfortunately for Uruguay, Cavani couldn't complete his hat-trick against Portugal after being forced off with a calf injury. That injury has cast a doubt over his participation in today's match, with most outlets suggesting that it's a decision that'll go right to the wire. Oscar Tabarez, Uruguay's manager, remained coy on Cavani's injury when asked, saying; "I've already said enough about Cavani. In less than 24 hours, you'll know who will play. We're not trying to pretend. We're not trying to create any doubts or rumours."
With so much talk about Uruguay's stellar defence, it's easy to forget that they possess two of the world's most lethal strikers in Edinson Cavani and Luis Suarez. It was Cavani that was a thorn in Portugal's side during their last 16 game, Pepe's equaliser sandwiching a Cavani brace as Uruguay edged past the European Championship holders.
France could have felt hard done by as they were paired with Lionel Messi and his Argentina side in the last 16, again scoring through a Griezmann penalty before falling behind. It was the Mbappe show thereafter, the youngster bagging a brace as France ran out 4-3 winners.
Uruguay were the only one of the pair to progress with maximum points, beating Saudi Arabia and then hosts Russia in game two and three respectively. Kylian Mbappe's goal separated France and Peru before Didier Deschamps' men played out a bore draw against Denmark to secure top of the group.
Where else to begin but the beginning. Each side got their campaign off to a winning start, neither in particularly convincing fashion. Uruguay were made to sweat before Jose Gimenez headed in a stoppage time winner against Egypt, whilst it took an 80th minute own goal for France to edge out Australia following Antoine Griezmann and Mile Jedinak tucking away penalties.
Good afternoon everyone and welcome to VAVEL UK's minute-by-minute commentary of the opening World Cup quarter final between Uruguay and France. I'm Oliver Emmerson and I'll keep you up to date with events as they progress, with kick-off set for 3PM BST. We'll get team news around an hour before that, so why not get the ball rolling with us now as we build up to the game?