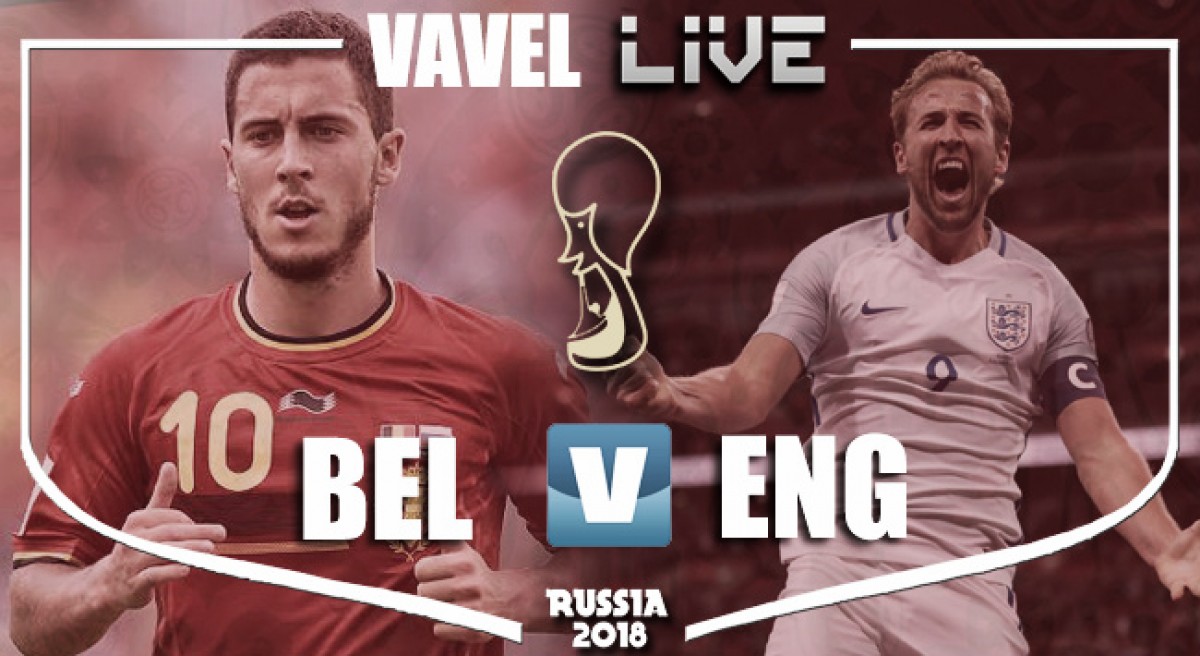 It's been an entertaining game, and my last game of this World Cup. It's been a pleasure to bring you coverage of not only today's game, but throughout this amazing World Cup. Be sure to tune in for Brandon Sayer's live commentary of the final between France and Croatia tomorrow!
Belgium earn their best-ever finish at the World Cup, a mark left by the Golden Generation that will be forever remembered. England's young team also impressed everyone, and unless we see a hattrick from Antoine Griezmann or Kylian Mbappe in the final, Harry Kane will walk away with the Golden Boot.
Full time!
90+2: Belgium come again on the counter, De Bruyne held the ball up, he was looking for the late run of Meunier on the back-post, but the ball is cleared. Witsel gets booked, unclear for what.
3 added minutes!
90: England have been trying to find Kane, Rashford, and Dier with long balls, but no real chances produced since Belgium scored.
86: Belgium back at it again on the counter, Jones has to make a last-ditch effort to block De Bruyne's shot.
84: Substitution: Dele Alli comes on for Ruben Loftus-Cheek, who has been brilliant today, but just unable to finish.
82: Belgium finally punish England on the counter. A through ball from De Bruyne finds Hazard and gets Jones wrong-footed. Hazard only had Pickford to beat and it was a cool finish from the Chelsea forward.
GOOOAAAL!! EDEN HAZARD MAKES IT TWO!
79: Great chance for Meunier to get a second. Counter started by De Bruyne, he plays it to Mertens who finds Meunier on the other side, goes for it with a great volley, prompting an even greater save from Pickford.
78: Substitution: Mousa Dembele comes on for Youri Tielemans.
78: A chance for England, as Dier puts Loftus-Cheek through, but he is muscled off the ball by Vertonghen. Maguire gets booked, I presume for arguing with the referee.
76: Great counter by De Bruyne, he passes to Mertens, but his shot is well wide as he can't get the ball into a good position.
74: Witsel gives away a foul, late tackle on Lingard. Trippier plays it in, finds Maguire on the back post, but can't get it on target.
70: WHAT A CHANCE FOR ENGLAND! Kompany slips, Dier gets past him. Courtois comes out to close down the angle, Dier chips him, but Alderweireld comes in with a goalline clearance.
69: Dier now gets some space, goes for a low shot with his right, saved by Courtois, who now has the most saves in this World Cup.
66: A great counter from Belgium! Mertens receives the ball out wide, passes it to De Bruyne, who returns it, but Mertens doesn't make the run.
62: Alderweireld finds Hazard with an incredible long ball, he lays it off to Meunier, but Delph slides in and clears it for a corner. Hazard finds Kompany from the second corner, who flicks it on, but nobody gets to it.
60: Substitution: Romelu Lukaku's Golden Boot dream ends, he comes off for Dries Mertens, he's had two absolutely premium chances today.
56: De Bruyne threads a pass through the English defence, finds Lukaku who only has Pickford to beat, but his first touch is too heavy again.
54: Lingard escapes Witsel on the throw-in from Trippier, he goes for a half-shot, half-cross, Kane can't quite reach it.
52: John Stones picks up the first yellow card of the match tackling and then holding Hazard. Kompany got hit in the eye by Maguire on the corner earlier, so he receives some treatment.
51: A great ball by Trippier from a free kick, looks for Stones who dove for it, but Vertonghen clears it.
49: A nice move from England, with Phil Jones driving forward, getting the ball into the box, but his cross was easy pickings for Courtois. Hazard is on the counter right away, he dribbles past two, but doesn't have any options and loses the ball.
47: Kane starts a move in the midfield, passes it to Loftus-Cheek, who works his way into the box, but the ball is cleared by Vermaelen.
Halftime Substitution: Raheem Sterling comes off for Marcus Rashford, a move that many English fans have asked for to happen earlier in games in previous matches. Danny Rose is also out for Jesse Lingard, with Delph shifting out to left wing-back, attacking substitutions.
Halftime!
45+2: Lukaku receives a long ball, goes one-on-one with Stones who does well to stay on his feet and block Lukaku's shot. The referee doesn't allow the corner and blows for halftime.
45+1: Loftus-Cheek makes a good run, trying to make a case for himself as a starter for his new boss at Chelsea Maurizio Sarri.
2 added minutes!
45: I should probably stop saying things. Great pressure from Belgium in this last minute. Meunier puts in a low cross that is only cleared for a blocked shot by De Bruyne, good defending from England.
44: Nothing much happening in terms of chances, seems like both teams just want to get to halftime. Vertonghen has been moved out to left wing-back.
39: Substitution: Injured Nacer Chadli comes off for Thomas Vermaelen, will be interesting to see how Belgium's formation will be affected by this change.
38: England were trying to take advantage of Belgium playing with 10 men after Chadli's injury, but left too much space behind for a Belgian counter. De Bruyne tries to cross in the ball with his right, but it goes past Lukaku and is cleared by Trippier.
35: From the subsequent corner, De Bruyne passes the ball to Tielemans outside the box, whose shot is completely mishit, and the ball goes to Alderweireld who escaped his mark and went for a shot with his back to the goal, going just over the bar.
34: Belgium have controlled the ball from the past five minutes, looking for an opportunity. Hazard gets one as he is through into the box, but his shot is blocked by Stones.
30: Nice play from Belgium, with both Lukaku and Hazard having shooting opportunities but passing the ball on, and setting up Tielemans, who had his shot blocked.
28: Could have been dangerous from Belgium! Meunier surprised Rose and intercepts the pass, runs around him, with Pickford already off his line, but his cross is too high for Lukaku.
24: Sterling receives a ball in the box, tries to knock it down to Kane, but the ball is still high and awkward, Kane slipping as he hits it off target.
20: Maguire outjumps Kompany, but the header comes from the edge of the box almost, so Courtois sees it all the way and it's an easy save in the end.
19: Loftus-Cheek dribbles past Chadli and Vertonghen in the box and wins a corner.
18: Delph finds Sterling with a nice pass, but Sterling takes too much time on the ball and it's taken off him.
17: De Bruyne finds Lukaku with a first-touch through ball into the box, but Lukaku's first touch is too heavy and Pickford snaps it up before a second.
16: England get a chance again, as Loftus-Cheek is left too much space after a left-footed cross from Trippier, and the midfielder gets the header on target, but a save from Courtois.
15: Delph is given space, goes for a shot with his right, and it's easily saved by Courtois.
12: Sterling does a great job of freeing himself from Chadli, gets a look, but the shot is blocked by Vertonghen, immediately starting a counterattack. Lukaku tried to pass the ball to De Bruyne into the box, the pass is deflected, but it still bounces to De Bruyne. The Man City man has two defenders on him, but still gets a shot away, which took a dangerous deflection from Trippier, but Pickford makes the one-handed save and the ball is cleared.
9: Tielemans starts a counterattack, winning the ball in the midfield, putting it to Lukaku who lays it off to De Bruyne to make the run, but he is restricted by Maguire and tries only a desperate backheel into the box, unsuccessful.
8: Some nice play from England, finally getting some build-up play together. Sterling and Loftus-Cheek were looking for Kane in the box, but the Belgian centre-backs didn't let that happen.
4: Call me Nostradamus, because just a minute later, Nacer Chadli finds Thomas Meunier with a low cross, who beats out Danny Rose and scores with his right.
GOOOOOAAAAAL!!!! THOMAS MEUNIER OPENS THE SCORING!
3: I think that we will see quite an open game. Neither side is sitting back, they are actively pressing the opponent, let's hope we see some goals!
Romelu Lukaku kicks off the third-place play-off!
We get to hear the Belgian and English anthems for the last time at this World Cup, kick-off is coming up shortly.
Belgium and England walk onto the pitch!
Gareth Southgate rotated more heavily, making five changes for the third-place play-off. None of the middle-three are starting, getting replaced by Dier, Loftus-Cheek, and Delph. Danny Rose replaces Ashley Young at left wing-back, while surprisingly, Trippier is starting despite not being able to finish the match against Croatia. Centre-back Kyle Walker is out for Phil Jones.
Roberto Martinez makes two changes, with Youri Tielemans coming into the midfield and right wing-back Thomas Meunier is back in the team after a yellow-card suspension. Martinez isn't resting any of his players and is definitely going out there to win today.
England XI (3-5-2): Pickford; Jones, Stones, Maguire; Trippier, Loftus-Cheek, Dier, Delph, Rose; Sterling, Kane.
Belgium XI (3-4-3): Courtois; Alderweireld, Kompany, Vertonghen; Meunier, Witsel, Tielemans, Chadli; De Bruyne, Lukaku, Hazard.
It's almost incredible to predict the lineups for tomorrow, not unlike their last meeting. The quality of the match and the elevens will depend on how hard the players and managers want to fight for this third place, so we could see heavy rotation or the top players battling for the third-place medals, it's impossible to predict.
The main headline and thought about this third-place match is the meaning of it all. It seems that the overall majority feels that this match is pointless, which was highlighted by the extent of disappointment to which the third-place play-off in the 2014 World Cup stooped. Brazil were dumped out in the semifinals of their home World Cup by Germany, losing 7-1. No one in that squad wanted to play another match, but they had to, losing 3-0 to the Netherlands. Despite the win, then-manager Louis Van Gaal called the game pointless, leading the third-place play-off to come under fire from the general public. Funnily enough, the third-place game at the 2010 World Cup was one of the best of the tournament, a 3-2 thriller between Uruguay and Germany, with the Europeans coming out on top. The key to that game was the fact that both sides turned up hungry for the win, so if we see that tomorrow, we could see a great game.
This is the second-to-last game of the tournament and the last to be played at the Saint Petersburg Stadium, which is also called Krestovsky Stadium after the island that it is on. Belgium get to remain in Saint Petersburg, though they would surely have rather travelled to Moscow. Not only do Zenit St. Petersburg get a brand-new stadium out of the World Cup, we will also see the Saint Petersburg Stadium on the international stage again in two years, being one of the host cities of EURO 2020.
It will not be coming home, but Gareth Southgate 's boys certainly made the nation proud. It was rough to watch the 1-2 loss to Croatia, but they are one of the youngest teams in the competition, so we can expect the core to be there for Qatar 2022, stronger and more experienced than ever. They've had to face adversity, but will definitely be looking to end this World Cup on a high note and bring home at least the bronze. The right-back Kieran Trippier will likely not be fit, and midfielder Dele Alli might also be given a rest as he has picked up a thigh strain in the opening game.
Roberto Martinez's Belgium were defeated only once, losing to France 1-0 in the semifinals, as they were unable to recover from an Umtiti header. The star-studded front three couldn't break France down, and there were some odd tactics, trying to play Dembélé and Fellaini within the match as a right wing-back, struggling to deal with the absence of the suspended Thomas Meunier. However, the semifinals are still a great result for the Belgian 'Golden Generation' and depending on the next four years, they might still have a chance for the title in Qatar. A third-place medal would definitely be a nice tangible award to receive for their efforts, though we will see how seriously this game will actually be taken.
This will be the 23rd match between England and Belgium since 1921. England have dominated the head-to-head, getting 15 wins, 4 draws, and only 3 losses. The last meeting was in the last round of the group stages, where both sides rested their main starters, and in a game which neither side wanted to win, Belgium triumphed 1-0 with an Adnan Januzaj winner. For their last meeting before, you have to go back to a pre-EURO 2012 friendly at Wembley in front of 85,000 people. Danny Welbeck won the game for England in the 36th minute.
Hello and welcome to VAVEL UK's live minute-by-minute match coverage and commentary. Today, Saturday, 14th July 2018, sees England face off with Belgium in the 2018 World Cup. This afternoon's game kicks off at 16:00 BST, the third-place play-off. Until then - we'll have plenty of pre-match build-up and analysis from me, Jakub Bobro. Make sure you stay following.