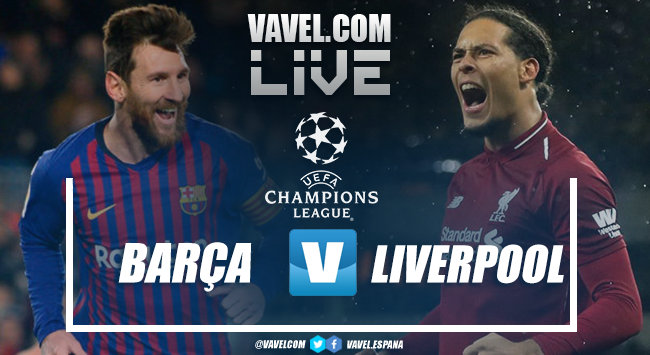 Goodbye!
Messi's genius
Full Time
Alena on, Roberto off.
Suarez replaced by Dembele
Yellow Card: Alba
GOAL! 3-0, Messi
Firmino enters the fray
2-0, Messi!
Semedo replaces Coutinho
Second-half gets started
Half-Time!
Yellow Card: Llenget
1-0, Suarez!
Henderson replaces Keita
Penalty or no Penalty?
Early Barca pressure
Kick-off
Kick-off is almost here..
Still awaiting the teams
Who is playing where?
No Firmino or TAA
Confirmed team news
Confirmed team news
Countdown to kick-off of Barcelona vs Liverpool
Klopp ready to reunite with former club heroes
Valverde ready to unleash Messi
Match Facts
Barcelona Team News
Liverpool Team News
Key Battle: Van Dijk vs Messi
Are Barca too reliant on Messi?
Inspiring Liverpool
Last meeting
Two European titans striving for glory
Welcome!