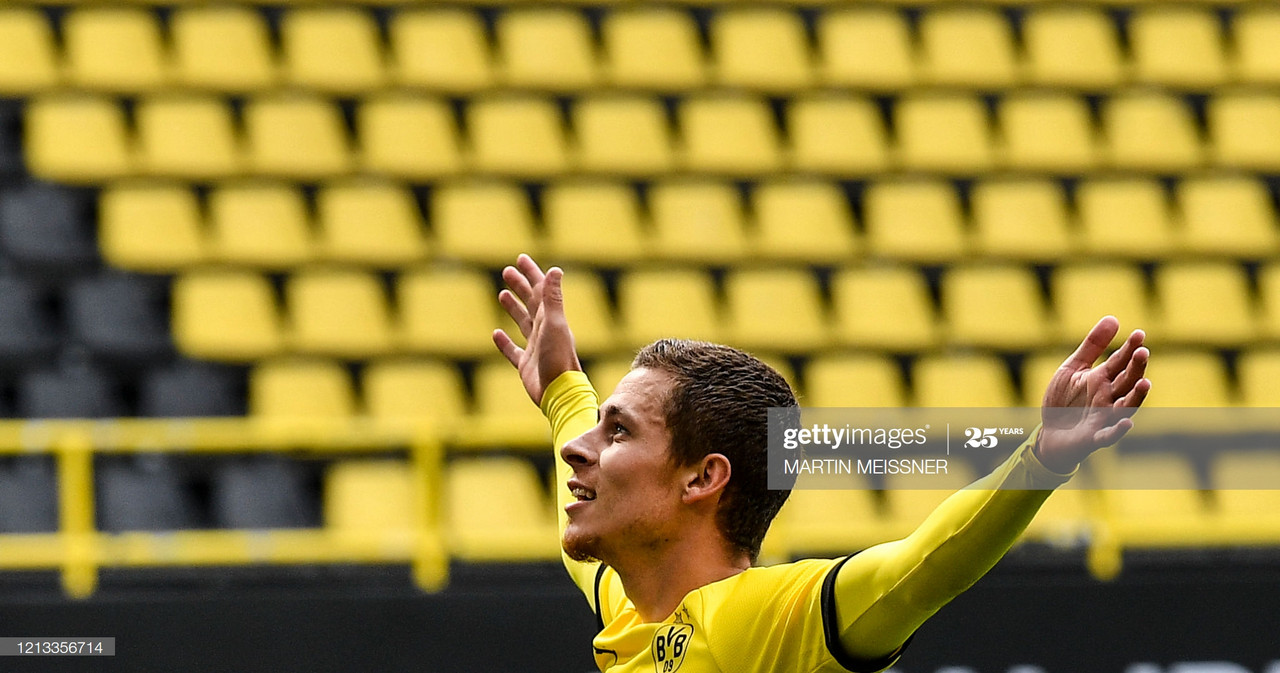 Borussia Dortmund's annihilation of bitter rivals Schalke 04 was witnessed by eyes all over the world.
It was a game with a strikingly dystopian feel to it but, in the end, viewers were treated to some beautiful goals. Jadon Sancho didn't start the match and many were probably wondering who would drop out if he did. The attacking fluency was outstanding. It comes down to excellent transfer business.
Many Bundesliga clubs operate on modest budgets. They have to be clever with how they spend their money. In the Premier League, clubs roll around in their abundant riches while the Catalan giants are always given ridiculous backing by the higher powers in Spain.
Dortmund made almost £170-million from the sales of Ousmane Dembele and Christian Pulisic. The club have brought in Julian Brandt, Erling Haaland, Thorgan Hazard, Raphael Guerrerio and Sancho for less than half of that amount.
Barcelona forked out approximately £105-million for Dembele in 2017. The Frenchman was dubbed as the next big thing by many punters and Dortmund fully capitalised on that idea. They played hardball with the Spanish club and, because Barcelona almost always get their own way, they eventually buckled.
Dembele has been plagued with injuries since his move to Camp Nou and he has now dropped down the pecking order. Pulisic has had similar injury struggles at Chelsea but there is a little more cause for optimism as far as the American is concerned.
The point is, Dortmund made a fortune based on two players who have yet to find their feet. They swooped on a number of players who are more than looking the part.
Brandt illustrated his remarkable abilities in the Revierderby; a huge German talent who had a buyout clause of £21-million last summer. It doesn't take a rocket scientist to be alert to these bargains but it does take a good understanding of the market.
England are accustomed to spending unnecessarily large sums on the latest YouTube prospect because they have more money than sense. To be fair, Leicester City go against that trend. They are a superb setup. Manchester City also spend efficiently which is not always a given for the top teams. But, in general, English clubs could do with creating groups that analyse and study the market in detail.
The baton of financial sensibility is largely shared throughout the German top division.
Monchengladtobebach
Borussia Monchengladbach have had a remarkable season. They were leading the Bundesliga for a period of time and remain in the title hunt. Their successes are down to structured and sensible decisions on the transfer market.
Sporting director, Max Eberl, coordinates this stability. Eberl is at the hub of the club. He forensically analyses the direction of the club and moves with the times. Gladbach made Marco Rose their new manager, last summer, and Eberl was buoyant about the appointment.
"Now, we want to implement a new style of play, because change is always a good thing. We wanted to bring in a new coach, whose fundamental idea would be to further develop our squad," he said.
Eberl was positive when reflecting on previous manager Dieter Hecking. "The past eight years have been grand for Monchengladbach," he said.
"We finished amongst the top nine in the league eight times and have qualified for the Europa League for the fifth time. That can't be taken for granted."
There is a clear all-rounded view from the club. They see life cycles. They understand progression but realise when that progression can go no further. Hecking was a good fit got Gladbach but he had served his purpose. The decision certainly looks like a good one at this moment in time.
It illustrates why the league is a good platform for youngsters. Eberl demonstrates long-term planning. That means recognising talent ahead of richer European clubs. It means giving players a chance to thrive, making their working environment one of opportunity instead of fear.
Appreciation
The Bundesliga has always been in the shadow of the Premier League and La Liga but now it is sat on the main stage.
England's top division thrives from its marketing. The top-six notion creates the idea that there are six superpower teams in one country, although, this season is proving that not to be the case.
La Liga has claimed to be the home of the world's best players. Over the years, we've seen Andres Iniesta, Xavi, Cristiano Ronaldo and Neymar earn their corn by playing for the Spanish giants. However, all of these players have now either retired or left the country. An ageing Lionel Messi is one of the last candles left.
The German division is the first major European league to return and that is because of the careful planning that has been put together. It's quite ironic that the most resourceful top division in Europe is also the one that is miles ahead of its rivals when it comes to tackling the Coronavirus issues.
Hopefully this underrated league now starts getting the credit that it deserves.