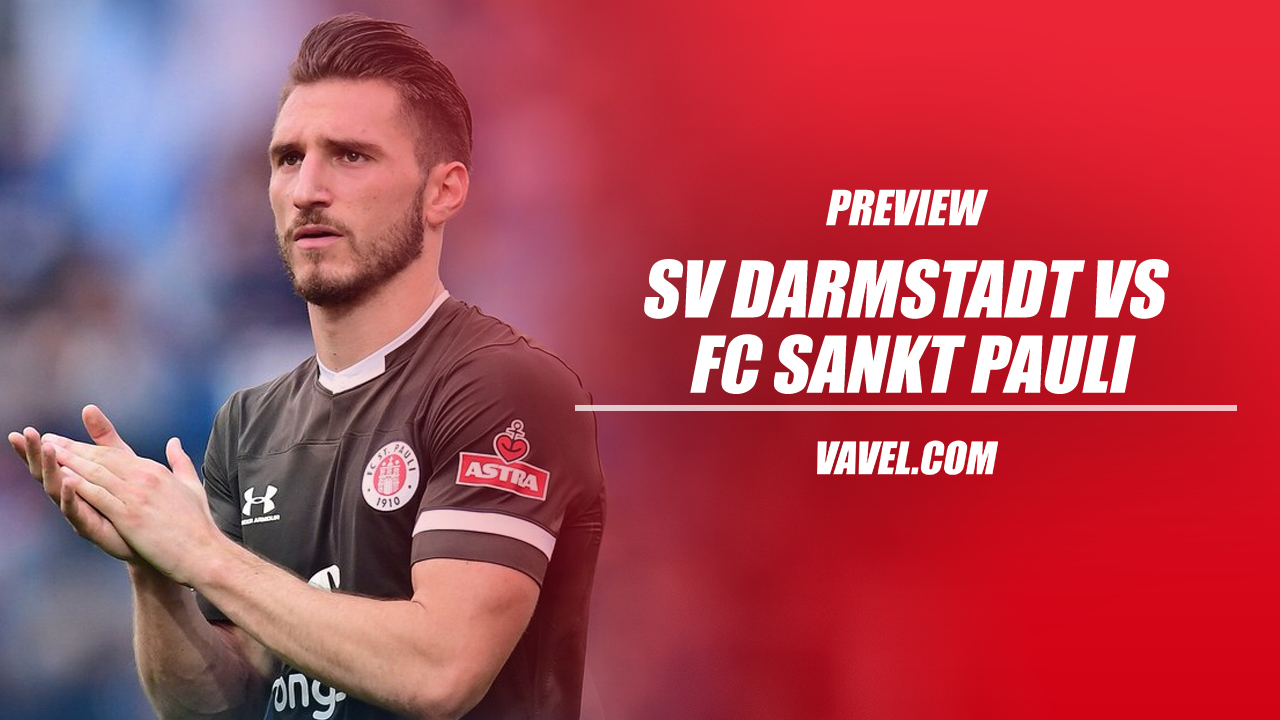 Two mid-table 2. Bundesliga sides will meet in Hessen for Saturday's tie between SV Darmstadt 98 and St. Pauli.
St. Pauli had the better restart when the season resumed last week after the lengthy absence due to the COVID-19 pandemic, beating FC Nürnberg 1-0 in Hamburg, Viktor Gyökeres the goalscorer.
Darmstadt, however, struggled away at Karlsruhe, conceding in the 66th minute before a final blow in the fifth minute of extra time to condemn them to a 2-0 defeat.
Team news
The home side from Hessen will not have Immanuel Höhn or Mathias Wittek whilst Matthias Bader is still a doubt due to a muscle strain that he picked up.
For the Hamburg opposition, Kevin Lankford, Christian Conteh and Christopher Avevor are all unavailable due to injuries.
Predicted lineups
Darmstadt: Schuhen; Hermann, Dumic, Rapp, Holland; Mehlem, Ho. Paik, Palsson, Stark, Kempe; Dursun
St Pauli: Himmelmann; Ohlsson, Ostigard, Buballa, Penney; Benatelli, Miyachi, Sobota, Knoll; Diamantakos, Veerman
Ones to watch
Serder Dursun will be the man at the front of Darmstadt's attack, if they employ the same strategy which they did against Karlsruhe. The Hamburg-born forward has scored eleven and assisted four this season, the club's top goalscorer by a large margin and second-highest for assists; only behind Marvin Mehlem.
St. Pauli's strongest attacking force will be 27-year-old Greek striker Dimitrios Diamantakos. He is Kiezkicker's top scorer this season with eight goals so far. He only lasted 55 minutes in last weekend's game against Nürnberg, which raises the question of whether he will be fit enough to play a full ninety minutes on Saturday.
Match prediction
SV Darmstadt 98 1-1 St. Pauli
Saturday's meeting between the two mid-table 2. Bundesliga sides will be a very close game. Darmstadt had their long unbeaten streak ended last weekend, whilst St. Pauli extended theirs to five games.
St. Pauli may have restarted the season stronger than Darmstadt, but have struggled on the road this season, picking up only a single win.
In contrast to this, the Hessisch hosts have only lost one game at home, which could prove for a very even matchup.
A fair prediction would be a draw between the two sides who are only separated by three points in the table. Both sides are still adapting to playing matches behind closed doors and it is difficult to say that either side is more capable of winning than the other.