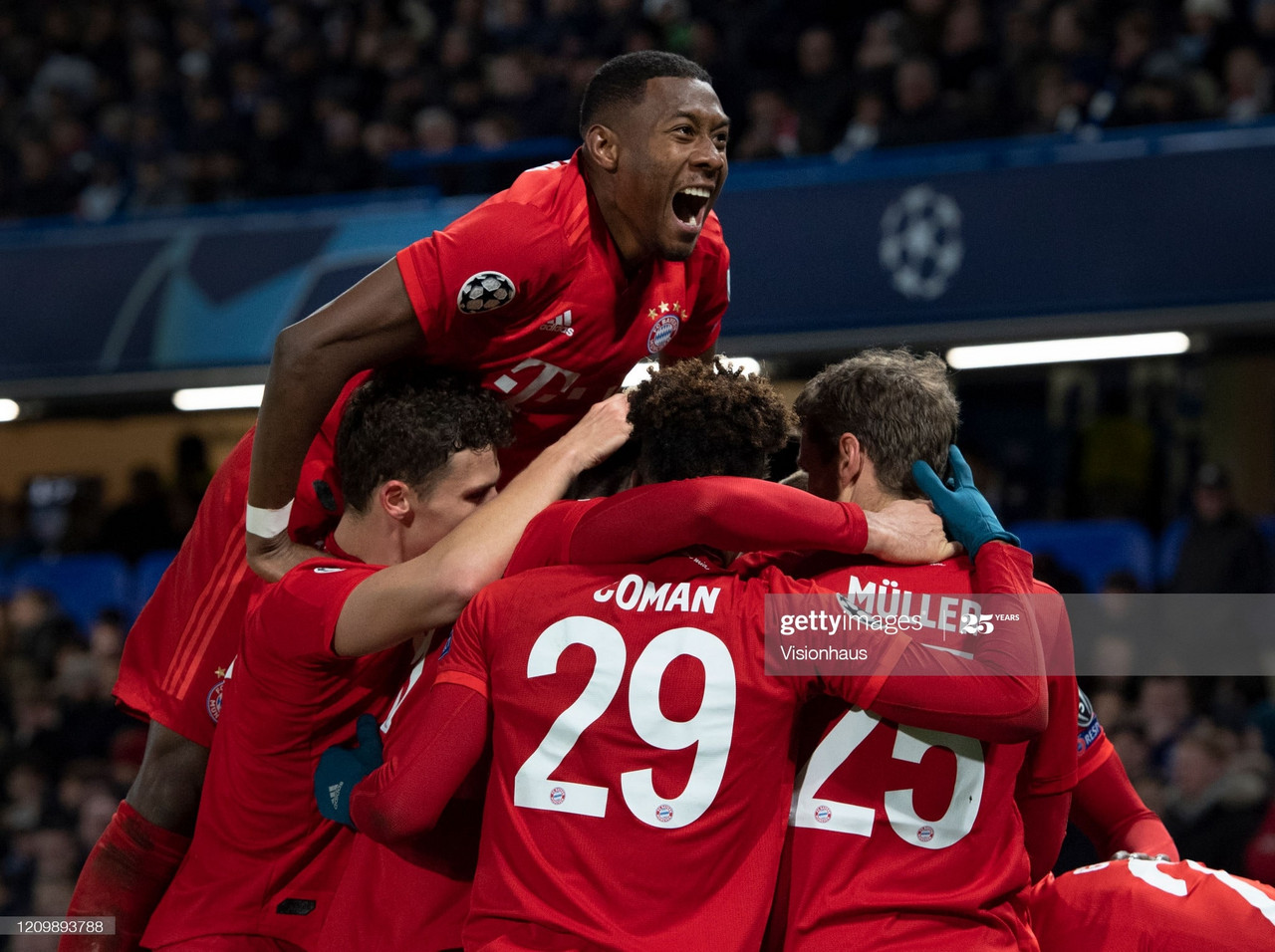 After nearly five months away, club football's most prestigious tournament is almost back. The UEFA Champions League is set to resume on August 7th, as the 2nd legs of the round of 16 stage will finally kick off in stadiums across Europe.
The Covid-19 pandemic had previously shut down all sports on the continent, but the situation has improved since then. Almost every country has wrapped up it's domestic season safely, which means international competition can finally take center stage.
One team that still has to finish off their round of 16 tie is Bayern Munich, who will host Chelsea on Saturday at an empty Allianz Arena. The Bavarians go into the contest already up 3-0 on aggregate, so they know getting the job done and advancing to the quarterfinals won't be too difficult.
However, after that, things will get serious. The remaining eight teams will all fly over to Portugal, where the rest of the competitions games will take place to reduce cross-continental travel. Another key change this year is that the following rounds will all be one game instead of two legged like usual, increasing the tension and drama. Since the draw has already been done, Munich know that they'll face the winner of the Barcelona vs Napoli series in the quarters before taking on either Lyon, Juventus, Real Madrid, or Manchester City in the semifinals.
All things considered, Munich will like their chances of picking up the trophy at the end of the campaign, which will complete the club's second ever treble.
Picking up where they left off
As mentioned earlier, they've all but clinched their spots in the quarterfinals after demolishing Chelsea 3-0 in the first leg at Stamford Bridge. That result will allow the German giants to rest key players for the return contest, keeping them fit and healthy for the rest of the tourney. The same can't be said for anyone else, though, as all the other ties all go into the 2nd leg with everything to play for.
Munich looked incredible during that blowout victory, dominating the opposition on both sides of the ball. Serge Gnabry and Robert Lewandowski ran the show going forward, as the latter set up both of the former's opening two goals in some style. As always, the Polish international would get his name on the scoresheet before the night was done as well.
At the back, Bayern were calm and composed, using their experience to stop any promising Chelsea attacks from developing. It was a perfect performance that summed up just how good the Bavarians had been since their early season coaching change.
After Niko Kovac struggled to start the campaign, he was quickly fired, with former assistant Hans-Dieter Flick coming in to replace him. He didn't have much head coaching experience, but that didn't matter, as Flick transformed Munich into a full blown juggernaut.
They went on to win the Bundesliga with relative ease, and then picked up the DFB-Pokal trophy as well after beating Bayer Leverkusen 4-2 in the final. With two titles already in the bag, Munich now have their sights set on doing the treble like they did back in 2013. With the way they've been playing, that does not seem too unlikely.
Some teams struggled when football returned following the coronavirus hiatus. After being away for so long, plenty of top sides needed time to readjust and kick back into gear.
The Bavarians did not have that issue, however, as they were just as good after the break as they were before it. They've won every single game since the restart, and haven't dropped points since playing RB Leipzig on February 9th. Bayern could literally not be in better form, which is bad news for the rest of Europe's elite.
Both sides of the ball
What is really scary about Munich is how complete of a team they are.
Some sides suffer at the back, while others find it tough to score on a consistent basis. Maybe one team has issues with their goalkeeper, or another has holes in their midfield. Not Munich, though.
Manuel Neuer is like his old self again. Many thought he has passed his prime, but the sweeper keeper is back to making unbelievable saves and helping maintain possession at the back.
In defense, the Bavarians have a balanced backline that can sit back or push forward when need be. David Alaba has excelled since being converted into a centerback, complimenting partner Jerome Boateng very well. Fellow World Cup winner Benjamin Pavard is a solid right back, while young phenom Alphonso Davies might just be the best left back on the planet.
Joshua Kimmich and Leon Goretzka are a dream midfield duo, with each able to do a little bit of everything. They also allow Thomas Muller the freedom to find space in the final third and create with devastating efficiency.
Up top, the front three of Gnabry, Lewandowski, and Kingsley Coman have run riot on everyone they've come up against. The trio have speed and technical ability, which makes defending them borderline impossible. They're also lethal in front of goal, so if you give them a chance, they'll absolutely take it.
Those are just the starters. Bayern have plenty of depth on the bench as well, whether it be creative playmaker Phillipe Coutinho, veteran winger Ivan Perisic, or dazzling dribbler Thiago Alcantara .
With a coach in Flick that knows how to use them all to great effect, Munich know they've got a good chance of hoisting the Champions League trophy this season.