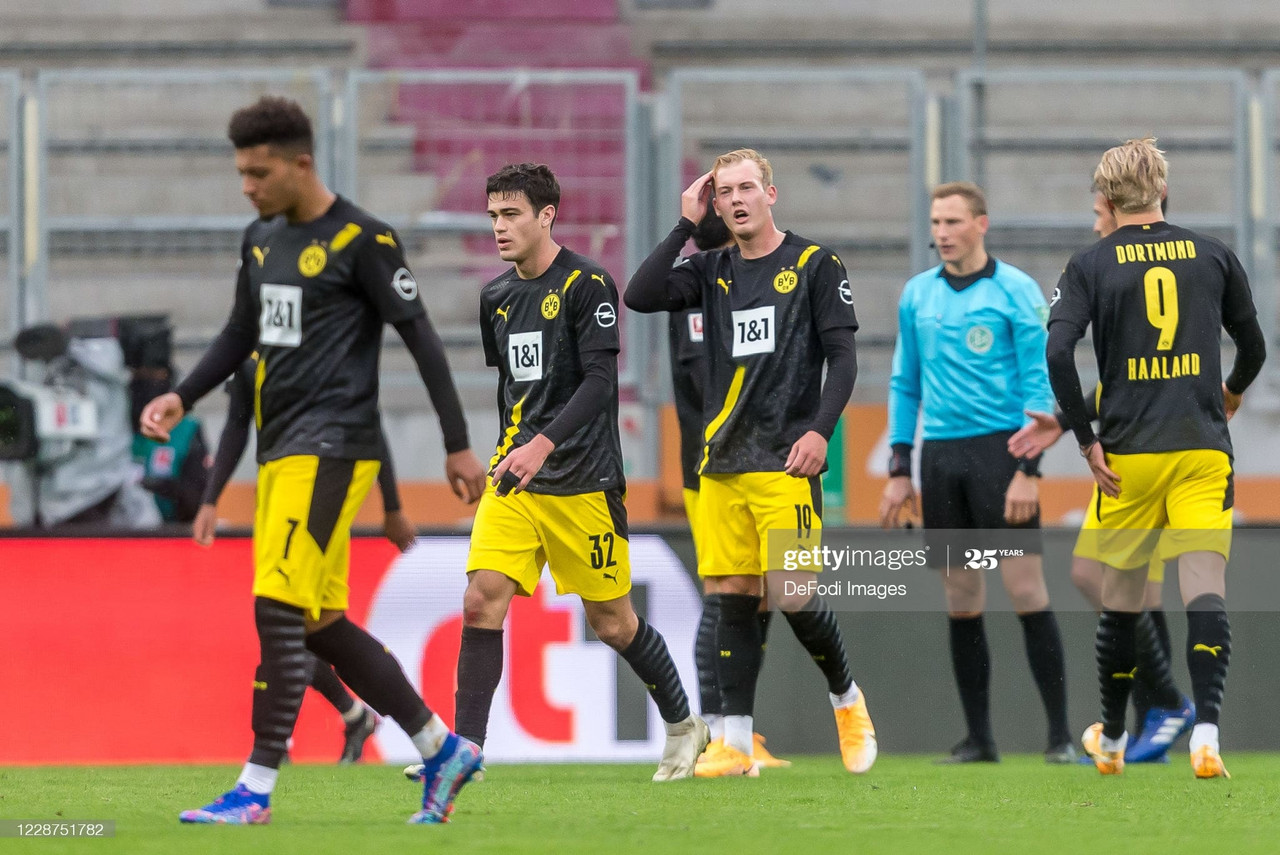 It may have only taken two weeks, but it seems the Bundesliga season has already kicked into high gear. This weekend had everything, from upsets, to stunning goals, and even a head coaching change as fans simply couldn't keep their eyes off all the action.
Here are five takeaways from Matchday 2:
Bayern aren't unstoppable
After demolishing Schalke 8-0 in their opening game of the campaign, many expected Bayern Munich to simply stroll their way to the league title this year.
However, they were dealt an incredibly harsh reality check on Sunday, as the Bavarians were blown out by Hoffenheim at the PreZero Arena. The home side deserve plenty of praise, of course, as they were ruthless on the counter and off set-pieces, but the focus will still be on Munich.
Bayern just weren't themselves on the day. They looked slow in attack, lacking creativity, while also making simple mistakes at the back. That was on show during the fourth goal they conceded, as multiple defenders couldn't tackle a streaking Ihlas Bebou, who eventually won a penalty after being taken down by Manuel Neuer.
There might be a reason for their sloppy showing, as Munich did have to compete in the UEFA Super Cup on Thursday. Not only did they travel to Hungary for the contest, but the game went into overtime as well, so a few players spent two hours out on the field.
It's still no excuse, as a team like Bayern should be able to handle a midweek matchup. Now, the pressure will be on them and coach Hansi Flick to learn from the experience, as it was their first major loss under the relatively new boss.
Dortmund blow their chance
The good news for the Bavarians was that they weren't the only big team to shockingly lose this weekend, as Borussia Dortmund were beaten the day before.
BVB fell to Augsburg (who we will get to) in quite stunning fashion. Dortmund had 80% of possession, but never really did anything with the ball as their youthful attack failed to break down a parked bus. They were even worse defensively, unable to deal with the opposition in the air or on the break.
It was a huge setback for the Black and Yellows, who needed a good start to the season if they wanted to be seen as genuine contenders. Dortmund can still rebound from this, but they'll have to react quickly if they want to push back up the league table.
Astonishing Augsburg
A team who many saw as relegation candidates before the campaign kicked off, Augsburg might instead be a dark horse team to keep an eye on.
They've won two games out of two this season, scoring five goals while only giving up one in the process.
It all starts with their defensive stability. Able to sit back and absorb pressure, Augsburg are the textbook definition of a team that will bend, but not break. Even if a shot gets through the backline, they know that goalkeeper Rafal Gikiewicz can step up and make the save when need be.
When it comes to going forward, Augsburg have two ways they can hurt you. They'll either use their height to win headers off crosses and set-pieces, or they'll use their pace to hit on the counter to devastating effect. It's not the prettiest football, but it gets results.
Whether or not they can keep the good times rolling is a different question altogether, but for now, Augsburg fans should just enjoy being near the top of the table instead of being at the bottom.
A new dawn at Schalke
David Wagner really should have been fired at the end of last season.
After a promising start, Schalke completely collapsed under his control, and were one of the worst teams on the continent when football resumed following the coronavirus-caused hiatus. The club decided to give him another chance, however, hoping that Wagner could turn the team back around.
That decision proved to be the wrong one, as the Royal Blues started this campaign with consecutive defeats. They have now learned their lesson, as the club announced the sacking of Wagner a day after their loss at home to Werder Bremen.
It was another lackluster performance from Schalke, who found themselves down two goals early on. They started the second half on the right foot, but it was too little too late, as defensive mistakes ultimately cost them on the night. The blame fell on the shoulders of Wagner, and deservedly so. He could never get his team out of their rut, so it was time to move on.
The Royal Blues now need to find a replacement and get out of the relegation zone as soon as possible.
Mainz might be in trouble
Speaking of teams at the bottom of the table, Mainz, alongside FC Koln and the aforementioned Schalke, have picked up zero points from their first two contests.
Losing to a quality Hoffenheim side on opening weekend was understandable, sure, but their performance this past Saturday was a lot more concerning.
Hosting recently promoted Stuttgart, Mainz actually took the lead on the afternoon, but would eventually fall apart. They conceded the equalizer right before halftime, and then let in three more goals while also having a man sent off.
The Carnival Club do have talent going forward, with the trio of Jean-Paul Boetius, Jean-Philippe Mateta, and Robin Quaison serving as a constant attacking threat.
However, it's their midfield and defense that lets them down. They can't hold onto the ball, often losing it in dangerous positions. That then puts the backline under duress, who usually crack under the pressure.
After a slow start last season, Mainz eventually figured things out and looked much improved by the end of the campaign. They find themselves in a similar hole this time around, but it remains to be seen if they can dig themselves out once again.