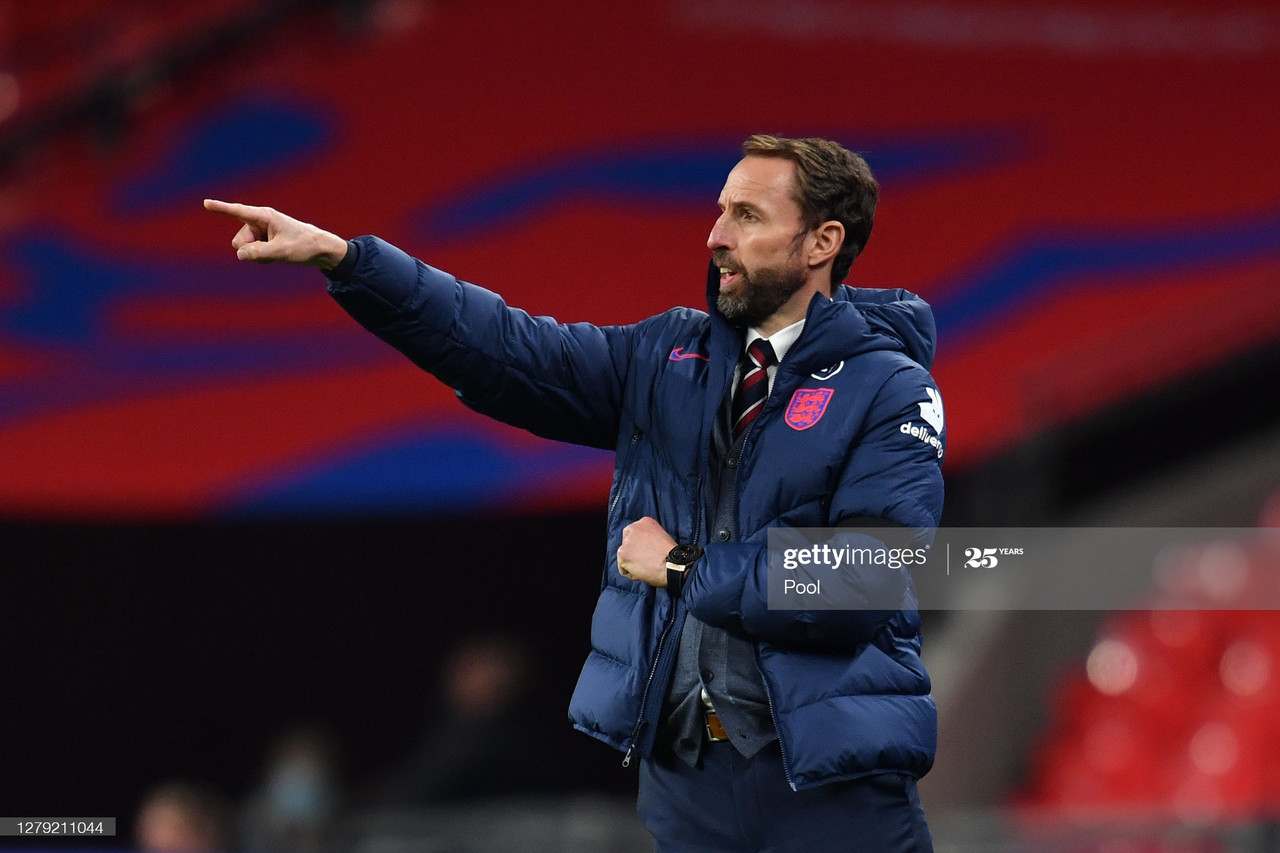 Gareth Southgate has received his fair share of criticism for recent team selections. But the England manager's decision making was vindicated after an impressive 2-1 victory over Belgium, the world's number-one ranked nation.
His recent return to a back-three has been met with some scepticism but there are arguments to be had on both sides of this debate.
Past success
England had great success with the back-three in the 2018 World Cup but Southgate then looked to change formation.
The squad in 2018 was the weakest England squad of the decade. Expectations were very low. Southgate's 3-5-2 was tough for teams to break down and that defensive resolve was vital for the Three Lions as they made it all the way to the semi-finals.
After the tournament, England's pool of options began to steadily increase. Lots of new players were beginning to emerge and it looked as though the functional back-three system would be left behind.
The 3-5-2 became a more progressive and open 4-3-3 system and it yielded some joy. A 3-2 Nations League victory over Spain was the overriding highlight.
England used 4-3-3 throughout their 2018-19 Nations League campaign, reaching the semi-finals. They played well against the Netherlands but ultimately lost 3-1 in extra-time. The two Dutch goals in the extra-time period were as a result of individual errors at the back from England.
Twelve months later and England are going back to an old system.
Defensive assurances
Southgate has returned to a back-three because he doesn't trust his defensive options.
Liverpool allow Trent Alexander-Arnold and Andy Robertson to effectively play as wingers because they believe in their defensive resolve elsewhere.
Alisson Becker, Virgil van Dijk and Fabinho are all world-class performers who any team can rely on. They all take a massive amount of responsibility.
Jordan Pickford, Joe Gomez, Harry Maguire and Declan Rice are all good footballers but they aren't in the same bracket. Asking them to take the same responsibilities as their Liverpool compatriots is just asking for trouble.
Gomez, of course, plays for the Champions of England on a regular basis but he benefits by the fact he is surrounded by elite performers.
Maguire would probably perform to a much greater standard if he started with a commanding defensive partner, a dominant goalkeeper and a fearsome defensive-midfielder.
Ultimately, a pairing of Gomez and Maguire is not confidence inducing. Rice is still developing his game and Pickford's club form illustrates that he is susceptible to sloppy errors when put under pressure.
England could not allow their attack-minded full-backs to bomb forward freely in a 4-3-3. Counter-attacking opponents would be frothing at the mouth.
Stagnating progress
If England push forward with this system, it's highly likely that many exciting attacking talents will be left out of the squad for the European Championships in 2021.
A 3-4-3 generally negates the attacking number-eight and the number-ten that could be seen in a 4-3-3 or a 4-2-3-1 respectively. Jack Grealish, Phil Foden, Mason Greenwood, James Maddison and all risk missing out because the current system simply doesn't account for them.
Grealish starred against Wales but seems to be behind Mason Mount in Southgate's pecking order. Mount, a favourite of Frank Lampard at Chelsea, also looks vulnerable to the current system.
The 21-year-old was playing in an unorthodox right-forward position against Belgium. But Mount seems to have the backing of Southgate because of his versatility and work-ethic.
Nonetheless, this is a system that will reject so many attacking options. This is arguably England's best pool of attacking talent in over ten years and it risks being overlooked. The idea that Grealish may not make the cut is astonishing but it's also a very real possibility.
Arteta's answers
The return to a back-three featured Kyle Walker as a right centre-back. This was a role that he played in the 2018 World Cup but there was a noticeable difference this time around.
Walker was excellent against the Belgians. He was wonderfully disciplined as part of the back-three when the opposition attacked.
However, when England were in possession of the ball, the 30-year-old shifted across to right-back. The back-three became a back-four with Kieran Trippier as the makeshift left-back.
Alexander-Arnold pushed underlapped into an advanced 'eight' position; theoretically, this should present the Liverpool man with more opportunities to get on the scoresheet or play a cute pass.
These tactics looked a little clunky but the inspiration was clear. Mikel Arteta's innovative take on a back-three has been very effective with his squad. 3-4-3 without the ball but a 4-3-3 when in possession.
Southgate would be wise to use Arteta's blueprint as a stimulus for England. There are genuine parallels between what the two managers have available to them.
However, without the exiled Mesut Ozil, Arteta has no obvious playmakers at his disposal. This system helps to account for defensive frailties but it also provides a way of creating chances in the absence of any obvious creative sparks. Southgate has four or five potential playmakers so that really shouldn't be an issue for him.
The Verdict
It's easy to see why Southgate has returned to a back-three but it is also a big risk. Such a system has its merits but it turns a blind eye to a lot of attacking talent.
Going forward with this system will demand good results in the big tournaments because, otherwise, there won't be too much sympathy for Southgate's pragmatism.