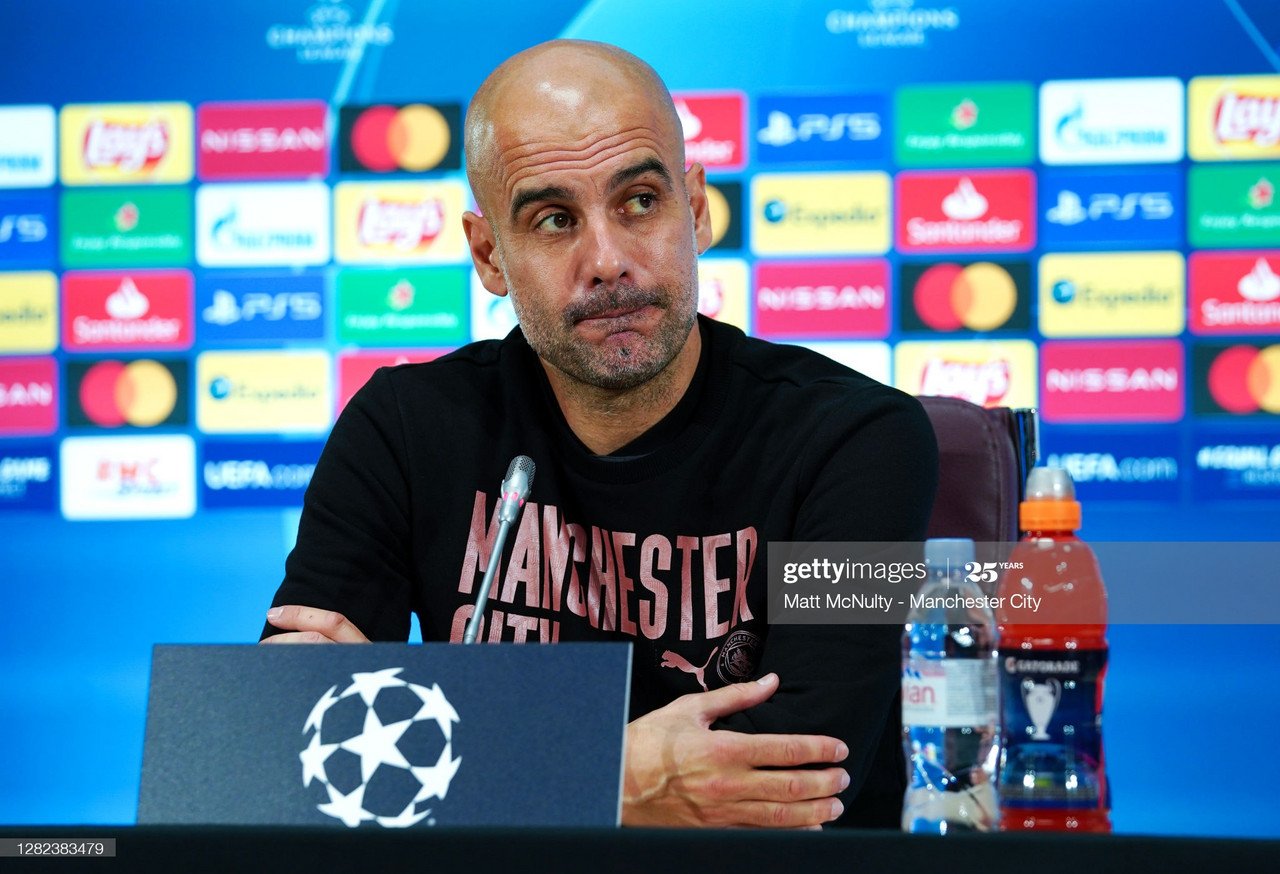 Manchester City boss, Pep Guardiola, has confirmed that the earliest star striker Sergio Agüero could return to the squad, is when City travel to the Tottenham Hotspur Stadium in just under three weeks' time.
Agüero suffered a hamstring strain against West Ham United last month, which has kept him out of the previous two victories against both Sheffield United and Olympique de Marseille.
Guardiola said that Gabriel Jesus, who has been out since the end of September through injury, has re-joined first-team training ahead of tomorrow's Champions League tie against Olympiacos.
Guardiola's injury update
City manager Guardiola explained in his press conference that Agüero remains unavailable for the Group C leaders as they host the Greek champions prior to a clash with Liverpool in the Premier League on Sunday.
"Right now, I don't know [exactly when he will return]," Guardiola said. "He's getting better, but I don't know.
"We don't want him to have a setback but he's getting better.
"I don't know about Liverpool, but I think after the international break he will be ready."
On the availability of Jesus, Guardiola said: "It's too early to know. He did one training session with the team. We're happy he is back."
Having beaten Marseille last week and Porto the week before, City look set to qualify for the Champions League Round of 16 as Group C winners.
With some pundits suggesting that Guardiola will rest players in Europe ahead of Liverpool's visit to The Etihad on the weekend, the Catalonian said: "It's the Champions League. You cannot fake a step. If you do, you struggle.
"You know in the Champions League you have to secure home games and win at least one away. We did it, winning in Marseille.
"But we know we have to secure points at home. It would be a big step to qualifying for the next round."
Gunning for his third Champions League trophy as a manager and a first with City, Guardiola is taking no chances prior to Pedro Martins' side's visit.
The boss explained that it is harder now to escape the Champions League group stages than it was ten years ago.
"The teams are better, there is more money everywhere," Guardiola said. "A lot of clubs are buying players and important managers.
"It is really tough. It doesn't matter where you go, you know you have to face quality.
"Yeah, its difficult in the group stages of the Champions League, people don't believe it," he said.
"Every game is hard. And with the pandemic, the situation is more uncertain.
"Today when you play away or at home, you have to do a good game to win. It's a tricky competition. That's why I am delighted with what we have done so far. This is the target.
"People say 'oh it's easy' but everything can happen. Porto is a team that always has to win. Olympiakos the same. They have to win every single game. That mentality is difficult to play against.
"Focus on the next game and tomorrow is a huge opportunity for us to make an incredible step."
Rather than naming the youngsters on the bench against Olympiakos tomorrow, Guardiola has let his academy graduates prioritise today's FA Youth Cup final with Chelsea.
The City youngsters, including Liam Delap, Taylor Harewood-Bellis, Cole Palmer and Tommy Doyle, kick off at 7.45pm tonight.
In the hope that the quartet will bring silverware back to Manchester, Guardiola said: "If they are here, they can look to the important players to win the game.
"I prefer them to have the experience to play in the final, to have the responsibility of having to win and bring the cup back to Manchester."
Manchester City have not won the FA Youth Cup since 2008.