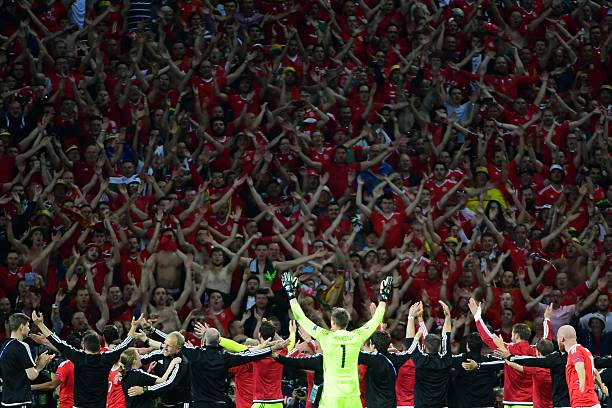 Wales under 21s are yet to qualify for a European Championship tournament, narrowly missing out in 2009 as they lost to England in the playoffs, and in 2011 as they were cruelly denied another play-off spot by a 1-0 defeat to Italy.
However, there seems to be a buzz in the Cymru camp, and Paul Bodin, with his support staff, is confident that the players he has selected can make a real impact on their chances of a winning run in Europe.
Bodin spoke in a press conference following the announcement of his 23-man squad.
Benefits of Cymru Premier
Multiple of the players who have been called up, or painstakingly close to a call-up, have been away on loan in the Cymru Premier - the national football league of Wales, consisting of both professional and semi-professional status clubs.
This is what the Wales Under 21 manager had to say on the league: "You have to be grateful to the league - what it is, what it stands for. It's our national league and we've got to support it as much as we can.
"If there are clubs that are looking to develop some of the Cardiff [City], Swansea [City], Newport [County] players into that level, then it is better than playing 23-football.
"There's no doubt that men's football, where there are three points at stake and you're up against lads that are determined to give everything for a win on that day, that can only help the players."
Ben Cabango, who has made 27 appearances for Swansea City this season, was a product of the Cymru Premier, and Bodin spoke on his time at The New Saints (TNS).
"I think the biggest benefactor was probably Ben Cabango, 18 months ago when he went to TNS. Obviously TNS are a ball-dominating team, one of the only full-time teams at that level.
"To play high level football every week with a team that is expected to win games, there is now that pressure on Ben. So it was a huge benefit for him, TNS and Swansea, too.
"Not only has he developed into Swansea's regular centre-half, he's also a full senior international for Wales. Would that have happened without the benefit of playing at TNS? Maybe not.
"The more exposure to those types of games will benefit the player in the long run, there's no doubt about it."
Ones to watch
The two players who caught the most attention were Luke Jephcott and Fin Stevens. Jephcott has been in top form for League One side, Plymouth Argyle, while Stevens is a 17-year-old full-back, who has broken into the Brentford team in the Championship.
Bodin only had praise for Jephcott, who has bagged 16 goals in 22 league games: "He's the most experienced striker we've got in the group. The goal record speaks for itself so we've got talented boy, who we need to help and enhance.
"Obviously, for any player that scores that many goals, he needs a good team around him who will create the opportunities and then it's up to Luke to be in the right place at the right time at the right time.
"I believe 12 of the goals [out of the 16 scored] are one-touch finishes, so if we can put good crosses into the box from either side, Luke will be there or thereabouts."
Stevens could be an indispensable aspect to the side if the tactic will be to put crosses into a dangerous area for Jephcott to poke home.
"He's a very talented player. He's been in and around Brentford's team all season which is not mean achievement in itself, one of the top top teams, who play fantastic football," explained Bodin.
"Fin has held his own when he's played in a few cup games, the FA Cup in particular. I've watched him a number of times for the [Brentford] B team and he's one of their standout players.
"For me, he does the basic things very well. It might not sound important but it is.
"He's not quite as adventurous as Neco [Williams] so you're not going to see a winger playing right back. He is more defensive, but when he times his runs and gets into the final third, he will deliver good quality."
It sounds as though there could be a real connection made between the two, and the side will have a chance to test this when they take on the Republic of Ireland in a friendly on Friday, 26th March. Could they be the Welsh version of the Son - Kane duo?