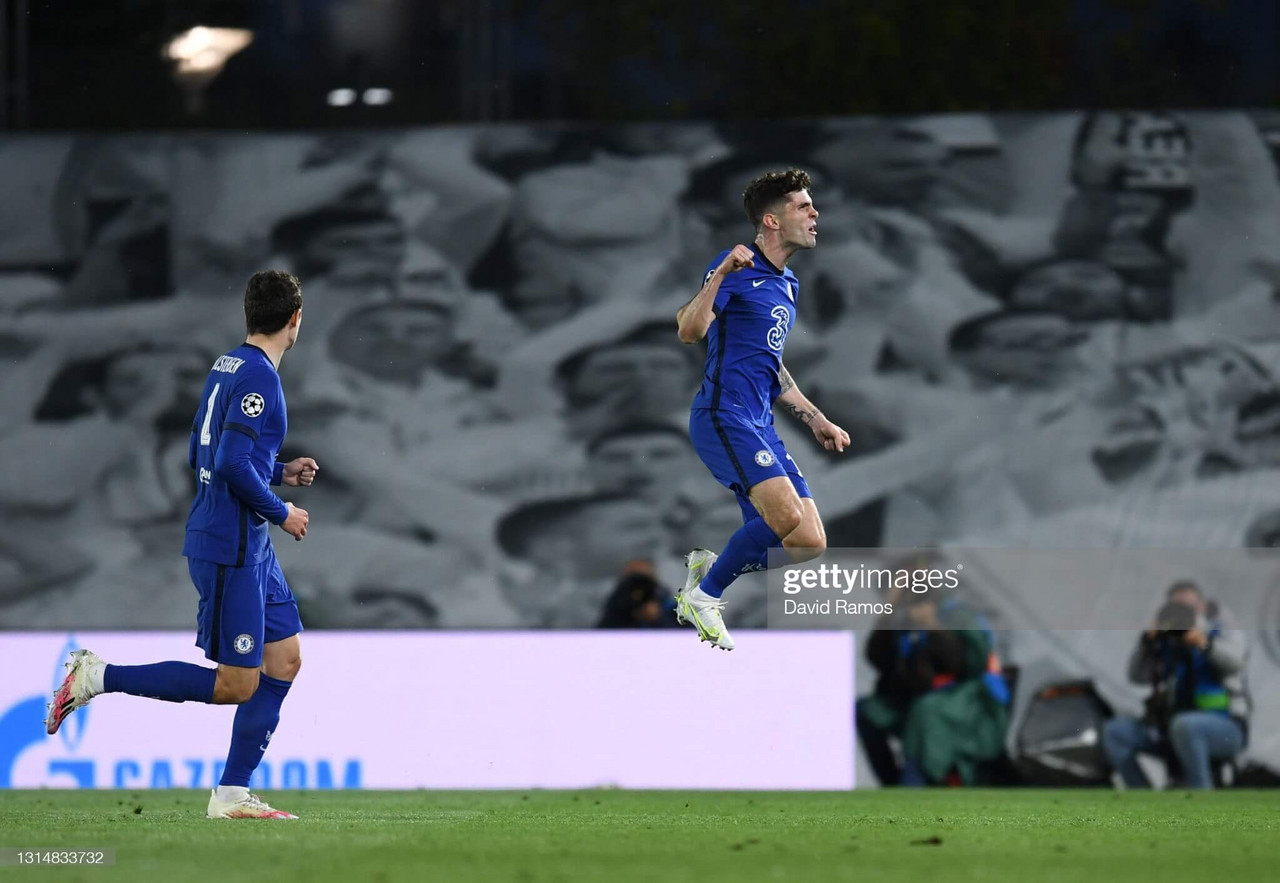 Thomas Tuchel may have felt his team could have done even greater damage to Real Madrid, but nevertheless, Chelsea are in a strong position after the first leg of their Champions League semi-final.
Christian Pulisic's sixth goal of the season could prove to be the most important of his career as it gave Chelsea an away goal in Madrid. Although Karim Benzema equalised to leave the scores level after the first 90 minutes of this tie, it is Chelsea who are in the stronger position ahead of next Wednesday's second leg.
The Chelsea manager certainly rued two chances missed by Timo Werner saying: "He missed a big one in West Ham [on Saturday], now he missed another big one here. That does not help, but it also does not help to cry about it or to regret it all the time."
Story of the game
Another impressive Chelsea performance under the German manager started spritely with Werner having a chance to open the scoring almost instantly. The game had barely settled when Pulisic headed across goal to Werner, who rather tentatively side-footed an attempt straight at Real Madrid goalkeeper Thibaut Courtois.
Real were playing with a back-five, a system that they have donned in La Liga due to the absence of Sergio Ramos, and it allowed the visiting side a certain amount of free-reign. Tuchel's side were able to usurp spaces and created notable chances from all angles.
The turnstiles may have been closed but the heavens were certainly open and the torrential rain added to the speed and ferocity of the first half. Players were starting to lose their footing due to the slippery surface but not Pulisic who was sure footed in the 14th minute.
Unlike Werner before him, the USA international was in no mood to waste an opening. Antonio Rudiger, who seemingly lives for big occasions like this, lofted a ball into the Real half that caught the home side's defence out. Pulisic powered into the area and remained calm when approached by Courtois.
The Chelsea striker rounded the Real 'keeper and then fired a powerful right-footed shot between two Madrid defenders into the net. It was the first goal that Courtois had conceded in six hours and 44 minutes.
There was no doubt that Chelsea were in charge of this game, and the tie, they were far more aggressive than their hosts, being organised in defence but forceful when attacking the Real area. Whenever Mason Mount or Pulisic passed Casemiro in the Real midfield they were buoyed by the sight of a back-line that looked out of sorts.
Still, Zinedine Zidane's team worked their way into the game and their first attempt in vain came when Benzema fired against a post. It was only a matter of minutes later that the Real striker would have his say on this first leg.
Eder Militao flicked on a crossed ball and Benzema took a touch with his head just outside the six-yard area. The dropping ball was inviting and the French striker struck a gorgeous volley at goal which was too powerful for Edouard Mendy to stop.
That was the warning sign that Chelsea had to heed: no matter how dominant they were, Real can always pull something from the hat in this competition. That said, Chelsea don't often concede these days and they took the equaliser as a personal affront. Had Werner connected with Pulisic's teasing delivery, Chelsea would have taken the lead again.
The second period started more cagily, perhaps the way in which semi-finals are expected to be played. Marcelo's yellow card for a professional foul on the marauding Pulisic just past the hour allowed Zidane to send on former Chelsea talisman, Eden Hazard, for Vinicius Junior.
It was the substitutions of Tuchel, though, that injected life back into the game. After visible signs that the visitors were flagging, Tuchel took off Pulisic, Cesar Azpilicueta and Werner for Reece James, Hakim Ziyech and Kai Havertz. Immediately, energy returned to their play demonstrating Tuchel's adeptness at steering his side through a game.
Havertz broke forward and caught Real out as they were in the middle of a transition from a back-five to a four-man defence. Raphael Varane was unsure on how to stop the direct Chelsea attacker and so resorted to bringing him down and earning a booking for his troubles.
The resulting free-kick from a promising position just on the outskirts of the Real area was aimed at goal by Ziyech but Courtois could comfortably save the effort. Chelsea had their away goal and will carry the belief that they can finish the job back at the Bridge. One clean sheet more and they will be in their first Champions League final since 2012.