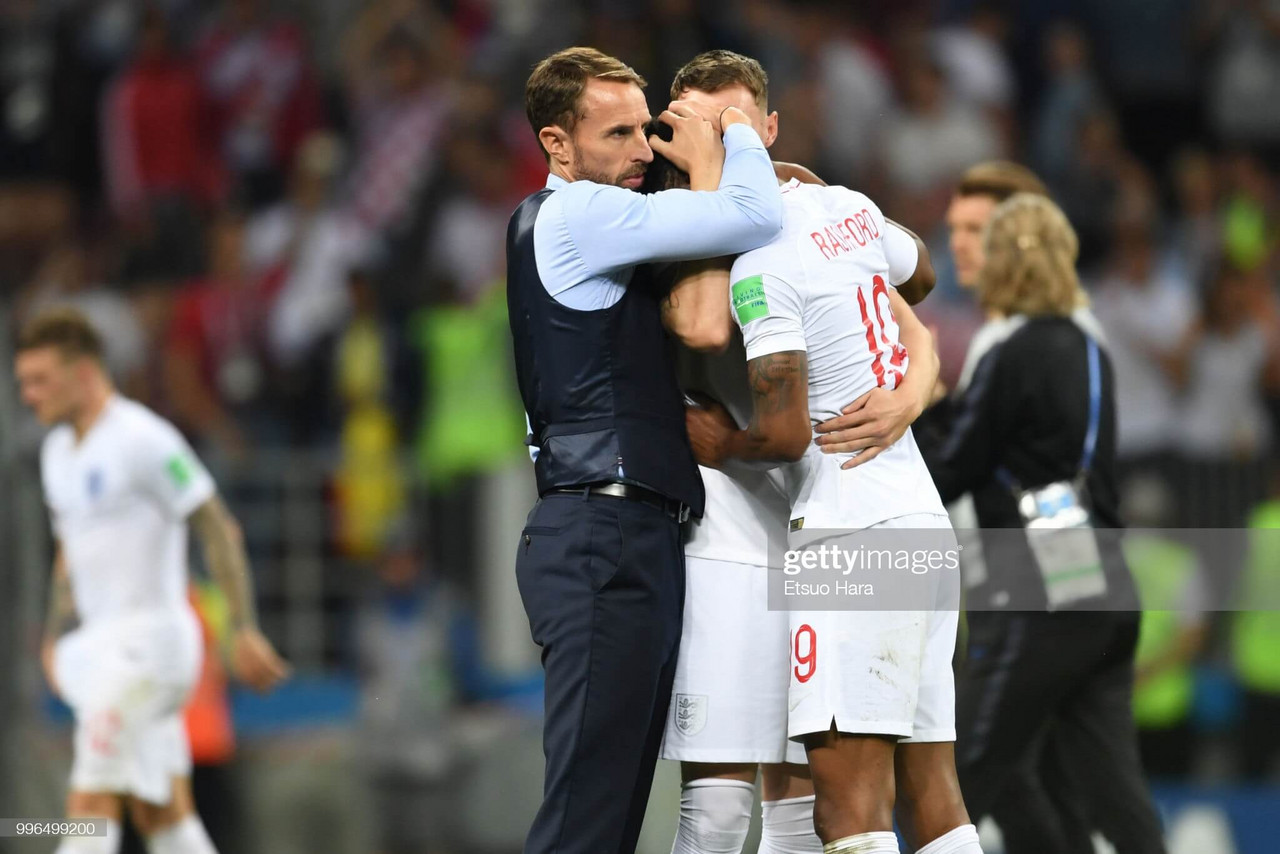 England are preparing to face up against Croatia with the trauma of their 2018 World Cup exit looming large over them.
Despite having a positive record against the Croatians since the exit (one win, one draw), international tournaments offer an entirely different style of approach, meaning form and history go out the window.
With the 2018 defeat fresh in every England fan's mind, we take a look back to examine what exactly went wrong that ill-fated day.
What went wrong?
England came into the match slight favourites, with their young squad having the edge on the Croatians comparatively ageing squad thanks to an extra days rest and the Croatians having to play 120 minutes in their two previous games.
National spirit could hardly have been higher as England's inspiring run to the final looked destined to continue as Kieran Trippier curled in a beautiful free-kick just three minutes into the semifinal.
However, the goal highlighted a problem that England had, as of yet, managed to paper over. Their reliance on set pieces had become a worry, with nine of England's 12 goals coming from set-pieces (penalties, corners and free kicks).
While prowess from set-pieces is important to any team, England's reliance on them papered over a glaring lack of creativity from midfield, with the usually reliable Jesse Lingard, Raheem Sterling and Dele Alli all struggling to cause problems in the final third.
This eventually became England's undoing, as their inability to create meant they were unable to extend on their early lead as the Croatians grew in confidence.
Their persistence was repaid just before the 70th minute, as a deep cross from Sime Vrsaljko was bravely met by Ivan Perisic to put Croatia on level terms.
This goal highlighted a rather ironic fault in England's game. Despite their ability to attack crosses into the box, their ability to defend them was below par.
Of the six goals England conceded in Russia, four of them came from deliveries into the box.
The issue arguably came from one of two areas; their ability to stop the balls coming into the box and the lack of pace from their centre backs, meaning that runs were not sufficiently tracked.
The first Croatia goal was an example of the former point, with Ashley Young's lacklustre efforts to close down the crosser giving Vrsaljko time and space to pick out an accurate delivery.
England's eventual downfall would again come from a delivery into the box, this time, Perisic's flick into the box was not dealt with, and Mario Mandzukic was free to run in behind and slot the ball past Jordan Pickford with ease.
This culmination of both the aforementioned issues saw England crash out in despair.
How does Southgate fix it?
Looking at the squad announcement, one thing stood out (other than the four right-backs!). The issue of creativity seems to have been resolved, on paper at least.
With a midfield/attacking line featuring Phil Foden, Jack Grealish, Mason Mount and Jadon Sancho, to name a few, it would appear Gareth Southgate is eager to ignite England's creative spark this summer.
Combine that with the creative ability of Luke Shaw, Reece James, Trippier and Harry Kane, and England look like producing from all areas of the pitch.
However, with Croatia's world-class midfield trio of Marcelo Brozovic, Luka Modric and Matteo Kovacic, having the time and space to create may be hard to come by.
This is where the youth and energy of the England team plays a factor, with workhorses Mount and Jordan Henderson making life difficult for even the toughest of opponents, with their energy able to help them pick holes in the midfield.
It remains to be seen whether England have learned from their defensive deficiencies in 2018, especially with the likelihood of Harry Maguire being a peripheral figure in the starting XI.
Hope rests on the shoulders of John Stones, who has grown massively from 2018 and has become a formidable defender under Pep Guardiola this season.
The reemergence of Luke Shaw, especially in a defensive sense, should add further stability to England's backline, while each of their three right-backs more strings to their bow than the full backs available three years ago.
With matchday one just around the corner, only time will tell whether this promising group of players have learned their lesson.