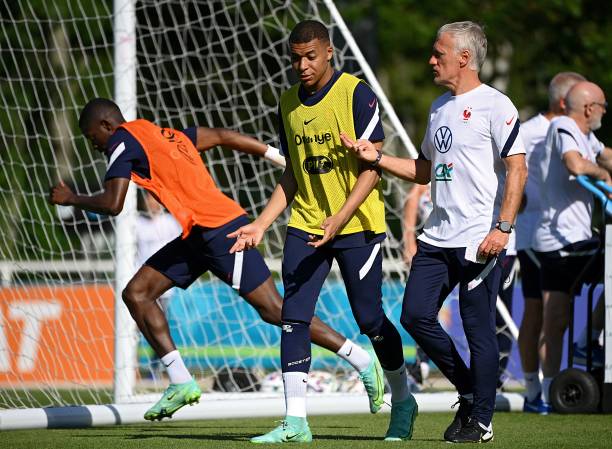 Coach Didier Deschamps had private conversations with both Olivier Giroud and Kylian Mbappe in an attempt to try and waiver away the unrest in the French camp, however the PSG starlet remained surly throughout training on Thursday.
In a post match interview conducted by French media following Les Bleus' comfortable victory over Bulgaria, striker Giroud seemed to hint at the fact that he was receiving "little to no balls" from certain players during the game.
Mbappe calls for a press conference
It is understood that his team-mate Mbappe was offended by the comments the veteran had made. Not just content with expressing his distaste, Mbappe wanted to call a press conference on Thursday (two days after the match) but was denied by his manager Deschamps, who wasn't keen on his players washing their dirty laundry in public...
The French national squad are no strangers to internal cracks, whether it be in the midst of a major international tournament or not. During the 2010 World Cup Finals, coach Raymond Domenech sent home Nicolas Anelka after the striker verbally abused his manager.
This preceded a full on squad mutiny that saw the team crash out in the group stages.
Who could forget when Karim Benzema was temporarily exiled from national team duty after his involvement in a sex-tape scandal with fellow frenchman Mathieu Valbuena.
Or when the man in question Giroud was involved in a spat with the Real Madrid front man following Benzema comparing himself to the veteran as "Go Karting compared to F1."
Giroud aims to make amends
Giroud, 12 years Mbappe's senior, attempted to speak to the PSG striker in order to clear things up in training. He told him that his words ran away with him a little and that it was not only Mbappe that he was talking about. The 22 year didn't seem convinced.
Giroud also admitted to Mbappe that he had made a mistake in the interview and had felt pressured by the interviewer to say certain things.
Throughout training, Mbappe's body language was very closed; usually a very smiley trainer. Deschamps, seeing that things were not yet resolved, spoke to both players privately during the training session.
He then spoke to the whole French squad, stating that it was now important to move on, even if an error was made in terms of Giroud publicising his feelings.
Giroud forced an uncomfortable looking hug upon Mbappe at the end of the session, after providing him with two assists in a small-sided game during training.
France are set to kick off their Euro 2020 campaign against Germany next week on Tuesday. The tension amongst the squad seems still present.