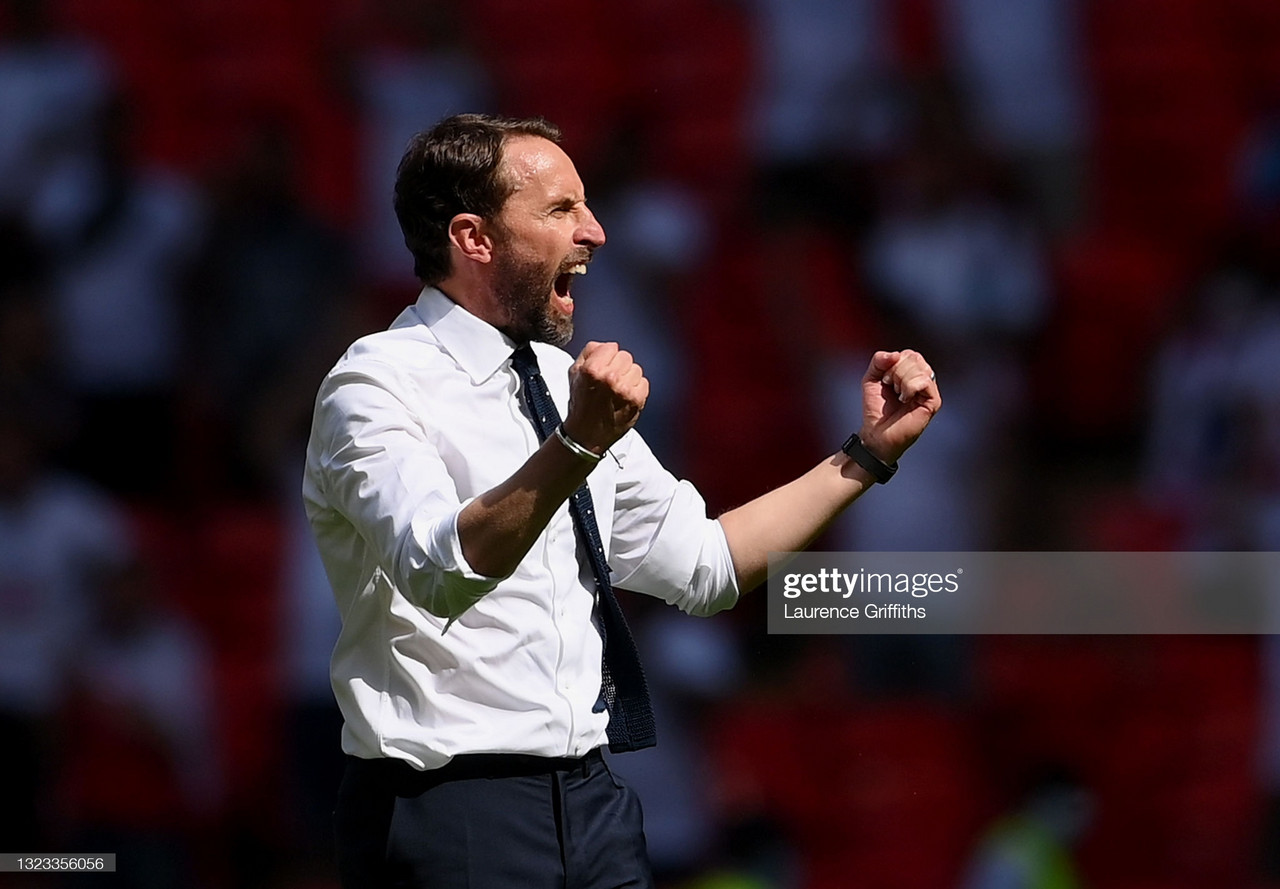 England fans have had gleaming smiles all week after their nation, for the very first time, won their opening game of a European Championship.
The 1-0 win over Group D rivals Croatia was the perfect start to the tournament. The comfortable manner of the performance left nobody doubting Gareth Southgate's selections after the full-time whistle.
However, England's squad boasts a vast array of talent – thus allowing the England boss to switch things up during games or dependant on different oppositions.
And despite the fact that Southgate got his team nailed on for his side's Group D opener, there is a strong chance that we should be expecting to see some changes in defence for the Scotland game this Friday.
To most, it came as a massive shock on Sunday when Kieran Trippier, naturally a right-sided full-back, began the game playing the role of left-back.
Both Luke Shaw and Ben Chilwell had stellar seasons for their clubs during the 2020/21 campaign, and almost everybody expected one of the two to start Sunday's match in that left-back role.
Yet it was Trippier who got the nod, and in hindsight, it was the perfect decision for that match.
The fact that Tyrone Mings was making his major tournament debut, and playing in the biggest match of his career, would have contributed to Southgate choosing Trippier to play on his left-hand side.
With Trippier and John Stones (both of whom had an excellent 2018 World Cup) either side of Mings, the Aston Villa man could be guided through the occasion, and he had that little bit more protection defensively than he would have received had Shaw or Chilwell played.
Southgate's choice paid dividends as Mings gave an outstanding performance and showed game numbers as if he were an established international:
100% ground duels won
90% pass accuracy
72 total touches
4 interceptions
3 clearances
0 fouls
0 goals conceded
And with the Bath-born defender showing he can perform in a huge international game, Southgate can probably now tinker and lean towards a more attacking left-back to go alongside Mings for Friday's game at Wembley.
Trippier's inclusion was heavily influenced by his tournament experience – with the England boss placing importance on not losing the opening game, and he utilised Trippier's versatility and maturity in the context of a team already featuring five players making their tournament debuts.
Now that the opening game is out of the way and that Mings has shown he can defend in this side, it could now be time for Southgate to back either Shaw or Chilwell to do the job for which they were selected.
Scotland will likely defend deeper than Croatia did, meaning England's left-back on Friday will have much more freedom to roam forward than Trippier was given in the Group D opener.
The value of a left-footed defender joining in attacks against a low-block team is monumental – delivering a series of appetising crosses into the box with a left foot gives opposing defences much more to think about.
And Shaw and Chilwell have both shown continuously that they are effective at this – both winning five assists this season from doing so.
So, although Trippier's strengths were useful for England's game against Croatia, perhaps we should be expecting to see a change in the left-back role come 8PM Friday.
Although Mings made an outstanding start to Euro 2020, there is now some doubt over whether he will start on Friday due to Harry Maguire declaring himself fit on Wednesday.
Maguire has been a major doubt for this summer's tournament since spraining his ankle against Manchester United back in May.
The established international has since not played a game for club or country but has been progressing nicely and has now returned to full training.
The former Leicester City man spoke yesterday and said:
"Obviously, the injury was a setback club football-wise. Internationally I wanted to come into this with a lot of games under my belt with full fitness, but I feel good. I'm back available, been training, and I'm looking forward to it."
"Obviously, it's a big game. I've done a few sessions now and feel like my fitness is there, so, like I say, I'm available for the game. It's about building the confidence every day, and the only way you can do that is by training and playing games."
"You can do as many rehab sessions as you like, but when you're not playing that competitive football, you can't build that confidence, especially when it's an ankle or knee injury. So it's just about more training sessions and games in training, playing games whenever they come, and the confidence will keep going."
With Maguire highlighting his eagerness to get going as soon as possible, it will be interesting to see if Southgate brings him back into the fold or sticks with Mings until he is fully confident in Maguire's fitness.
If the England boss was to start Mings against Scotland, you would like to think Maguire would definitely play in England's third group game against the Czech Republic on Tuesday – due to the fact that it would be far from idyllic if Maguire's first game back in two months was in the knockout stages of a European Championship.
So, as Friday's feisty clash draws closer and closer, many fans will be making their predictions on who could and should start at Wembley – only time will tell.