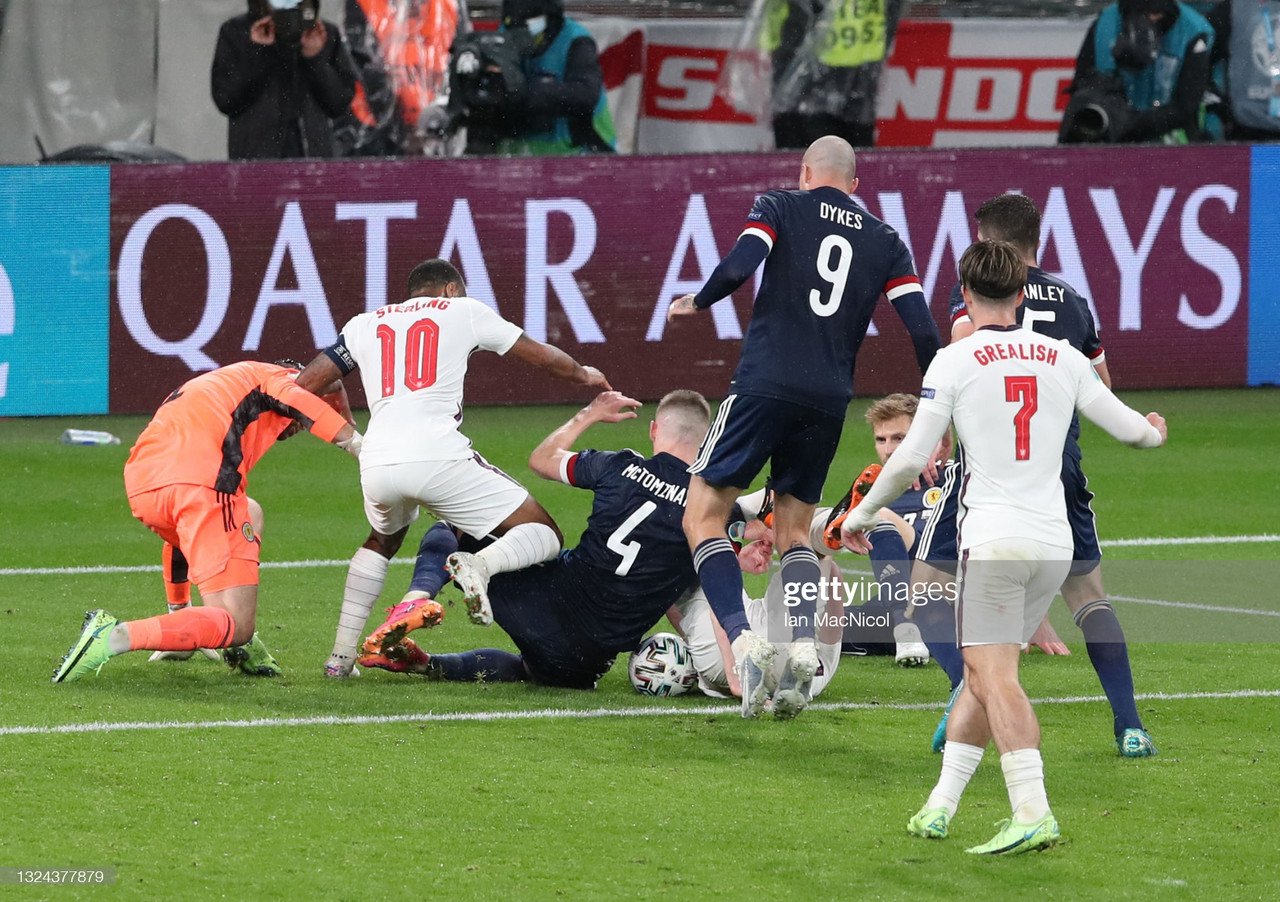 In spite of the intense build-up that forecasted an awesome crescendo at Wembley Stadium on Friday evening, England and Scotland entertained few with a dull showing for the supporters that gathered in London. A far cry from their epic 1996 encounter at the same competition, or even their 2017 tie that saw three goals after the eighty-fifth minute, it was England who were the most disappointing; their embarrassment of riches on-and-off the pitch unable to break down a stringent defence from their northern rivals.
It is easy to descend into the 'what if' scenarios, but it genuinely must be considered how lucky England are that Friday's opponents did not have an above-average striker; as it was up to goalkeeper Jordan Pickford to save the hosts from an awkward defeat to Steve Clarke's side, who were the better team on the night.
But what did we learn about Gareth Southgate's men from the stalemate?
On-field leadership is required
England's victory over Croatia in the first group game may be put into a new light after the draw with Scotland, filed under 'lucky' more than 'deserved'.
The lack of on-field leadership was jarring in the draw, as no man in a white shirt was able to vocalise the side's lack of creativity and encourage them to push forward in pursuit of an opener. The squad looked abject on the pitch, with little connection between the exciting talents that were promised prior to the tournament.
Southgate cannot really be blamed for this, given two of his most vocal performers: Harry Maguire and Jordan Henderson, are unfit and are not ready to start – but situations like these require the call for 'next man up'.
The likes of Pickford, John Stones, Raheem Sterling and Harry Kane are all veterans in the squad now – but only the Everton keeper truly commanded his men. Unfortunately, a goalkeeper just isn't involved enough in the thick of the action to be considered a leader (save for special circumstances, such as the evergreen Gianluigi Buffon).
England have one more group fixture, with the Czech Republic, and it may be their last chance to select the likes of Maguire and Henderson with nothing really on the line (qualification for both sides is all but secured). Either Southgate calls upon one of his club captains, or somebody in the usual starting eleven finds a voice.
Perhaps this season has shown a side of Harry Kane that we didn't know was there: something of dependence. While Kane topped the Premier League's charts for goals and assists this year, half of those opportunities would not have come were it not for the exploits of Heung-Min Son, who himself showed a different gear to his game this term.
For England, Kane has struggled to find that same connection thus far. When England bested Spain in Nations League action in October 2018, it was a fluid front-three of Kane, Sterling and Marcus Rashford that put the former world champions to the sword. Southgate has instead opted for one ball-technician (Phil Foden), and one quick, inside-forward (Sterling) to compliment Kane, and sadly the ruthless hitman from Russia in 2018 just hasn't shown that same form.
Perhaps Southgate would consider two quick wingers for Kane to play in behind against the Czechs; with the Tottenham Hotspur striker playing in more of a link-up role to the midfield nowadays, allowing the likes of Rashford, Sterling, or even Jadon Sancho to find gaps in the defence, we could see some of Kane's previous form re-emerge.
As mentioned earlier, nothing really hangs in the balance this forthcoming Tuesday, when England host the Czech Republic at Wembley. To not qualify from this stage would be unheard of, especially given most sides with four points will at least progress in third place.
With this opportunity, Southgate has the option to withdraw some of the core of his side and field the depths of his squad. Instead of two holding midfielders, perhaps Jude Bellingham could have the chance to announce himself to an international stage. His Borussia Dortmund team-mate, Jadon Sancho, should also receive an opportunity given his electric season with Die Borussen.
While neither Maguire, nor Henderson, should start on Tuesday, they should both receive minutes to boost their match fitness – Maguire especially, as he has not played in six weeks.
The likes of Kieran Trippier and Dominic Calvert-Lewin could also be given an opportunity, the latter especially considering Kane's torrid time in front of goal against the Scots.
Realistically, England have little to lose by showcasing some of their depth on Tuesday, and after the horrid performance on Friday evening – can anybody genuinely argue that the regular starters deserve their place?