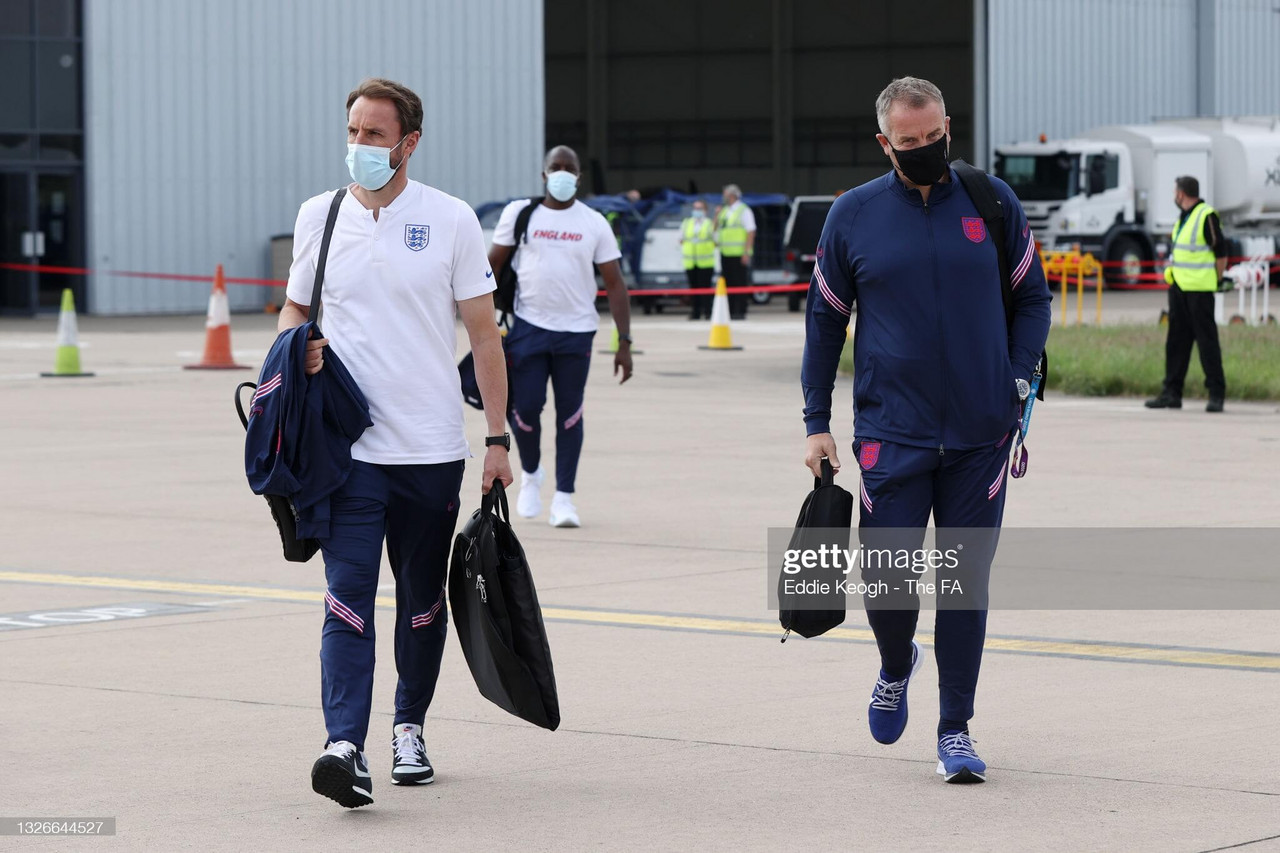 When England disembarked their plane and made the journey to the team hotel in Rome, there was both a steely determination in the players' eyes along with a smile across their faces too. This is an England squad comfortable in its own skin. A team moving in the same direction, wanting to win together.
The aim is to head towards the final of Euro 2020 and to make that more of a reality Gareth Southgate's side must retain their focus and not become complacent after Tuesday's landmark round-of-16 victory over Germany. Having overcome that hurdle, both physically and mentally, their quarter-final with Ukraine may feel a little like after the Lord Mayor's Show.
While Wembley was bouncing to the sound of 40,000 England supporters for the Germany game, the trip to Rome will see England play in a stadium that will hold more Ukrainian fans than English and the general atmosphere will be more muted than the raucous backdrop on home soil earlier in the week.
Yet, for England, this is still a test - albeit a different one. This is the first time they will play away from Wembley during the competition; the climate is more clement than north London and the playing surface will be different too.
Still, Southgate's side are the favourites against the lowest-ranking nation left in the tournament. A semi-final against either Czech Republic or Denmark awaits the winner. This may not be the most glamorous of steps in England's quest to become European champions, but it is a vital one. Should they achieve success against Ukraine, it will mean successive semi-finals have been reached by England for the first time since the 1960s.
"It's the opportunity to get to a third semi-final for us in the last few years [including the Nations League], a second major tournament semi-final and you've got to go back to Sir Alf's time to be able to do that," Southgate said.
"It's another chance for the team to make history. We have the opportunity to give people special days and Tuesday was a special day and one that, frankly, everybody needed. We know now there is an understandable increase in expectation from everybody else."
As England continue down this road with the hope of glory, they have a swelling interest from the 55 million back at home. Whenever England do well in tournaments the clamour, noise and opinions increase amongst the public. Emotions rise but Southgate knows that his players must remain focused and apply themselves effectively in their latest game. "We've got to stay composed, but not fearful," he said.
Ukraine will pose a different challenge to that provided by Germany. Andriy Shevchenko's side will look to punish England on the counter-attack, a ploy which proved effective against the Netherlands, no less, in a group-game which they ultimately lost 3-2. England's players are fully aware of the quality of Andriy Yarmolenko, the West Ham forward, and Oleksandr Zinchenko, the Manchester City full-back, who plays further forward for his country.
Nevertheless, should England impose themselves with authority and confidence, without underestimating the opposition, then it's difficult to see past a win for Southgate's side. Uncomfortable moments arise in tournaments, as in matches, but responding to them well provides teams with added belief.
"You've got to be not the best team for a two or four-year period, you've got to be the best team over the period of three weeks," Southgate added. "It's about peaking, it's about reacting in the right way when things are going wrong, it's controlling the things you can and not being distracted by so many things that can go against a team and can tear a team apart from within their camp at times.
"It's always going to be a job and a team that has that intensity that's incomparable to most roles in the world or certainly in our country. It means it's uncomfortable at times."
Sancho to get first start
Southgate has insisted that his team selection will not be influenced by the fact four of his players are walking a disciplinary tightrope by being a yellow card away from missing the possible semi-final. Harry Maguire, Declan Rice, Kalvin Phillips and Phil Foden are all expected to start in Rome with England also switching back to a four-man defence for the game.
With Bukayo Saka requiring a late fitness check having suffered a "slight knock" in training, Jadon Sancho could make his first start of the tournament, while Mason Mount is hoping for a recall after returning from isolation. Southgate wants his side to be on the front foot no matter who is selected.
"I understand the strategy of thinking that [resting the yellow-carded players] through, but I don't think there is a team in the world who would do that at this point," said Southgate. "I have never seen it happen and it is not in our thinking.
"We're not in any way, shape or form complacent. We've got to stay composed and not fearful, we've got to be on the front foot. There's a danger that you hold something in your hands in life … you've got half of something and you don't want to lose the half rather than reach out and go for the whole. We've got to take the next step forward.
"We know now there is an understandable increase in expectation from everybody else and I've got to manage that for the players, make sure they stay composed, not anxious about what this could be.
"It's totally about staying in the present and focusing on this immediate challenge. We are very focused on where we want to head – we're not satisfied with where we've got to – but we have to deliver that."