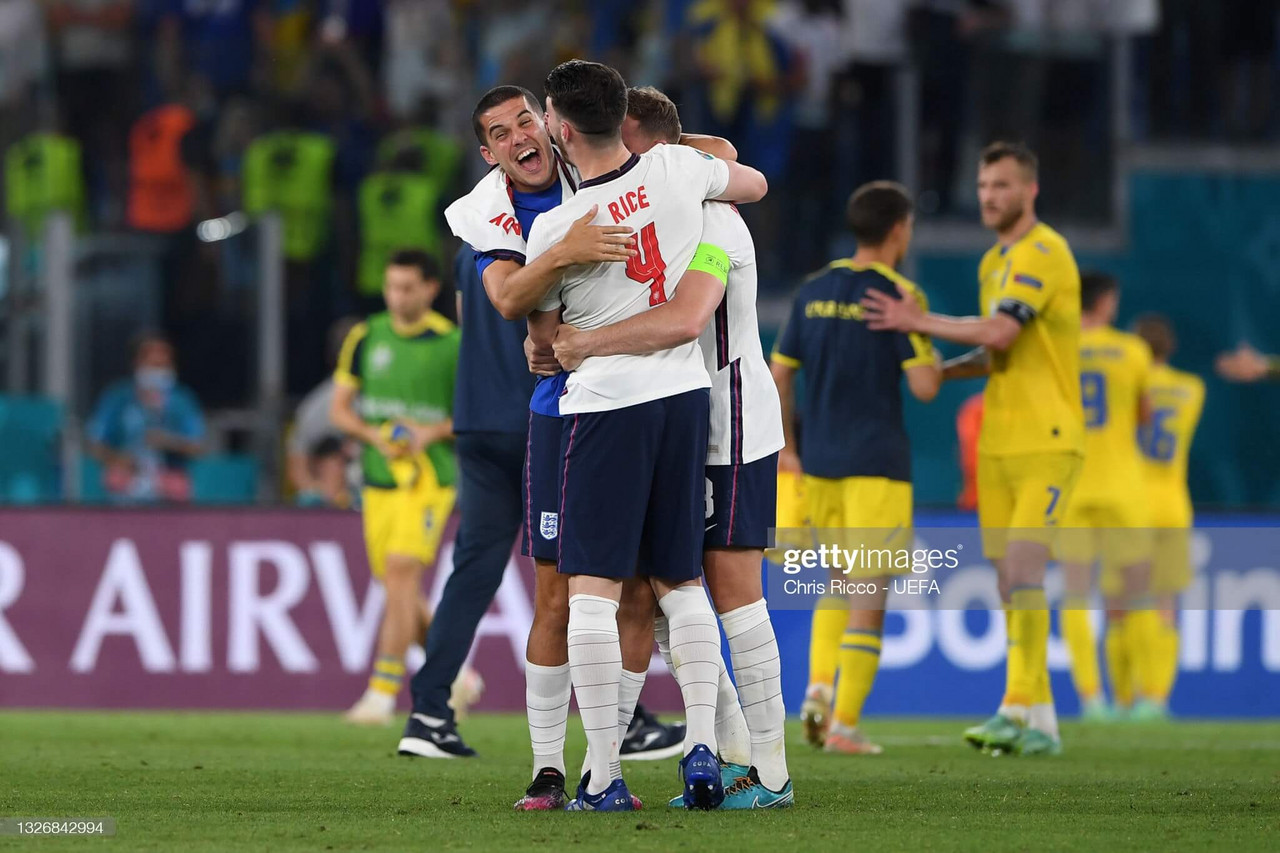 After Jordan Henderson headed in England's final goal of the 4-0 thrashing of Ukraine on Saturday evening, and his first for the national team on his 62nd appearance, a booming voice carried through the night air in Rome's Stadio Olimpico. It was that of Conor Coady, a player who is yet to step foot into a Euro 2020 game but so important to England's progression to the semi-finals.
Coady rose from the substitutes bench and re-enacted Henderson's header. The Wolverhampton Wanderers captain is never shy of sharing his thoughts and making himself known and at the age of 28, at his first major international tournament, he's determined to make the most of it.
He's aware that his game-time will be relatively small, if non-existent, at the tournament but he's adamant his impact will be on the training pitch, pushing the starters all the way, and ensuring standards remain high and focus does not wane. His joy when Henderson scored highlighted the bond among the players.
Togetherness is key
This is a tight-nit squad of 26 players. Unlike times gone by, there are no club cliques; these are a band of brothers who feel comfortable in an England shirt. And those who do not regularly wear a matchday jersey - there's four who have not featured in this tournament along with Coady: goalkeepers Aaron Ramsdale and Sam Johnstone, and Bens Chilwell and White - are part of the "collective responsibility" keen to support.
"Conor Coady was the first one off the bench, jumping in the air replicating Hendo's header — I could see him as I was watching the video back this morning," Southgate said on Sunday afternoon.
"That type of character — someone like Conor who's one of the loudest voices in the dressing room before a game and on the training pitch every day – you can't put a value on those sorts of people.
"I loved some of the reaction on the bench when Hendo scored because you could see the younger players were totally delighted for him. There's a lovely moment with Jude [celebrating] that shows you what Hendo brings to our environment that the players were so pleased for him. We all were."
Having such characters around is a true blessing for Southgate, but was a conscious decision when he named his squad. The England manager selected players who make the overall group better. The strength of the squad is in the depth of the quality and such selflessness, even if all are desperate to start.
Southgate has repeatedly said that it is so difficult when naming his 23-man matchday squad for each game and having to leave out three players. That is not an easy decision for the manager to make but Southgate has managed it superbly. Ask anyone in the squad whether Southgate is approachable and, furthermore, takes an apparent interest in them individually, they will say 'yes'. He cares for his players.
Such personable man-management has allowed Southgate to tinker with his team when necessary without neglecting players and pushing them aside. Phil Foden started the first two group games, Bukayo Saka was brought in against Czech Republic and shone, Jack Grealish's cameos are regularly fruitful and Jadon Sancho was given a start against Ukraine to great effect.
Look further across time and the same is clear. When Harry Maguire went through troubles at the start of the season and was dropped from an England squad in September, Southgate checked in on him and kept him close, readying him for a return when he was available.
The same with Kyle Walker, whose position was under threat, and John Stones, who completely lost his but earned it back through hard work at Manchester City. Southgate is adept at creating an environment where everyone feels valued and can be themselves.
"It doesn't mean that everybody in the camp this morning is thrilled and happy because there's ten lads who haven't got on the pitch," Southgate adds. "As much as they're giving themselves to the team, you're never going to have everybody in a perfect individual place and feeling fulfilled. But they recognise what's been built."
'Tribal elders' add the stability
Key to maintaining stability in a group which has seen quite a few new faces arrive in recent months is the 'core group' that Southgate has assembled. Players such as Henderson, Harry Kane, Maguire and Raheem Sterling, England's scorers in these Euros, and other veterans from the previous World Cup including Jordan Pickford, Stones and Kieran Trippier form the bedrock of the trusted squad.
There are years-long relationships that take on new importance in the depths of a tournament: Sterling and Kane, Pickford, Stones and Maguire. But weave in the new talent such as Declan Rice, Kalvin Phillips and Mason Mount the squad looks very much whole again. All bases are covered.
"Within any team there's a core group that drive the team and I don't think you can underestimate the importance of that," Southgate said. "Young players that come in have high ambition and they want to win but there's a bond between groups that forms over time where you know when challenges are made, when there's a need to dig in, when things are happening around the camp and that core group is really important.
"The lads that were with us in Russia, they've been through these experiences together that they pass on to the younger group and the newer group and they take the lead from the tribal elders, if you like. It's key." As is Southgate's management of the squad which is working wonders again in this tournament.