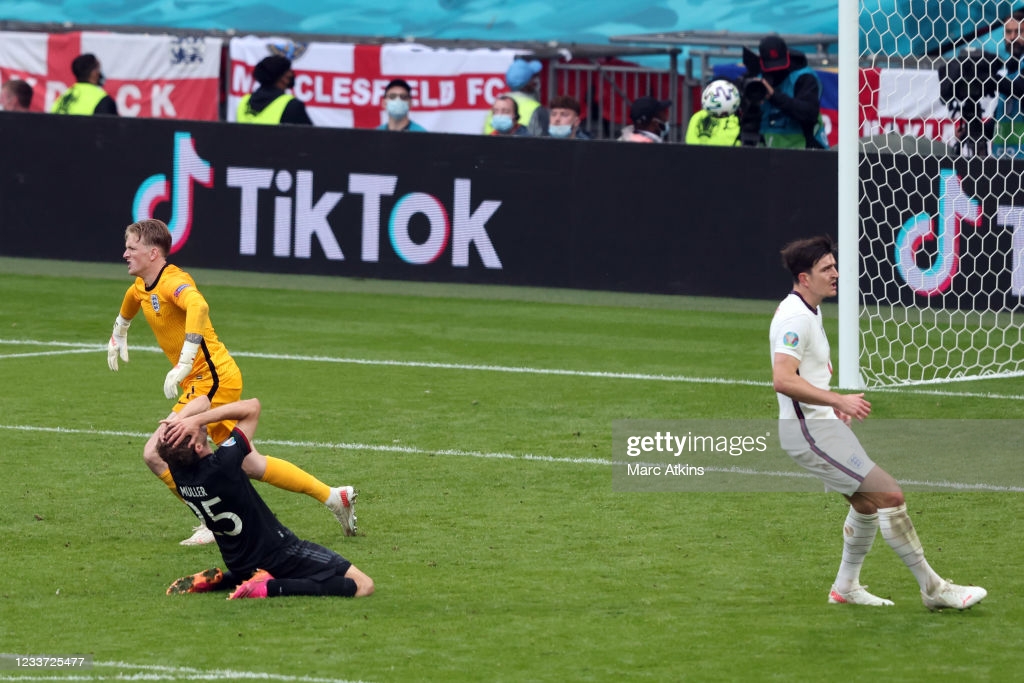 It has been just over a week since Germany were eliminated thanks to goals from Raheem Sterling and Harry Kane as England ended their 55-year wait for a knockout win against Die Mannschaft.
One of the players hit hardest by the defeat was Bayern Munich striker Thomas Muller. The ever-reliant forward had a golden chance to equalise when Sterling almost turned from hero to zero with a backpass that sent Muller clean through on goal.
One-on-one with Jordan Pickford, Muller missed a critical chance to get Germany back into the game which changed the entire complexity of the game.
Muller took his fair share of criticism online and he even apologised to the fans that relied on him taking his big chance.
Muller's own views on the reasons for Germany being eliminated in the early staged of the UEFA Euro 2020 tournament have been conveyed below:
In seinem Newsletter kritisiert @esmuellert_ die Taktik von #Löw bei der #EURO2020: "Mit unserer Bestrebung, durch eine eher abwartende, kompakte Defensivstrategie ohne Gegentor zu bleiben, sind wir de facto gescheitert." Für Müller ist #GER "verdient ausgeschieden". #FCBayern

— Maximilian Koch (@Koch_AZ) July 5, 2021
An der Einstellung habe es nicht gelegen. "Die Truppe, auf die ich gestoßen bin, hatte die Qualität, den Willen und auch die Arbeitsmoral, wieder an alte Erfolge anzuknüpfen", sagt @esmuellert_. Er wolle nun die Enttäuschung "in positive Arbeitsenergie umzuwandeln". #FCBayern

— Maximilian Koch (@Koch_AZ) July 5, 2021
Translated to English: In his newsletter, Thomas Muller criticises the tactics of Joachim Low at Euro 2020: "With our efforts to remain without conceding a goal through a rather wait-and-see, compact defensive strategy was a de facto failure." For Muller, Germany "deserved to be eliminated."
It was not because of the attitude. "The troupe I came across had the quality, the will and the work ethic to build on old successes again," says Muller. He now wants to "convert the disappointment into positive work energy."
The response from Muller feels a little vacant especially after the chance he missed. However, he is the first person from the Germany squad to criticise their tactical approach in the tournament.
Even before the loss to England in the round of 16, there were a lot of doubts about the setup of the team.
Liverpool manager Jurgen Klopp expressed his feeling about Low's back-three system and he was not the first person to do so. The media and fans were also skeptical of Low's tactics for a few years now and their exit was a result of underperformers that could only show up against reigning champions Portugal.
Speaking to Magenta TV, Klopp matched the thoughts of many saying, "It's a bit uncomfortable to judge because every coach has the right to make their own decision. But I would play a back-four with this team. I do not like the system (back-three) very much."
The back-three was not popular amongst critics and fans yet Low persisted with it and Germany paid the ultimate price against England at Wembley Stadium.
What tactical changes are needed to move forward?
Poor in-game tactics, as well as formation selections, have been Low's downfall this summer. His decision to bring on defensive midfielder Emre Can when they needed a goal was barbaric as well as waiting until injury-time to introduce Jamal Musiala further proved that his time was up.
It is clear in the eyes of managers such as Klopp as well as the media that Germany need to change back to a back-four. Many of Germany's players do not play a back-three system at club level and have found it hard to get used to the formation.
It may have worked against Portugal but it did not seem to work for the rest of the tournament. Even against Portugal despite their win, they could not keep a clean sheet and remain defensively poor.
Leon Goretzka could have been utilised better in an attacking sense and Joshua Kimmich should have had a more advanced role to strengthen his playmaking abilities.
However, Muller and Germany need to pick themselves up and go again next year, working with Hansi Flick who could instil an aggressive approach that would suit Muller's playing style.
As for that miss, Muller will be all forgiven by fans of Germany if he can perform well in next year's FIFA World Cup in Qatar.