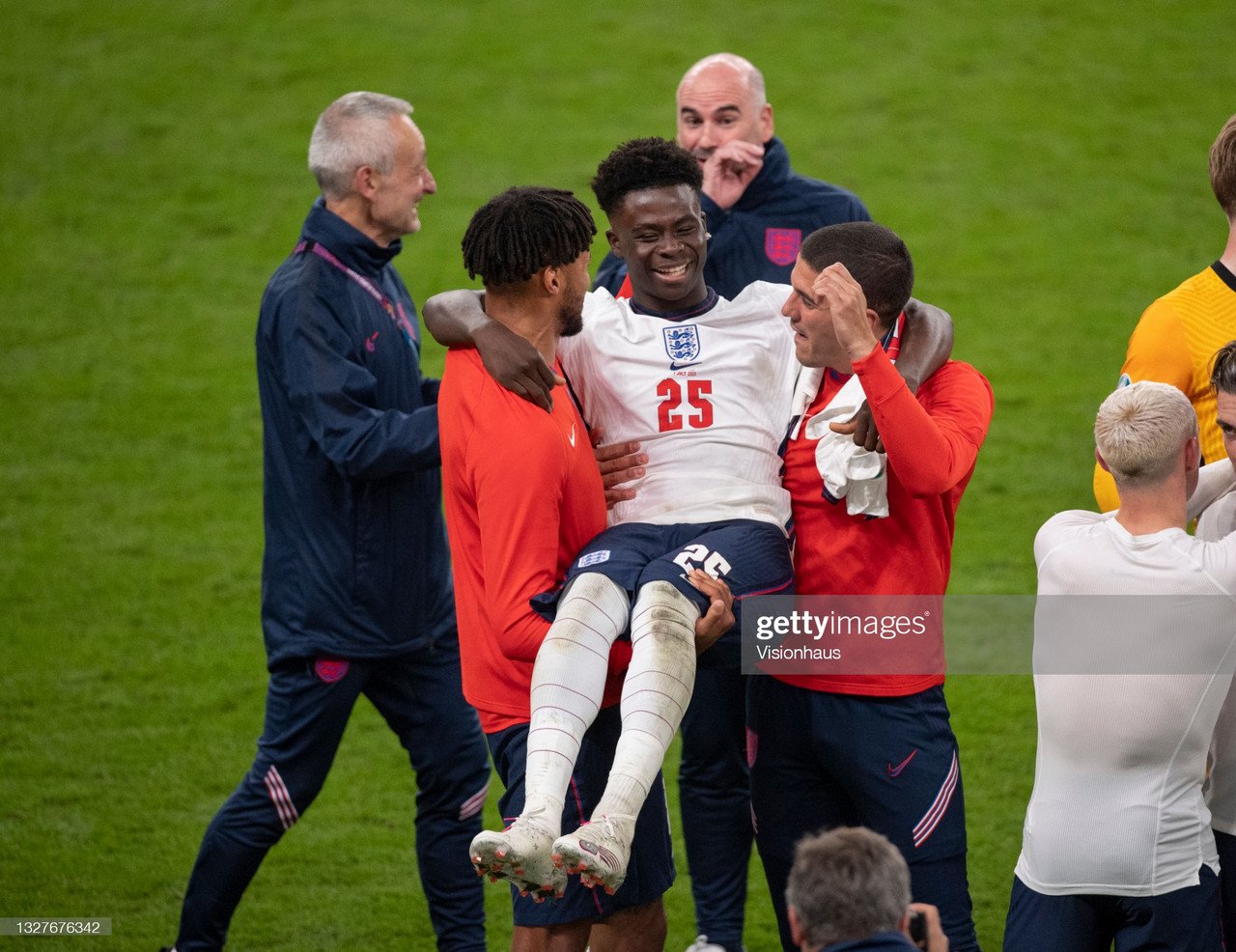 Not one of the England squad that hoisted the Jules Rimet Trophy in 1966 were teenagers. The youngest member of the squad that won the World Cup on home soil was Alan Ball, the industrial midfielder who started the tournament as a twenty-one-year-old.
But when Gareth Southgate's side take to the field on Sunday evening in the final of this summer's European Championship, the odds are that one teenager will be featured in some capacity. That teenager's name is Bukayo Saka.
The versatile winger has impressed in spite of his expected place on the fringes of the squad this summer, but the trust that he earned from Southgate may well be repaid against Italy with a start in a tournament final.
Only a handful of players ever feature in a final as a teen. Saka himself is England's youngest player to start a semi-final, and it is testament to his work-rate, determination and raw ability that has allowed him to achieve such a feat. For reference, Sven-Goran Eriksson became England manager just nine months before Saka's birth. Since Eriksson, there have been four other managers, other than Southgate.
What Saka brings to the side
Other than a fearless knack of taking on the opposition, Saka's versatility has helped England no-end during this tournament. While the winger has not featured as a left-back as he has for Arsenal on occasion this year, his tracking-back ability have seen him jump in the pecking order above the likes of Jack Grealish and Jadon Sancho.
What a team !😍 One step closer …🏆 pic.twitter.com/QfPCkA0j9k

— Bukayo Saka (@BukayoSaka87) July 7, 2021
The defensive acumen that Saka has acquired over the last few years at the Emirates Stadium has allowed him to make himself indispensable for Mikel Arteta in North London; for England he may have a similar status.
Saka is uniquely experienced for a player of just nineteen. He's played in many different positions and has been coached by the likes of Arteta, Unai Emery and Freddie Ljungberg, who each have different instructions, under which the attacker has been able to thrive. He can cut inside from the right as well as taking full-backs on, and also has a high understanding of the game due to his consistent minutes in the Arsenal side.
Sometimes, a player who has been through rough times is more useful than one who has experienced nothing but pure success, and while Arsenal have indeed fallen on rough times recently, one of the only shining lights has been the talent of Saka, a man who many in the Arsenal camp believe can go right to the top.
Only Bernd Leno played more minutes for Arsenal in the Premier League last term, with the teenager racking up an impressive 2,561 minutes on the field. Saka has been awarded a baptism of fire for The Gunners over the last few seasons – only the most talented can thrive under those circumstances and the Ealing-born man has definitely done so.
Saka symbolises what is going right for England
There is often a lazy stereotype in football that players have little-to-no academic ability or knowledge, but Saka's impressive string of GCSE results severs that idea that the general population may presume. He is purely a likeable player, who is down-to-earth and seems genuinely over-the-moon to play for his nation.
That can't be said for previous iterations of England sides, such as in 2010, where the English media were quick to jump on Wayne Rooney for mocking his own supporters, or in 2006, where supporters were frustrated over the headlines made by partners of the players. For many years, it would be understandable for fans to become angered over poor performance and a belief that some members of the squad felt a divine right to be part of the squad. For players like Saka, the same cannot be said.
And not only does that stand Saka in good stead, it also looks favourably on the job that Southgate himself has achieved. By managing to earn back the trust of the England supporters, he has been able to reshape what it means to represent the nation. Even the most cynical of supporters, England have to be seen now as a talented, hard-working side that have deserved their progress in this competition.
Saka is merely a symbol for a wider phenomenon in this side: his relatability and determination. He is performing a job which any football fan would be willing to do for free, and while that may be cliché, it is also true. In past generations, the England national team has been seen as a rattling cage of controversy, sleaze, and self-indulgence.
Now, England has changed. Southgate has done lots to help, but it is players like Saka that will inspire generations to come. If children of today can see the Arsenal attacker lifting the Henri Delaunay Trophy this Sunday, then his legacy will be cemented before the age of twenty.
Will that stop Saka from continuing to build and advance himself? Of course not.