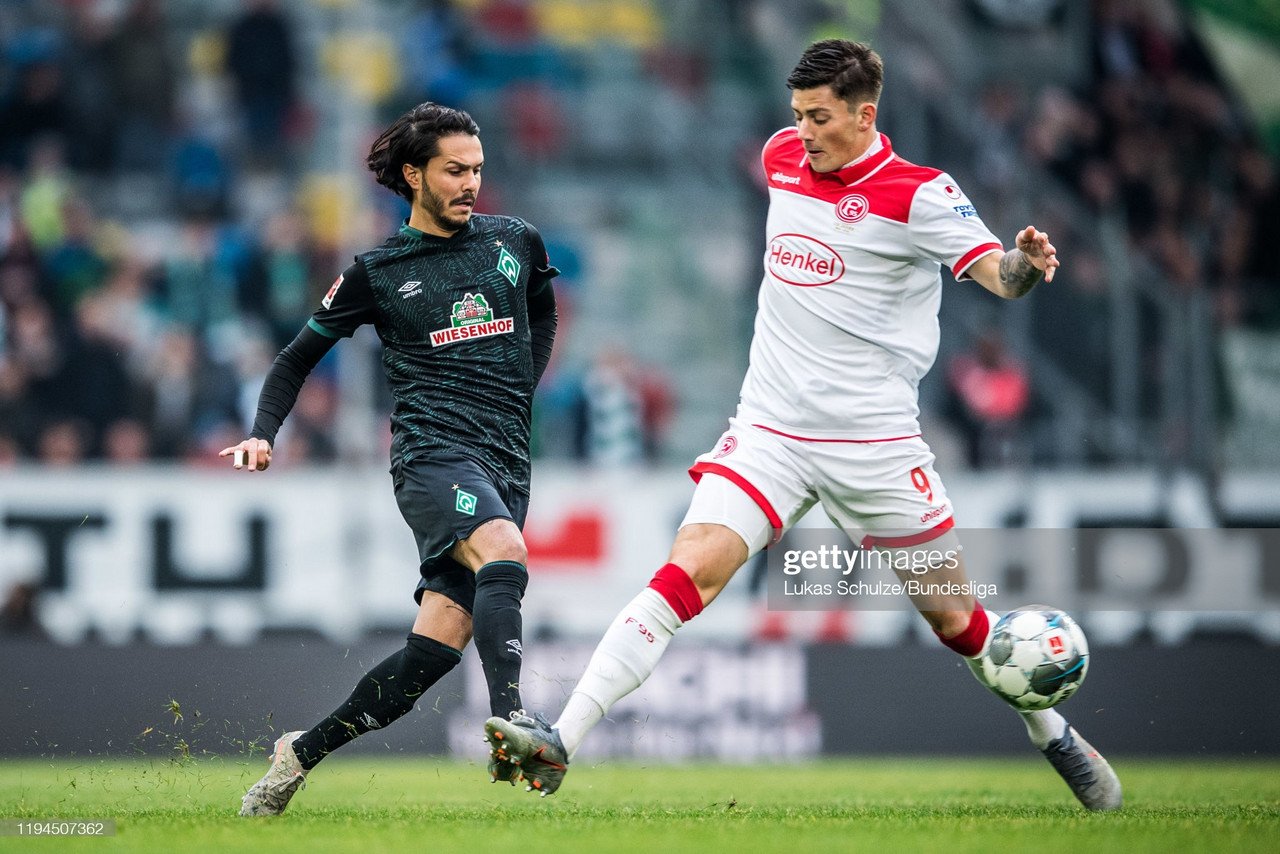 The second matchday of the 2. Bundesliga season serves up a potentially tasty matchup as Fortuna Düsseldorf hosts Werder Bremen at the Merkur Spiel-Arena on Saturday night.
Düsseldorf made a strong start to their campaign, as they beat SV Sandhausen 2-0 on the road. A brace from Rouwen Hennings in the second half put them in front, and they were able to hold on to secure the clean sheet and the three points. It was an ideal performance from Die Flingeraner, who could be candidates for promotion come the end of the year.
Things didn't go as smoothly for Bremen. They were held to a 1-1 draw at home to rivals Hannover 96, and they were admittedly lucky to have not lost on the night. They took the lead via an own-goal from the opposition, but they gave up an equalizer only six minutes later. Die Werderaner were quite sloppy throughout, and they'll need to be better this time around if they want to have any chance of picking up a result.
Team news
Despite it only being the second week of the season, both teams are in the midst of an injury crisis.
For Düsseldorf, the likes of André Hoffmann, Thomas Pledl, Dennis Gorka, and Jamil Siebert are all out through injury, while Emmanuel Iyoha and Felix Klaus are currently seen as doubts for the contest. Ao Tanaka is also unavailable through selection since he is currently with Japan at the Olympics.
It's a similar story for Bremen. Jiří Pavlenka, Leonardo Bittencourt, and Thore Jacobsen are hurt, while Kevin Möhwald and Miloš Veljković aren't in the squad. Luca Plogmann is out on international duty, while it's unclear whether or not Abdenego Nankishi, Nicolai Rapp, and Eren Dinkçi will be able to feature.
Predicted lineups
Fortuna Düsseldorf: Kastenmeier, Zimmermann, Klarer, Nedelcu, Koutris, Klaus, Sobottka, Prib, Appelkamp, Peterson, Hennings
Werder Bremen: Zetterer, Mbom, Mai, Toprak, Jung, Sargent, Schmidt, Eggestein, Schmid, Agu, Füllkrug
Ones to watch
Rouwen Hennings
Rouwen Hennings made a dream start to his campaign, scoring twice in the aforementioned opener versus Sandhausen.
A consistent scorer ever since joining Düsseldorf, the striker has proven himself in the top-flight and in the second division. Even though he's certainly good enough to play in the Bundesliga, he's stayed loyal to his side, and he wants to help bring them up instead of just going there on his own.
If he can keep playing like he did last weekend, then there's a good chance he might bring Die Flingeraner back to the top-flight.
An old-school sort of forward, Hennings makes his living in the penalty area. He knows how to be at the right place at the right time, and he knows how to finish any chance that falls his way. He's not the quickest, or the tallest, but he just has a knack for finding the back of the net time and time again.
He'll be leading the line once again this weekend, and it'd be tough to bet against him getting onto the scoresheet considering how well he played last time out.
Niclas Füllkrug
A striker who hasn't been doing as well is Niclas Füllkrug.
The Bremen frontman struggled at the end of last season, and his poor play was one of the reasons why the team was ultimately relegated. He kept missing key chances, which ultimately cost his side their spot in the Bundesliga.
There was hope that he could turn things around this campaign since he'd be playing in the second division, but if last week was any indication, then that might not happen. Füllkrug was not good, and he was invisible for most of the contest. He didn't get much service, to be fair, but it didn't ever seem like he wanted to get involved to begin with. It was little surprise to see him subbed off, and he was clearly frustrated with his underwhelming performance.
He'll likely get another chance up top versus Düsseldorf, though. The German is an experienced striker, and he is quite dangerous when he's playing well. His hat-trick against Schalke at the start of last season is proof of that, and Bremen will be hoping that sort of player shows up sooner rather than later.
If he does, then Die Werderaner could make an immediate return to the top-flight.
Last time out
It's been a bit of time since these two sides last faced off, as their most recent meeting came in January of 2020.
Not the most exciting contest, both teams did have some half-chances throughout. The first and only goal of the game came in the 67th minute, as a free-kick whipped into the area was headed towards goal by Niklas Moisander before the ball bounced off of goalkeeper Florian Kastenmeier and into the back of his own net.
There was some late chaos, though. After a foul by a Düsseldorf player in the Bremen penalty area, the aforementioned Moisander rushed towards the referee. He got a bit too close for comfort, and he was shown a yellow card as a result. That was his second of the match, which meant that he was then shown a red before he was forced to leave the pitch.
Despite that, Die Werderaner were able to hold on to win on the day.
How to watch
The match kicks off at 2:30 p.m. EST, and it will air live on ESPN+ for those in the United States.