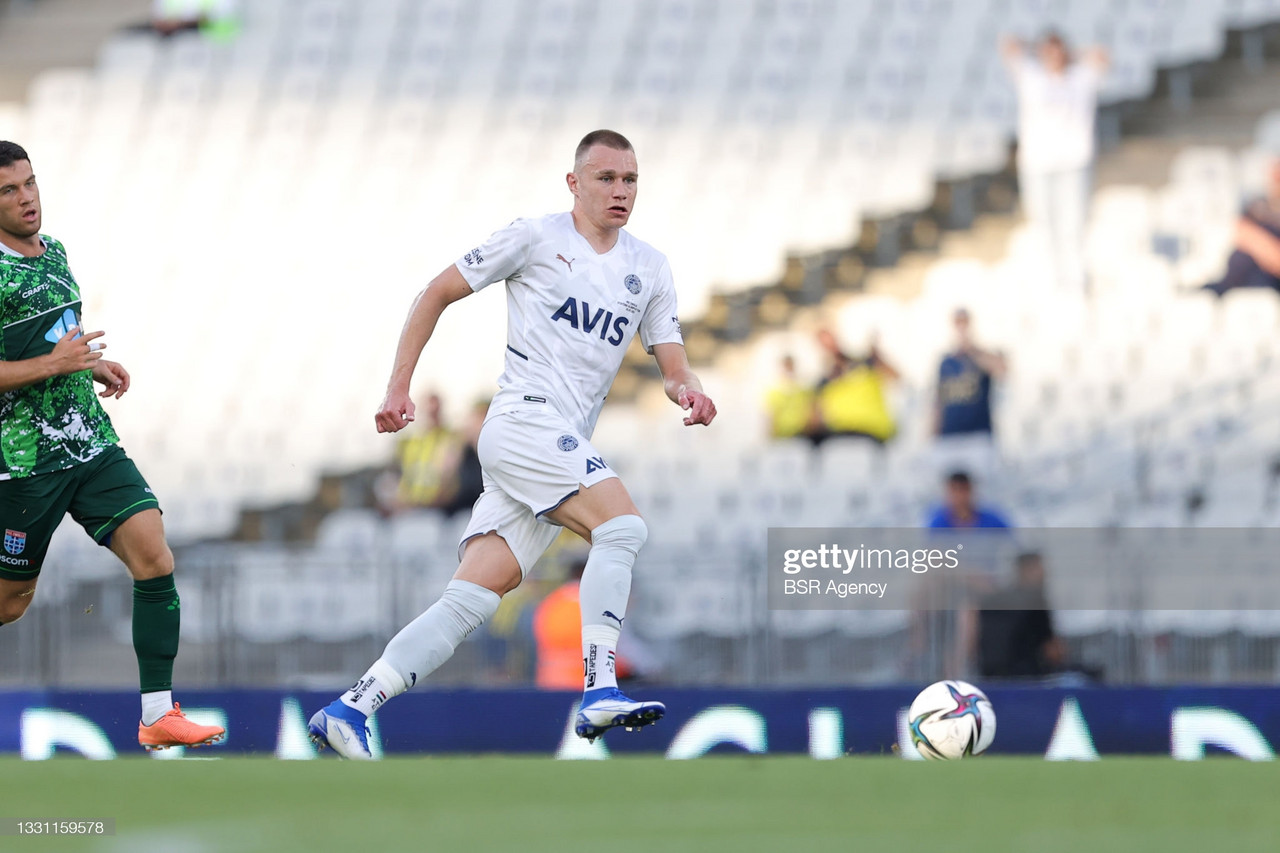 Ahead of the team's return following the international break, here's my ideal 2021/22 Fenerbahçe starting lineup.
Goalkeeper - Altay Bayındır
The 6'5" Turkish shot-stopper stands between the sticks for Fenerbahçe. A fan favorite who has recently been awarded the number 1 jersey for the Turkish national team, scouts across Europe are tracking the star keeper. I speak for most people here when I say that this boy is talented.
Left wing-back - New arrival / Ferdi Kadioglu
I have had multiple sleepless nights over this position. Ferdi Kadioglu has had a couple of good performances this season. However, despite these showings, many Fenerbahçe fans believe we are suited for an upgrade. There have been a few names suggested. Ryan Sessegnon has been linked with a loan move to the club. This would be a dream deal. Alternative options are Fabricio Bustos and Porto left-back Zaidu Sanusi. This is a big position that manager Vitor Pereria has to master, so we may be in for a treat with a few days left of the transfer window.
Centre-back - Atilla Szalai
Atilla Szalai. I could write an 1000 word piece on how much I adore this man. The Hungarian starlet is one of the most valuable players in the Turkish League. He has been linked with a move to Borussia Dortmund recently, and I am not surprised. He is the most important player in this Fenerbahçe squad. Atilla has been compared to the likes of former Arsenal legend Tony Adams in terms of his playing style, as he is a real leader.
Centre-back - Kim Min Jae
The South Korean 'Monster' has been named by many Turkish football pundits as the star signing of the summer. He joined Fenerbahçe from Chinese Super League giants BJ Guoan, where he was named the 2017 Korean Rookie Of The Year. Some believe this is just the start for the defender. Fenerbahçe has also gained a lot of attention from the South Korean market with a big social media following thanks to his arrival.
Centre-back - Marcel Tisserand
Marcel Tisserand is a player who has improved a lot in this team. I am proud of Marcel, as he has stood up to the haters and doubters. Many Fenerbahçe fans thought it would be Tisserand or Mauricio Lemos, but I am glad Tisserand is in this team. May long it continue.
Right wing-back - Nazim Sangare
Nazim has become a fan favorite recently due to his great performances in the Europa League. Nazim has registered three assists this season, and he may just have found his place in the starting 11. Fenerbahçe was linked to several right-backs in the transfer window, but I believe we have found our starting right-back for years to come.
Centre midfield / Centre defensive midfield - Luiz Gustavo
If you told me last season that Luiz Gustavo would still be at Fenerbahçe, I would have laughed at you. Luiz is proving a lot of doubters wrong, though, despite him being in Gustavo a hard position to fill. Rumoured to have had offers from Europe and Asia, the Brazilian star is now in the heart of the Fenerbahçe midfield. Luiz Gustavo is one of the most important players on this team, and he'll be key to a championship push.
Centre midfield - Max Meyer (Yes, Max Meyer)
Max Meyer was a surprise to many Fenerbahçe fans, the once German wonderkid found himself at Istanbul's biggest club this transfer window on a free transfer. Some say it was a deal only done due to 'ROGON', though. Max found himself as an outcast in Croydon's very own Selhurst Park underneath Roy Hodgson. We all remember when Mayer arrived in the Premier League, as it was a joy to many Crystal Palace fans. Meyer found himself training with the U-23's and eventually his contract was terminated, and then a short spell with Köln followed. Meyer brings experience in Europe's biggest leagues, and I believe he will be the biggest shock this window.
Centre attacking midfield - Dimitros Pelkas (star player)
This was a very hard decision to make, Yes, I did not include Mesut Ozil. Why Dimitros Pelkas, you may ask? Pelkas was a stand-out player last season for Fenerbahçe. Speaking to hundreds of fans of the club, this was a very mixed decision. Pelkas has a market value of £10M, and he was linked to Lyon and Roma this window. Fenerbahçe has done all they can to keep the star Greek man. I admit that during pre-season I believed Pelkas and Mesut could not play together, and they proved many people wrong. However, with the two new attacking options, I believe there is only one space for a CAM here. Ozil is one of a kind. Do not get me wrong, he brings an insane amount of revenue and skill to this amazing club. In my personal opinion, though, I still believe Pelkas will start over Mesut.
Striker - Diego Rossi (on loan from LAFC)
Diego Rossi. Yes, the Diego Rossi you may know for breaking MLS records and becoming a golden boot winner. Speaking to loads of LAFC supporters over the past week has made me get the bubbly ready to celebrate the championship already. This boy is a special player. Some may even say Fenerbahçe fans have already made Diego Rossi the most popular player in Uruguay over a certain Luis Suarez. Rossi has registered over 106 goals and assists in 172 matches in his career so far. Some may even say Rossi will be playing amongst Europe's elite very soon. Diego Rossi has a buy clause of around $8M for Fenerbahçe to trigger at the end of the season. This boy will set Turkish football on fire this year, and we are all itching to watch him play. Score a goal in the derby Diego, we are all waiting.
Striker - Enner Valencia (the GOAT)
Enner Valencia may be a common name to the ears of many Premier League supporters across the world. The former West Ham striker is now a cult hero at Fenerbahçe, and some even say he is on course to become a club legend. Valencia leads the line with an impressive 23 goals and assists in 38 matches for Fenerbahçe so far. Most importantly he scored a hat-trick in the Europa League against HJK.
On social media Enner Valencia is known as the GOAT. If I was a gambling man, I would predict that Enner Valencia will be the Super Lig's top scorer this season. This man has only started at the prime age of 31, and I am looking forward to seeing his statue very soon.

Player to watch out for - Arda Guler
Arda Guler, if you are reading this, please ignore Real Madrid.
Guler is already a star at Fenerbahce, aged just 16-years-old. Some even joke that Arda is not allowed to play Europa League matches as it's past his bedtime. The Turkish born playmaker has a similar style of play to Mesut Ozil and Lionel Messi. A Mesut-Messi mix? Could you believe it? He has impressed already this season, with many pundits praising the 16-year-old star. Mark my words, this boy will be on the cover of FIFA 24.
(This article is dedicated to Alan Rzepa (@AlanRzepa on Twitter). I would not be in the position to write this without the help from the man himself. He is a West Ham writer For VAVEL. Drop him a follow.)