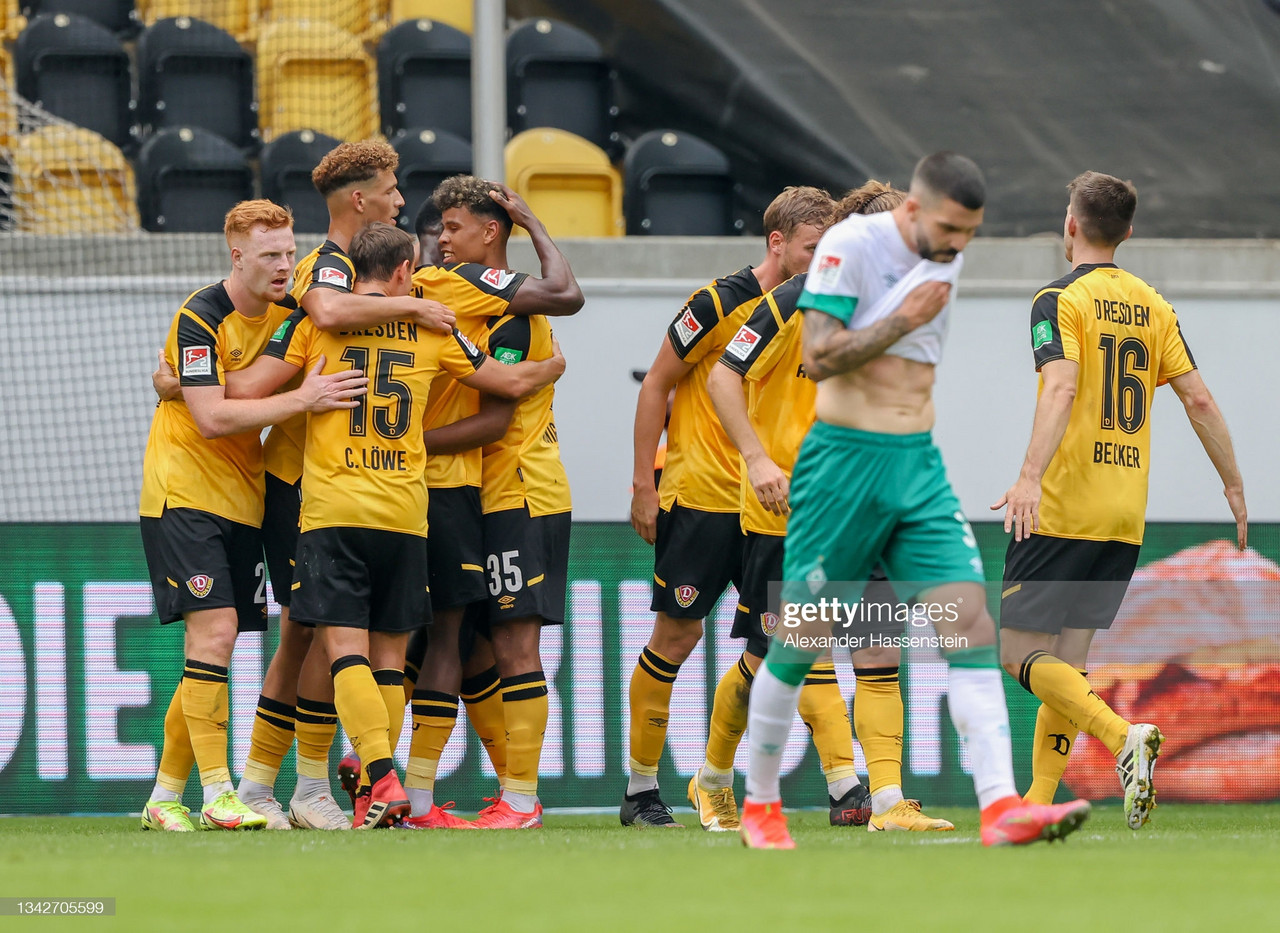 Werder Bremen were beaten badly on Sunday afternoon as they lost 3-0 to Dynamo Dresden at the Rudolf Harbig Stadion.
It wasn't the biggest blowout, as the two sides weren't too far apart when it came to their respective performances. However, the home side stepped up when they needed to, as two goals from Christoph Daferner put them well in front before Morris Schröter sealed the victory with a goal of his own.
This result does say a bit about both teams, as Dresden have shown that they are legit, while Bremen now knows that they need to improve, and that they need to improve quickly if they want any hope of earning promotion back to the Bundesliga.
Story of the match
Dresden were the better of the two sides early on, and they had a good chance to open the scoring in the 13th minute. A short corner was eventually whipped into a dangerous area, and the cross picked out Ransford-Yeboah Königsdörffer, but he mistimed his jump, so his header sailed off target.
Things went back and forth for the rest of the half, but it would be the home side who went in front a bit before the break. It started when Königsdörffer went for a curling effort from the top of the area, and his attempt was only denied by the crossbar. However, the ball then fell right to Christoph Daferner, who took a touch to settle himself before picking out the bottom corner with a composed finish.
Bremen nearly equalized moments later, as Marvin Ducksch was somewhat played through on goal. He just couldn't contain the bouncing ball, though, and he ended up hitting a rushed volley wide.
They then started the second half on the front foot, carving out a decent opportunity for themselves as a result. Ducksch ultimately ended up with the ball in a decent position, but he snatched at a shot from a tight angle, dragging it way off frame.
Dresden then almost doubled their advantage right after, but a close range header went well over thanks to some good defending from Lars Lukas Mai, who managed to put some pressure on the attacker.
They did go 2-0 up past the hour mark, though. It all looked too easy, as they drove forward down the wing before putting a low cross into a dangerous area. The ball eventually fell to Daferner once again, and just like earlier, he was able to finish the chance with ease.
Bremen responded well, and it looked like they had instantly pulled one back when Niclas Füllkrug got on the end of a corner. However, his header only hit the post, and no one could do anything with the resulting rebounds.
That moment would haunt them, as Dresden then put the game to bed with a third goal. Some more woeful defending allowed Morris Schröter to dribble into space with the ball, and he made the most of the opportunity afforded to him, drilling a low shot into the bottom corner.
That was the last meaningful highlight of the contest, as Dynamo were able to hold on to the win and all three points quite comfortably.
Takeaways
What in the world is going on with Jiří Pavlenka? Bremen's best goalkeeper missed the beginning of the season with an injury, but he's yet to return to the starting lineup despite being healthy again. Michael Zetterer wasn't at fault for any of the goals today, but his showing last weekend should have seen him dropped. Hopefully Pavlenka reclaims his number one spot sooner rather than later.
Die Werderaner are in big trouble defensively. They looked like an absolute circus at the back, and that wasn't the first time the backline has dropped a collective disasterclass like that this season. An injury to Ömer Toprak hasn't helped things, but it's becoming increasingly clear that the team cannot handle a simple back four, and that they probably need to start utilizing a back three/five.
This was peak Dresden. They weren't that much better than the opposition, but they did what they needed to when it mattered most. They did catch some breaks in important moments, but they capitalized on them, which can't be said for everyone else. The recently promoted outfit jumped up to 6th place with this result, proving that they are not an easy team to come up against.
Man of the match - Christoph Daferner
Christoph Daferner did not actually do much on the day, but he was still able to be the difference for his side as they picked up all three points.
The striker was admittedly invisible for most of the contest. He wasn't really involved in the build-up play going forward, and he didn't create many chances for himself or his teammates. However, he was still able to score twice by the time the game was done.
The two goals were a bit lucky since Daferner had the ball fall to him in dangerous spots on both occasions. However, there was nothing fortunate about the two finishes, as he converted them with confidence.
He had been in a bit of a goal drought going into the match, but this performance could kick the German back into top gear for the rest of the campaign.