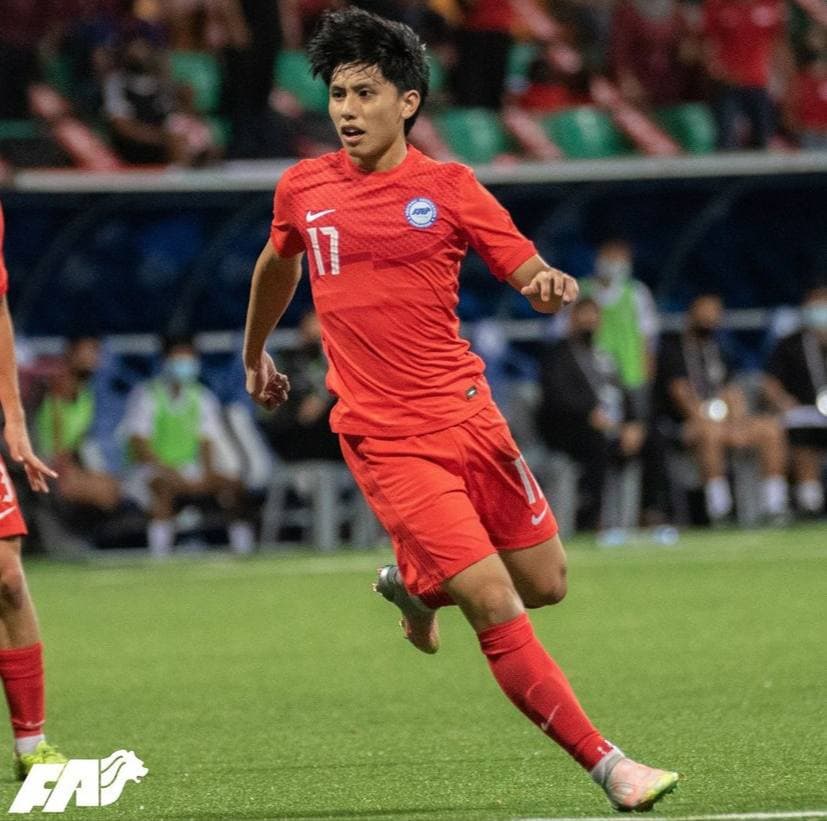 Despite picking only a point against 10-men Timor-Leste in which the equaliser rose late, the young lions found redemption against Philippines, a team consisting of players playing domestically as well as abroad.
The Azkals U23 was awarded a penalty quite early during the game, but was not lucky enough to net the ball as it came off the crossbar. This chance was later haunted by Singapore's Glenn, who naturally gained close-control of the ball, dribbled past two players and finessed his shot right outside of the opponent's box. Quincy was unable to get his hands to that, resulting in Glenn's second goal in two games.
"It was just an instinct(ive) thing- when the situation opened up for me, I just took the shot and it went in," mentioned Glenn humbly. After describing his goal, he continued by crediting his team. "I am happy to score two goals in two games, but it is ultimately a team effort. As long as we win, it does not matter who the one scoring is".
Coach Nazri was pleased with how his boys displayed passion and aggression in uncountable situations of the game, "every one of them fought so hard and gave 110 per cent out there, so I am very proud of them and I could not ask for any more from them".
Ahead of their upcoming fixture, the team knows this would be the toughest match as they would have 90 minutes to endure for. "Of course, it will be a tough game without question, so it is important that we work hard as a team again," said Nazri.
Korea Republic U23 has won their previous fixtures against Philippines U23 and Timor-Leste U23. They will now be looking to grab their third win against host nation Singapore of this last game in the qualifiers. In two games played, they have not conceded a single goal, but have scored nine goals. They are currently first in group H table, standing with six points.
Korea Republic U23 vs Singapore U23 Head to Head
The two teams have not gone head to head in past competitions. This upcoming fixture would be their first meeting.
Korea Republic U23 Form Guide: W-W-L-W-W
Singapore U23 Form Guide: L-L-W-D-W
Korea Republic U23 vs Singapore U23 Team News
Korea Republic U23
There are no reported injuries or suspensions.
Injured: None
Doubtful: None
Suspended: None
Singapore U23
There are no reported injuries or suspensions.
Injured: None
Doubtful: None
Suspended: None
Korea Republic U23 vs Singapore U23 Predicted Starting XI
Korea Republic U23 Predicted XI (4-2-3-1): Lee Gwangyeon, Choi Jun, Lee Kyuhyuk, Kwon Hyeokkyu, Goo Booncheul, Park Jeongin, Cho Sangjun, Jo Jinwoo, Kim Chan, Lim Dugkeun, Go Jaehyeon.
Singapore U23 Predicted XI (4-3-3): Ridhwan Fikri, Ryhan Stewart, Jacob Mahler, Jordan Emaviwe, Danish Irfan, Harhys Stewart, Joel Chew, Saifullah Akbar, Zamani Zamri, Khairin Nadim, Glenn Kweh.
Korea Republic U23 vs Singapore U23 Prediction
South Korea will be seeking another 3 points out of the young lions, which will see themselves being top of group H. With that outcome, they will easily qualify comfortably as Group H winners. However, the host nation backed with home advantage and other positive factors to put in play, they will not back down from this fight as they too have a chance to go top if they win.
Prediction: Korea Republic U23 5-0 Singapore U23