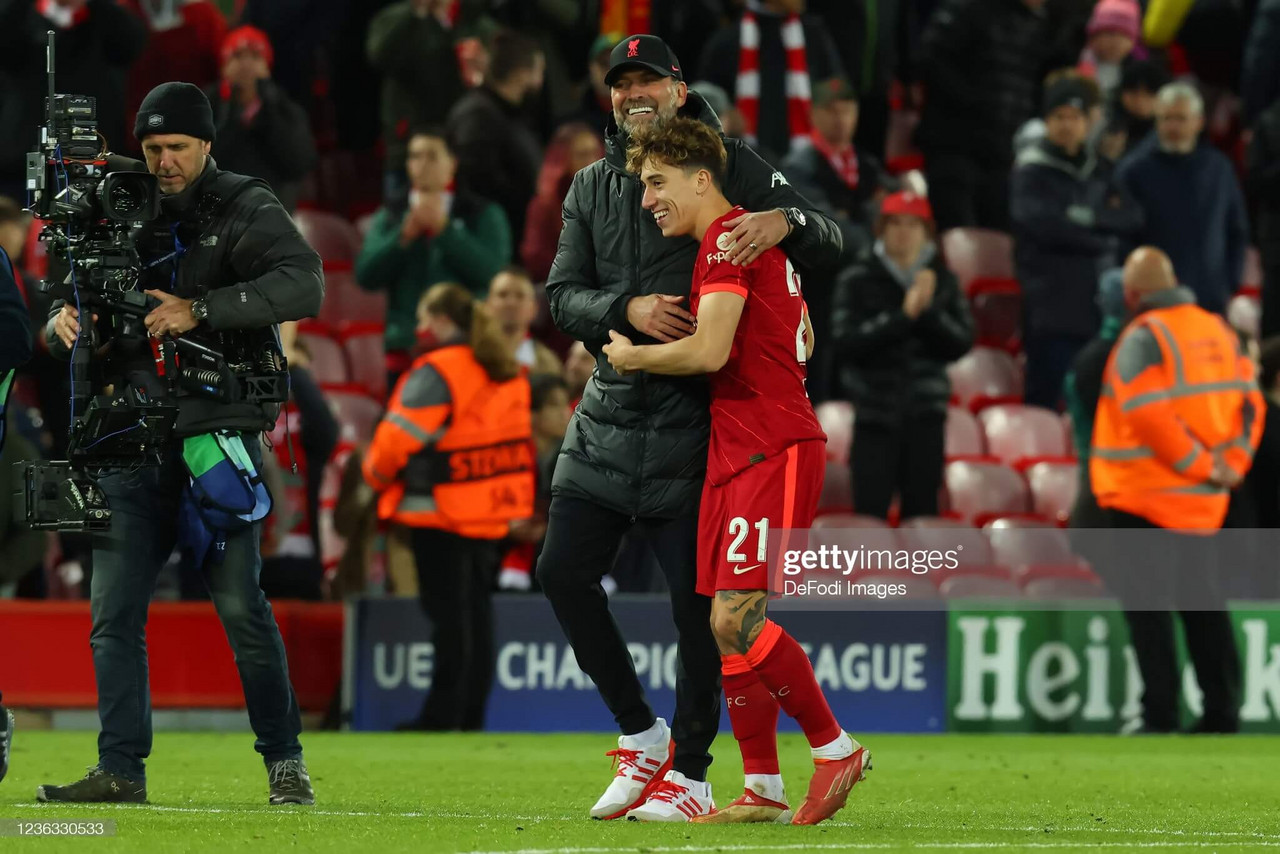 It was during the early exchanges, when Liverpool were yet to be two goals ahead, that Atletico Madrid induced a rare sense of anxiety in the home side's penalty area. Kostas Tsimikas had the ball at his feet just outside of the six-yard box and was being pressed by an Atletico attacker. The Liverpool left back, facing his own goal, stabbed the ball behind for a corner.
Sometimes a hook of the ball away from danger is what is needed, and as the Greek international rose to his feet he received a sort of father-to-son pat on the head from Virgil van Dijk and an acknowledgement of possible danger being averted.
From then on, Diego Simeone's travelling side were more concerned about getting Liverpool players sent off than breaching Alisson's goal and Tsimikas's role for the rest of the evening was more of an attacking one than defensive.
Following his move from Olympiacos in the summer of 2020, the 25-year-old struggled for game time last term; making only seven appearances across four competitions, and most of them were from the substitutes bench which he usually kept warm. Given Liverpool's central defensive injury issues, Jurgen Klopp clearly felt that it was not the best time to blood the new signing.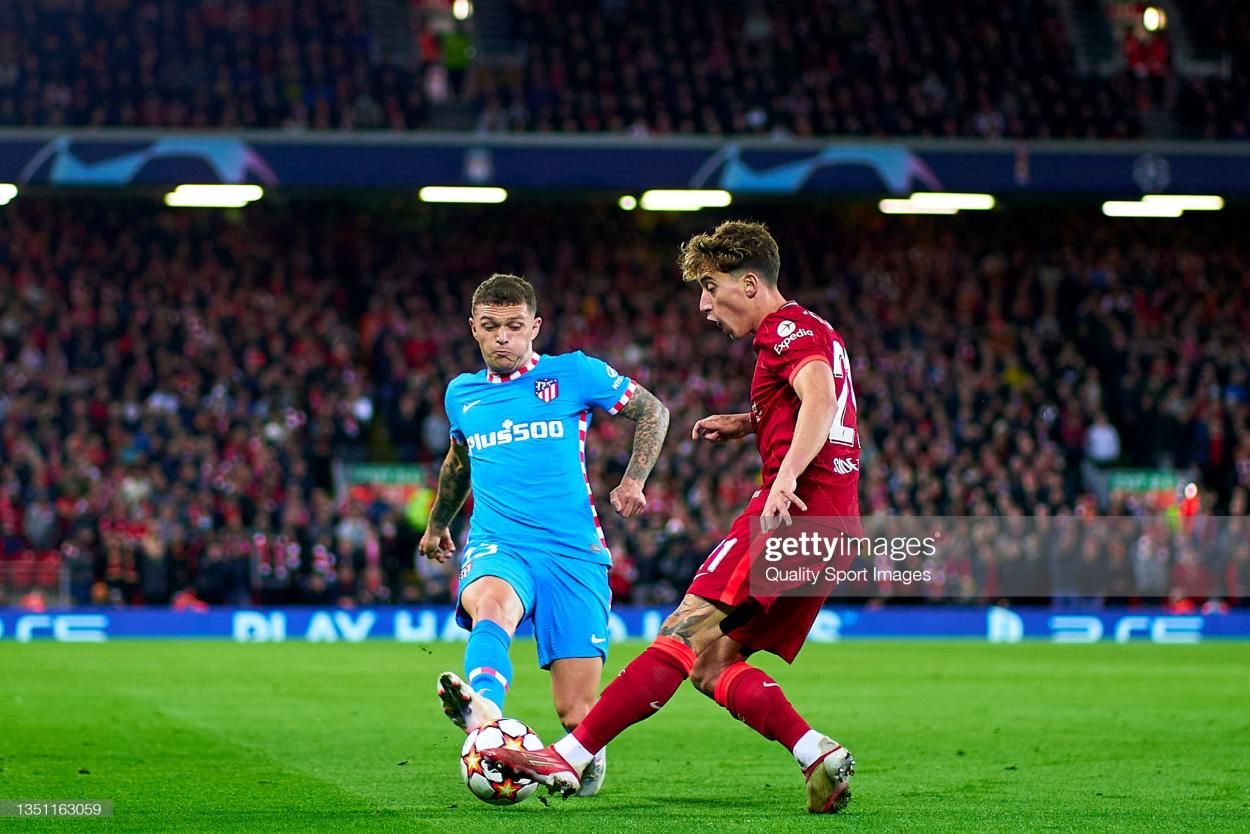 However, Tsimikas has made eight appearances already this season and started two of Liverpool's last three games — away to Preston North End in the League Cup and against Atletico in last night's Champions League group game. On recent evidence he is more than an adequate deputy to Andy Robertson and will be a useful alternative, just like Neco Williams is becoming on the other flank.
In the 2-0 triumph over Atletico, which not only secured Liverpool's progression into the last-16 with two games to spare but also guaranteed them top spot in group B, Tsimikas shuttled up and down the left side to great effect. Despite Liverpool focusing their initial attempts at breaching Atletico's rearguard via the right flank, the left back was a constant source of energy and had the upper hand over Kieran Trippier, Atletico's right wing back.
Tsimikas finished with a pass completion percentage of 83 and had delivered eight crosses from the left, one of which should have been finished off by Diogo Jota shortly after he had given Liverpool a 13th-minute lead. The embrace between the full back and his manager at full time spoke of the appreciation and trust that is building between the pair.
Yet, Alexander-Arnold will not be upstaged
However, even such a strong showing from Tsimikas couldn't upstage Trent Alexander-Arnold. Both of Liverpool's goals came via the 23-year-old's right boot and he deservedly got a standing ovation when substituted in the dying embers. Alexander-Arnold's performance was outstanding and the ease with which he delivered crosses for Jota to head and Sadio Mane to tap past Jan Oblak highlighted the quality of Liverpool's full backs which few teams can compare.
It has been noted time and again just how blessed Liverpool are to have full backs of Alexander-Arnold and Robertson's calibre. The pair are regular assisters for Klopp's lethal attack, and this pair for the right back took him to five for the season.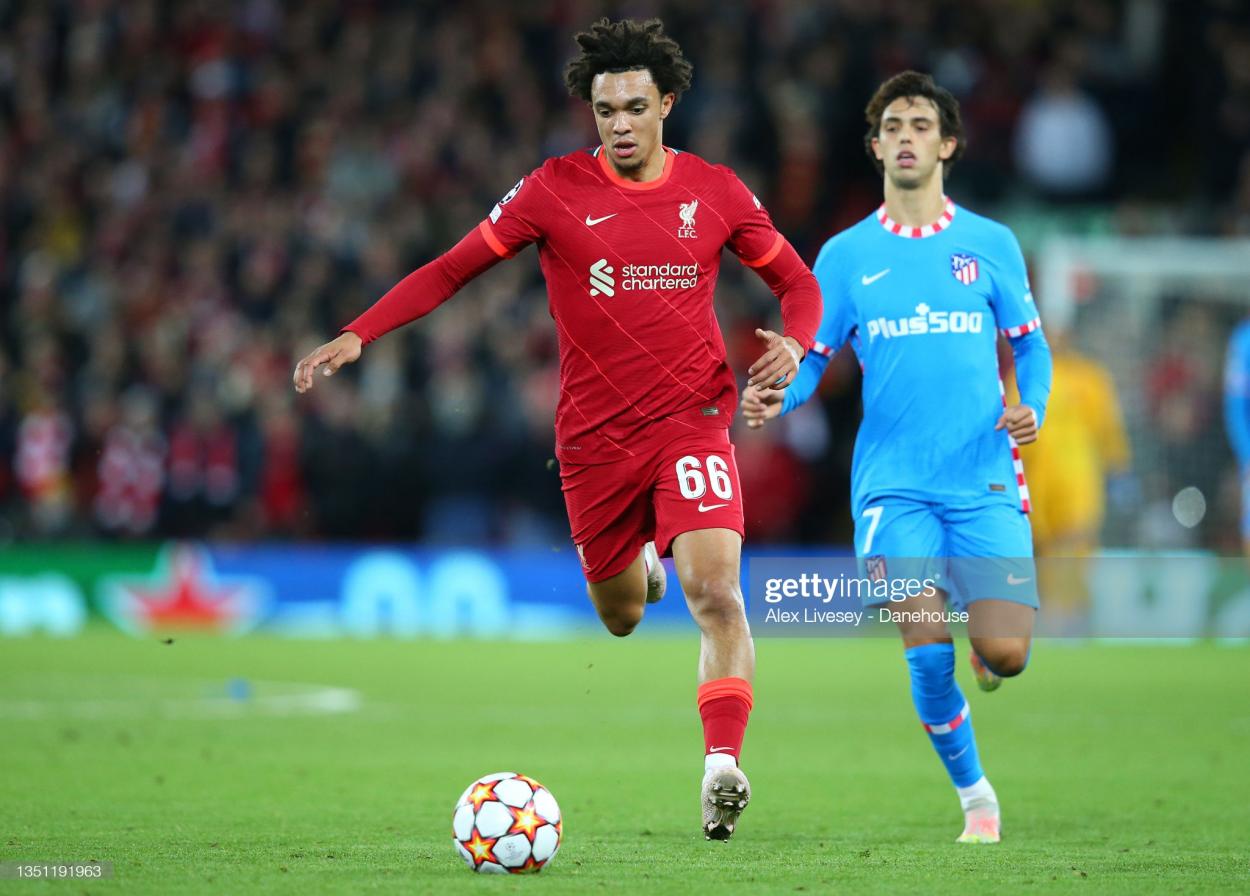 "When he is on top of his game he is outstanding," said Klopp when invited to eulogise on his right back's display. The triangle that Jordan Henderson, Mo Salah and Alexander-Arnold formed was a constant concern for Mario Hermoso and Yannick Carrasco who had the role of trying to stop the inevitable down the right. The trio combined with one-touch passing to bring about the opening goal.
On the back of such a showing Alexander-Arnold should expect a more regular place in Gareth Southgate's England team. The England manager, who names his squad for the upcoming World Cup qualifiers today, infamously tried Alexander-Arnold in a midfield role against Andorra in September only for the experiment to conclude prematurely at half time.
It was clear at Anfield that Alexander-Arnold, in his normal position, is in better form than Trippier and will bring more to the England starting XI than Kyle Walker, however, Southgate does appear more inclined to pragmatic full backs. That's not what you get with Liverpool's marauding right back.