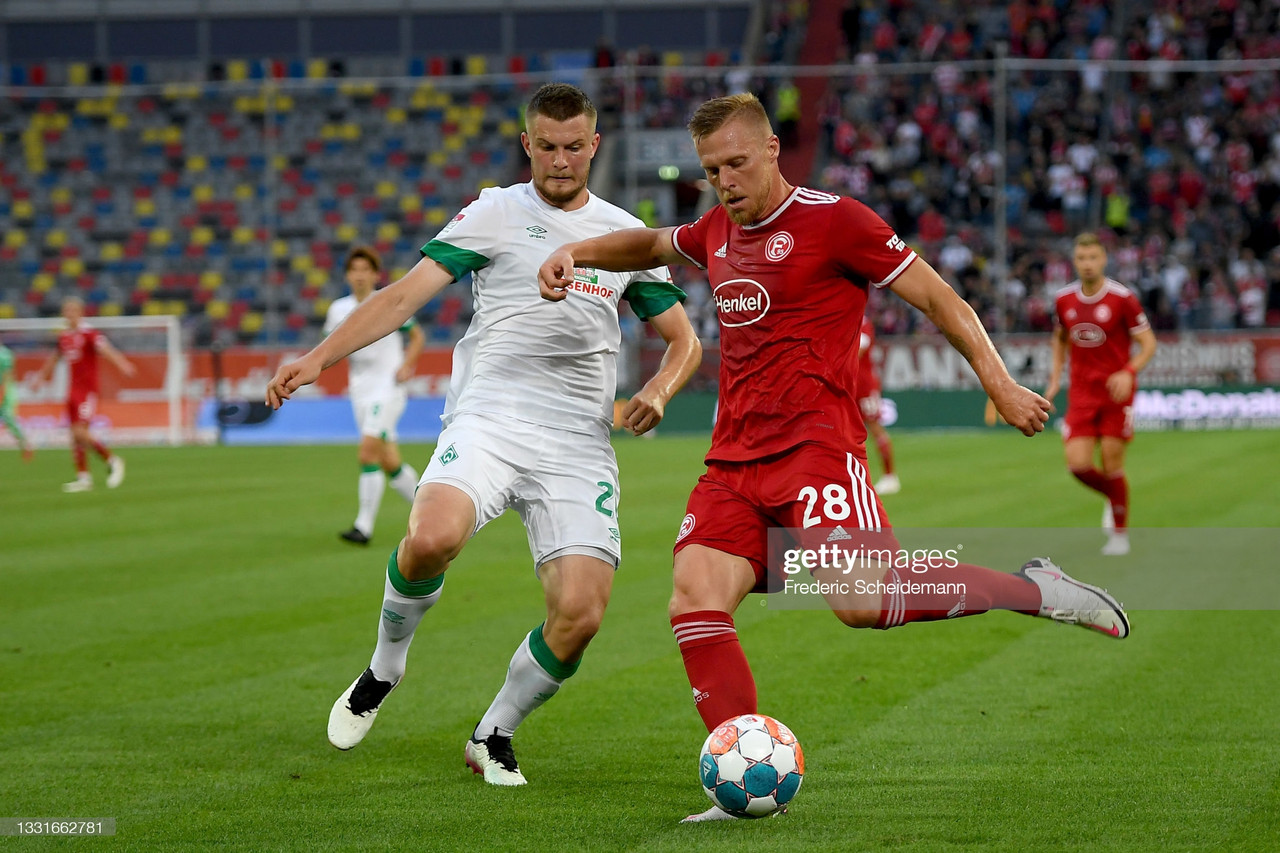 The 2. Bundesliga returns this weekend, and Saturday serves up a potentially tasty affair as Werder Bremen hosts Fortuna Düsseldorf at the Wohninvest Weserstadion.
These two sides went into the winter break in contrasting spirits. Bremen were finally starting to pick up some good form, winning their last three games. They did so in style, scoring 11 goals during that stretch. Düsseldorf, on the other hand, have been struggling. They've only won one of their last seven, and they now find themselves near the bottom three as a result.
With this in mind, and the fact that Bremen are at home should mean that they'll win this game with ease. However, you never quite know what'll happen next in this league, so an upset could be on the cards.
Team news
The time off has allowed both teams to rest and recover, which has helped them on the injury front.
Bremen will only be without Abed Nankishi, who is still in isolation after testing positive for COVID-19.
The situation is a bit worse for Düsseldorf. Emmanuel Iyoha and Felix Klaus will both miss out due positive tests of their own, while Dennis Gorka and Adam Bodzek are still dealing with long-term injuries, so neither will feature.
Predicted lineups
Werder Bremen: Pavlenka, Agu, Veljković, Toprak, Friedl, Jung, Bittencourt, Groß, Schmid, Füllkrug, Ducksch
Fortuna Düsseldorf: Wolf, Koutris, Oberdorf, Klarer, Narey, Peterson, Tanaka, Sobottka, Piotrowski, Hennings, Iyoha
Ones to watch
Marvin Ducksch
Marvin Ducksch has been pretty, pretty good for Bremen.
Coming to the club a few weeks into the season, the striker had a dream debut, grabbing a brace versus Hansa Rostock. He scored another in his next game, and then he had a goal and an assist in the same match about a month later. A bit of a drought followed as he only scored once in six matches, but he's bounced back, grabbing a goal in each of the team's last three contests.
That's not enough, though. Now, Ducksch has to be great.
The pressure is on Werder to continue their surge up the table. Their expectations are still to secure promotion, preferably automatic. While they are close to the top as is, a slip-up could see them spend another year in the second division.
Their key players have to perform on a consistent basis, and there's arguably no player more important to the side than Ducksch. A complete center forward, he's able to score in a number of different ways. He's a decent enough playmaker as well, so he can assist his teammates if need be. Most of the side's play either goes through him or finishes with him, which means that he'll have to stay focused throughout.
It'll be tough for the attacker to improve on his first half of the campaign, but if he can, then Bremen will have an excellent chance of returning to the top flight.
Rouwen Hennings
Speaking of strikers who are incredibly important to their teams, Rouwen Hennings will likely be on the other side of the pitch.
A consistent goalscorer for nearly a decade, Hennings has made his mark on the top three divisions of German football. His breakout season came in 2009, as he scored nine goals for St. Pauli as they secured promotion to the Bundesliga.
The forward then struggled for a few years, but a move to Karlsruher revitalized his career. First he grabbed nine goals in a campaign, then 10, then 17. Unfortunately a transfer to Burnley, who were in the English Championship at the time, proved to be a disaster, which sent the player back to Germany.
He joined Düsseldorf, and it's been good times ever since. His 13 goals during the 2017/18 season led them to the Bundesliga, and two years later Hennings went on to score 15 goals in the first division. However, his effort would be for naught as the team got relegated anyways.
Instead of leaving, the 34-year-old decided to stick around. It's a good thing he did, as his nine goals have kept Fortuna out of the relegation zone. What the future has in store remains to be seen, but for now, Hennings will probably need to score a few more this year to make sure his side avoids the drop.
Last time out
These two sides last faced off on the second matchweek of the season in a contest that proved to be quite eventful.
Taking place at the Merkur Spiel-Arena, Bremen were actually the ones who took the lead on the night. A shot from Romano Schmid was saved, but the rebound fell to Josh Sargent, who settled the loose ball before firing it into the bottom corner.
Düsseldorf came out flying to start the second half, equalizing just minutes after the break. A wonderful cross from Khaled Narey picked out Rouwen Hennings in the area, and he managed to redirect the ball into the back of the net with an instinctive volley.
The away side then went back in front past the hour mark after a looping corner towards the far post was headed home by Sargent.
Their advantage would last until stoppage time. In an act of desperation, Die Flingeraner sent nearly everyone forward before lumping the ball into the box. It somehow bounced kindly to Narey, who hit a first-time volley past a helpless goalkeeper to seemingly steal a point at the death.
However, that wasn't the end of the action. Bremen were awarded a penalty in the final few seconds, and Maximilian Eggestein kept his composure to slot the resulting spot-kick into the bottom corner despite all the pressure on his shoulders.
The final whistle came soon after, securing a big win for Die Werderaner.
How to watch
The match kicks off at 1:30 p.m. CEST, and it will air live on Sky Sport Bundesliga 4, Sky Sport Bundesliga 7, Sky Sport Bundesliga 8, Sky Ticket, and Sky Go for those in Germany.