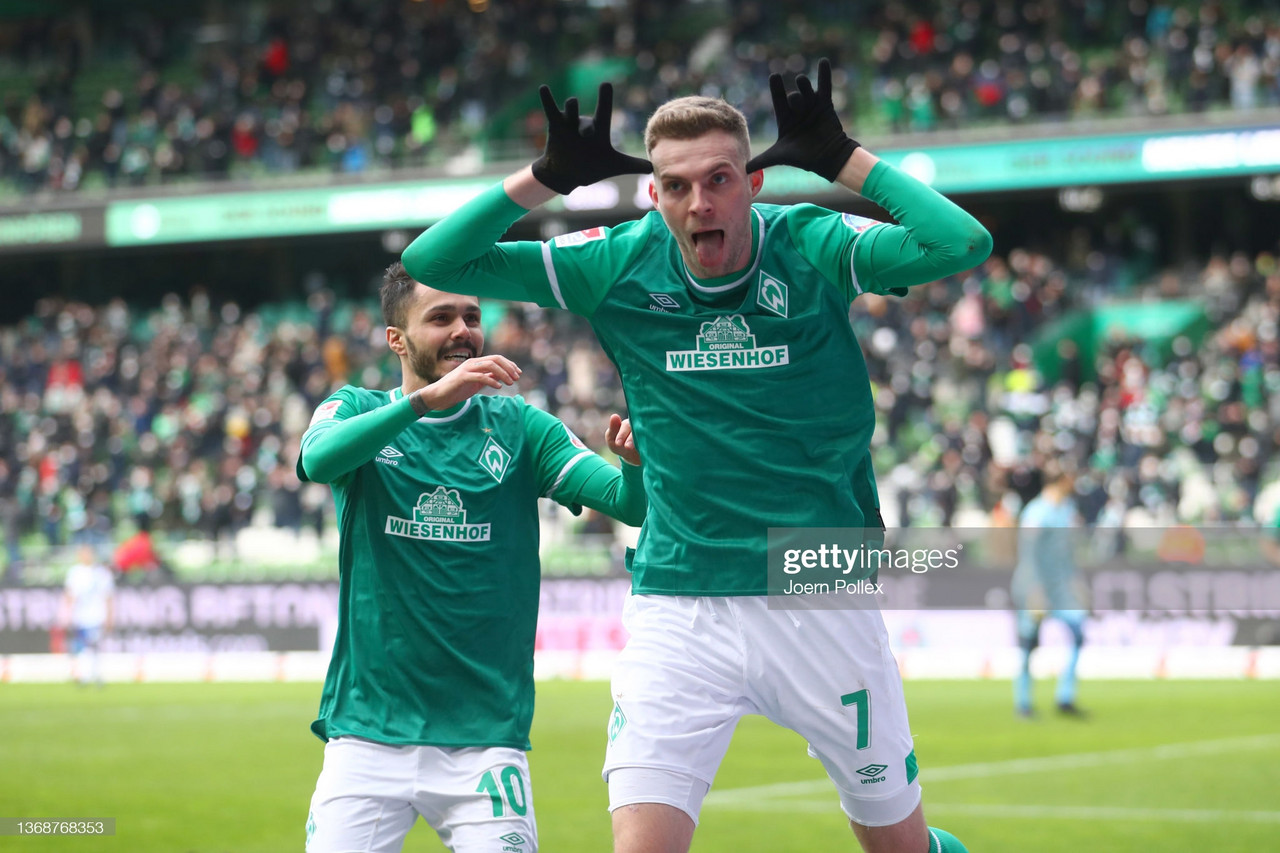 Werder Bremen's winning run continued on Saturday as they defeated Karlsruher 2-1 at the Wohninvest Weserstadion.
Far from the most exciting contest, all of the scoring came in the second half. Bremen took the lead through Marvin Ducksch, but Karlsruher equalized from a corner minutes later. In the end, the home side were just about able to pull away thanks to a header from Anthony Jung, which gave them three big points in their quest for promotion.
Story of the match
It was an open contest early on. The first real chance came midway through the first half when a cross from Miloš Veljković picked out Niclas Füllkrug in the area. He went for a diving header, but his attempt went just wide of the target.
Bremen had another big opportunity near the hour mark, as a defensive mistake gave the ball right to Marvin Ducksch in a dangerous area. He rushed things, though, hitting a quick shot that ultimately rolled wide even though he had space to work with.
They had some more efforts, but almost all of them were hit straight at the goalie, so the two sides went into the break level.
The hosts would finally make the most of a chance soon after the interval. Christian Groß set up everything, winning the ball in midfield before instantly playing Ducksch through on goal. He did the rest, slotting the ball into the bottom corner with an excellent finish.
It would've been 2-0 moments later if not for one of the saves of the season. Ducksch was involved once again, going for a chipped volley from distance. It seemingly caught goalkeeper Marius Gersbeck off his line, but he managed to recover and save the attempt before it was too late.
That save proved to be especially crucial as Karlsruher equalized near the hour mark. Coming against the run of play, Philipp Hofmann rose highest on a corner to head home from inside the area.
Hofmann had a chance to grab a brace on the counter after a midfield turnover from the opposition. His turn to find space was nice, but his shot was a tame one that rolled right to Jiří Pavlenka for an easy save.
Bremen started putting more and more pressure on. Another cross, this time from Marco Friedl, flew right to Füllkrug. However, just like earlier, he could only watch as his header sailed wide.
It wouldn't take them much longer to jump back in front. The goal came via a really well-worked move, as a switch-ball from Ducksch found substitute Jean-Manuel Mbom out wide. He took a touch to settle himself before whipping in a dream ball to Anthony Jung, who made a late run into the area. His header was just as good, as it flew past a helpless goalkeeper and into the back of the net.
That proved to be the final highlight of the contest. Bremen didn't really do a lot to hold on to their lead, as they lost the ball time and time again, but they managed to get away with it to gain three big points.
Takeaways
Bremen's wins are starting to seem inevitable at this stage.
This victory was their sixth in a row, but there was something extra impressive about this one. See, the home side have been mainly beating teams easily, and their one close game was won because of their high-powered offense. That wasn't the case here, though, as they struggled going forward. They couldn't really pass, dribble, or shoot, and it made for tough viewing.
However, despite that, they were still able to score enough. Bremen grabbed one goal on the counter and another from a cross, and that was all that they needed. They found a way to pick up the three points while underperforming, which is something that almost certainly wouldn't have happened earlier in the campaign.
There's still plenty of games left to go this season, but at the moment, it's starting to look like Werder are on their way to promotion.
Man of the match - Christian Groß
A big reason why Bremen were able to win was because of Christian Groß.
He may not be the most popular player at the club, and some may even see him as the only real weakness in this side, but this afternoon he was their best player. Practically the only midfielder as per usual, he put on a masterclass, making an impact on both sides of the ball.
That was summed up perfectly by Werder's opening goal. First, Groß won the ball in midfield after a smart tackle. Then he immediately got his head up and picked out the run of Marvin Ducksch, who was through on goal and finished off the move to put the hosts in front.
If Groß can keep playing like this and supporting those around him, then there's a good chance that the good times will keep on rolling for Bremen.