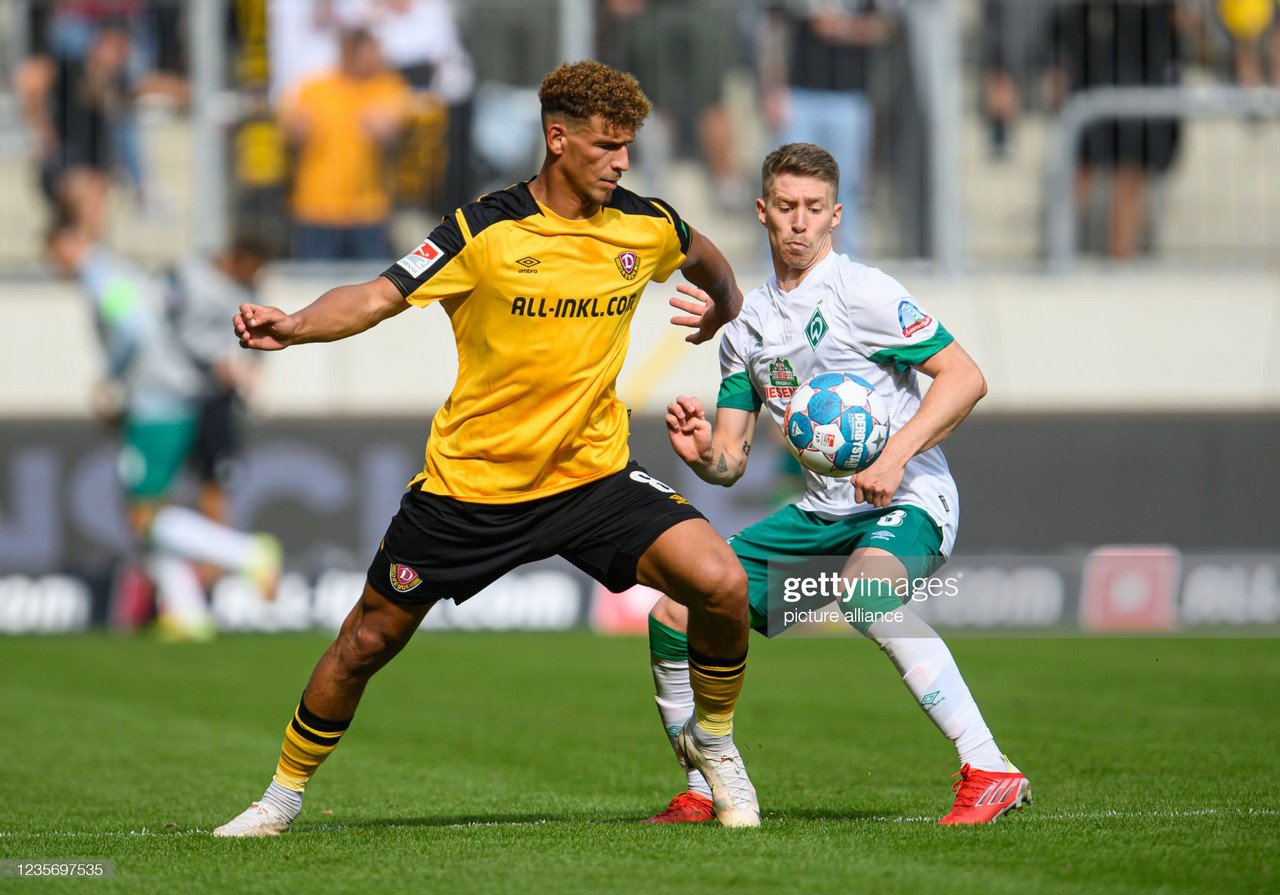 The 2. Bundesliga season continues to heat up, and this weekend is no different as Werder Bremen takes on Dynamo Dresden on Sunday afternoon at the Wohninvest Weserstadion in a contest that will influence both ends of the league table.
Bremen comes into this game off their biggest win of the season so far. Traveling to bitter rivals Hamburg, Die Werderaner were able to pull off a massive victory, winning a wild one 3-2. They did get quite lucky, to be fair, as two of their three goals came via the penalty spot after handballs committed by the opposition. That didn't bother them in the slightest since the three points put them in 1st place going into this matchday, and they'll now look to ride their wave of momentum into this match and the future as they fight for promotion back to the top-flight.
Dresden's battle is a much different one. After a surprisingly strong start to the season, they've completely fallen off the pace, and they now find themselves in the thick of the relegation scrap. Currently just two points ahead of 16th place Hansa Rostock, Dynamo knows that they'll have to start picking up results if they want to avoid the dreaded relegation-playoff. This weekend won't be easy, though, but a draw or even a win here could provide the team with a massive boost as we head into the final stretch of the campaign.
Team news
Bremen are only without two players for this contest, but one's a big one as Romano Schmid will be out due to suspension. The other absentee is reserve goalkeeper Luca Plogmann.
Dresden, meanwhile, are going through a bit of a crisis. The likes of Kevin Broll, Tim Knipping, Yannick Stark, Panagiotis Vlachodimos, Chris Löwe, and Patrick Wiegers are all unavailable for selection, while Agyemang Diawusie, Luca Herrmann, and Paul Will are doubts.
Predicted lineups
Werder Bremen: Pavlenka, Veljković, Toprak, Friedl, Agu, Bittencourt, Groß, Schmidt, Jung, Ducksch, Füllkrug
Dynamo Dresden: Mitryushkin, Akoto, Sollbauer, Ehlers, Giorbelidze, Schröter, Mörschel, Kade, Meier, Daferner, Königsdörffer
Ones to watch
Marvin Ducksch
"Duckschi's on fire! Your defense is terrified!"
Those were the chants of Bremen supporters following the team's return to the city after their derby day victory. Ducksch was deserving of the praise, as he had grabbed an incredibly important brace on the afternoon.
It wasn't the first time he was Werder's matchwinner. The striker has been elite ever since joining the club in the summer, and the low fee paid for him has made him one of the biggest bargains of the year. He's got 15 goals and 8 assists in 24 league appearances, with nine of those goals coming in the last nine games.
Ducksch has developed an incredible relationship with strike partner Niclas Füllkrug, and the two will now look to finish the job and fire Bremen back into the Bundesliga. If Dresden want any chance of getting a result on the afternoon, then they'll almost certainly have to stop the pairing, keeping a special focus on Ducksch throughout.
Considering how good he's been this campaign, though, that might prove to be impossible.
Christoph Daferner
Christoph Daferner might not be having as good of a season as Ducksch, but he's arguably been more important to his side.
The Dynamo forward's statline is still certainly a respectable one. He's scored 10 goals in 23 appearances, and he's dished out two assists as well. However, these numbers are especially impressive when compared to those of his teammates.
See, the next highest scorers at the club are tied with three. This is all an indictment on the team's struggles going forward. Only one other side in the league has scored less than them, and that's last place Ingolstadt. As a result, Daferner has scored over 43% of Dresden's goals, which is a ridiculous number. (For context, Ducksch is at 29%)
That's why there's going to be plenty of pressure on Daferner. If he can't find the back of the net this weekend, then there's a chance that no one else alongside him will be able to either. Is this fair? Not in the slightest, but that's football.
However, if the German can continue to score and eventually keep his side in the 2. Bundesliga, then he'll be a hero in the city, and he'll likely earn himself a move to a better club.
Last time out
The scoreline of the reverse fixture seems a bit ridiculous when you look back at it now with the current standings in mind.
The first half was an eventful one, and a goal would be scored with five minutes left to go. Ransford-Yeboah Königsdörffer's curling effort was denied by the bar, but the rebound fell to Christoph Daferner, who calmly settled the ball before burying a shot off the post and in to give Dresden the lead.
They would go up two past the hour mark. A lovely bit of play down the right wing led to a low cross into the area that was somehow seemingly cleared away, but the ball went right to Daferner once again. He was able to finish for a second time, slamming the ball into the back of the net.
Dresden sealed the win and the three points in style about ten minutes later. Agyemang Diawusie laid the ball off to an onrushing Morris Schröter, and he did the rest, dribbling past a defender before picking out the bottom corner with an excellent strike.
That proved to be the final goal of a dream day for Dynamo and a nightmare one for Bremen.
How to watch
The match kicks off at 1:30 p.m. CEST, and it will air live on Sky Sport Bundesliga 1, Sky Sport Bundesliga 2, Sky Ticket, and Sky Go for those in Germany.