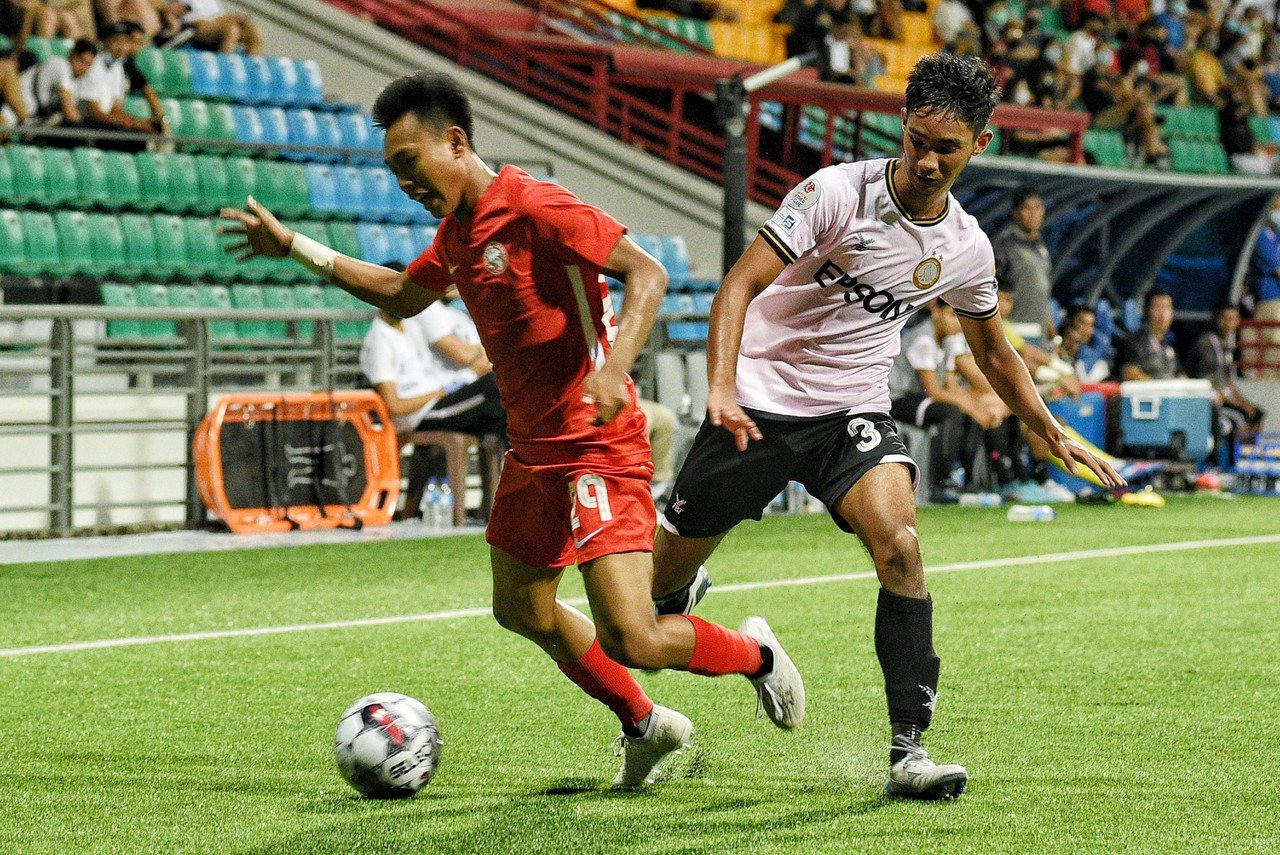 With their first victory this season in the Singapore Premier League, Young Lions had finally broken their duck and the team put up their most convincing display of the season to blow Geylang International away as the terrific Ryhan Stewart notched a brace.
The Young Lions, preparing for the Vietnam SEA Games next month, posed their first threat as early as the fourth minute when Harith Kanadi's left foot strike forced Geylang International's custodian Zaiful Nizam into action. Just three minutes later, Zikos Chua opened the scoring against his former club after being set up beautifully by his teammate, Khairin Nadim.
Geylang International stepped up their attacking threat and just as the Eagles were looking to respond, Zaiful Nizam paid the price for his poor position, which led to them conceding a second. The skipper came some distance off his line and was caught out by Ryhan Stewart in the 21st minute.
Geylang International tried to score against their opponents with Vincent Bezecourt and Croatian striker Sime Zuzul making efforts, but their efforts were in vain. The Eagles were left rueing for their poor defence again as Ryhan punished them for the second time of the night in the 57th minute. Ryhan Stewart slotted his second goal against Geylang International after good pressing from Zikos and a dummy from Khairin. Young Lions head coach Nazri Nasir had nothing but rave reviews for his star man, Ryhan Stewart.
"He is a good player and he has a very good work rate. You know as a wing-back, playing that position, he does both defending and attacking very well. So I have no doubt about his commitment. If this boy works hard and stays focused in his game, he can go very far."
Geylang waited until the 71st minute to finally pull one back courtesy of a spot-kick when Zuzul was deemed to have been brought down by Syabil Hisham in the box. Zuzul sent the Young Lions goalkeeper the wrong way for his fourth goal of the season and made it 3-1. While some spectators in the stadium felt that the penalty was unfavourably given against Young Lions, Nazri Nasir felt that it was a part and parcel of the game.
He said: " It always happens in the game, sometimes when the referee makes a call, and we don't see it from their point of view. The referee clearly saw what happened but from the outside, we see it differently. But again that's football, we just have to accept it you know, things happen. What matters is how you regroup after the goal."
Young Lions then completed the rout when an aerial battle contested between Qayyum Raishyan and Young Lions captain Jacob Mahler caused Qayyum Raishyan to score an own goal.
The game ended with a score of 4-1.
Young Lions head coach shared with Vavel his thoughts on the performance of his players: " I think the boys played very well today. We played well for the last 5 games also, but unfortunately we didn't win any game, but today we showed that we were more hungry. Look at the way the boys played, they contended for the second ball and took their chances well. And of course, they followed through the game plan and I am very proud of my boys."
Young Lions will play Tampines Rovers on 20 April 2022 at 2030hrs SGT. When asked about his thoughts about the next game against Tampines Rovers, Nazri commented: " I am sure Tampines have good individual players like their striker, Kopitovic. He is their main man and the top scorer now, so he is one of the players we have to watch out for. And you know, their midfield is very strong and they have good, steady defenders. I will watch their games and analyse how Tampines plays, just like how I prepared for today's game. I analysed the players that we needed to watch out like Zuzul. So the same goes for the next game and we are going to focus on the players we need to close down."
It was a good result for Young Lions and hopefully, they would be buoyed up by their stellar performance against Geylang International, so that they can maintain this form in their subsequent games.
Back to the drawing board for the Eagles
The expectant Geylang International fans will have been disappointed with the result and The Eagles stay seventh in the Singapore Premier League table. Furthermore, Geylang have now gone six matches without a win for the first time since a six-match run in April 2021. Their next fixture will be at Jalan Besar Stadium against defending champions Lion City Sailors and they will be keen to bounce back quickly and put the nightmare of the Young Lions game behind them. Geylang International has sufficient time to rest, recharge and regroup for the game against the Sailors. But only time can tell how they will fare against the Sailors on 14 May.