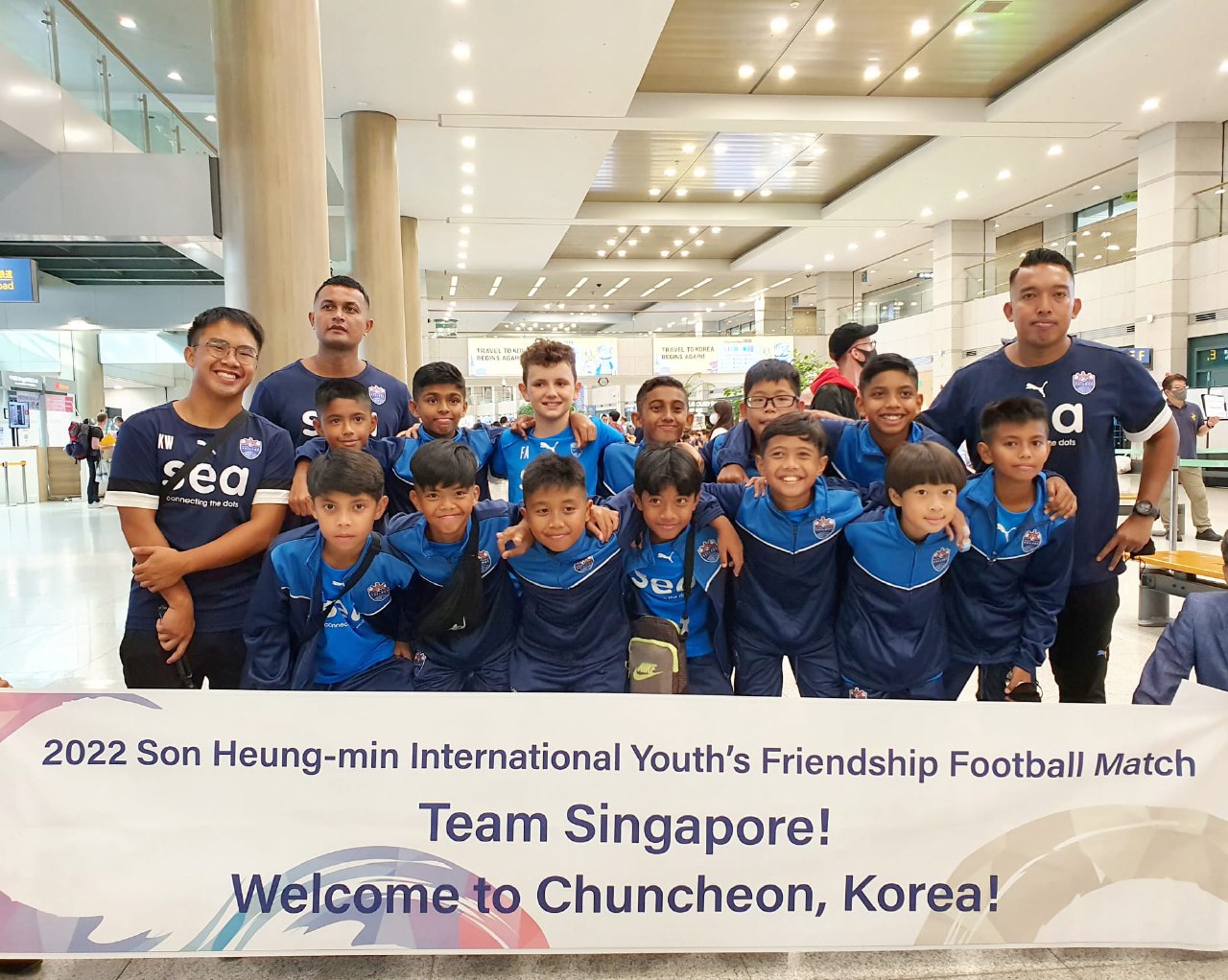 Hosted by the Chuncheon Civil Football Team and organised by the SON Football Academy, the tournament was held at Son Heung-min Sports Park,located in Chuncheon, Son Heung-min's hometown, for four days from the 8th to the 11th of June.
Teams from 6 countries took place
Teams consisting of players under the age of 12 from countries such as South Korea, Colombia, Mongolia, Vietnam, Singapore and Indonesia participated in this tournament.
It was a journey meant primarily to aid in their sporting development but the tournament provided much more for a group of youth footballers at Lion City Sailors academy.
The team, consisting mainly of players born in 2011, put up an astounding 13-0 win over a team from Vietnam in one of their games after arriving in South Korea.
They played five matches across two days, taking on some quality opposition and collected a record of three wins and two losses. The team even surprised everyone when they took the lead against the Korean team from SON academy itself.
Unfortunately, the LCS team conceded a penalty and two other goals in the second half. However, the performance of the LCS youth team caught the eye of the technical director of the SON academy, Son Woong-jung, father of Tottenham Hotspur's Son Heung-min.
He was impressed by the style of football played by the LCS youth team. Son Heung-yun, elder brother of Son Heung-min , who is a coach at the SON academy, was also impressed and congratulated the junior Sailors players as well.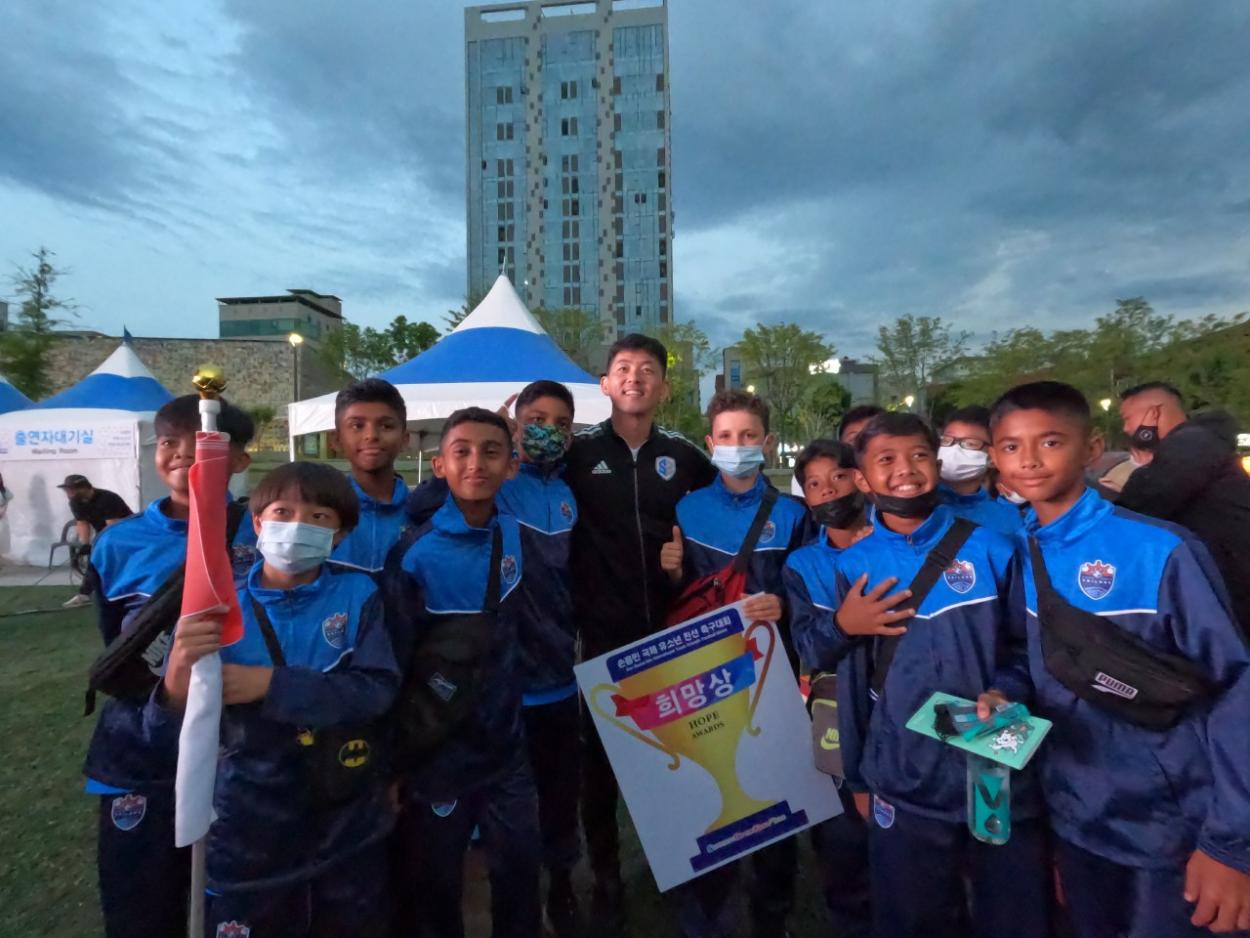 Head coach of the Under-12 team, Ashraf Ariffin, told VAVEL, "I'm surprised at how our boys competed against older and bigger opponents and gave a good account of themselves. And from feedback of other coaches there, they were impressed and entertained by the style of football we play. I'm proud of how we stayed brave, to play the way we trained, and the way we want to play, no matter the opponent and no matter the score, whether we are trailing or whether we are having a narrow lead."
Prior to the tournament, the LCS youth team had trained intensively to prepare for this tournament: four training sessions a week, coupled with friendly matches on Sundays.
"As all our Elite Foundation programmes ended on 22nd May, the selected players started full preparation for Korea from 24 May till the day we left for Korea. A 3 week preparation, 4 sessions a week with a friendly match on Sundays. We covered some new concepts of football like offside and a 8 aside format, which is something new for players in this Foundation Phase. Players at this age never played with offside before this. We played 3 friendly games, hand picking 3 different types of opponents that we might face in Korea," he revealed.
Logistic arrangements went smoothly for the Sailors' travelling party, allowing the players to focus on football. The trip also allowed them to play games after almost two years, as pandemic restrictions in Singapore had limited such opportunities.
When asked about how this experience helped the boys in terms of football development, coach Ashraf Ariffin had a detailed response. "From a football development standpoint, for this team their first game in Korea was their first competitive match in 2 years as we have yet to participate in a league locally.
The intensity of the majority of the games there and the competitiveness level was much higher than it is in the local scene, meaning our players needed to make decisions quicker and execute actions faster, thus challenging and stretching various dimensions of their game. Being exposed to such a competitive environment will value add and accelerate their overall development."
The coaches and the staff gained a lot from the trip as well. This tournament served as a platform for them to apply their coaching principles and enabled them to realise their strengths and weaknesses.
"This tournament will stand to be an important checkpoint for me personally as a coach as I can see how our trainees apply principles they learnt in training in a highly competitive game, and also which principles are lacking, why we are lacking, and the process with which I taught that principle, and what I can do better moving forward.
This competitive environment gives me more in depth feedback on my approach and how I can deliver better training sessions in the future. I was able to learn more about my players and understand them better because we spent several more hours together than we did back in Singapore," he explained.
Sailors academy director Luka Lalic, a former youth coach at Dutch side Feyenoord, said that collaborating with overseas clubs and academies brings out a plethora of benefits to the youth players from the Sailors academy.
"These collaborations help in many ways. The most important of those is the ability to provide players with high-level competition, helping them to experience for themselves the benchmarks of intensity, physicality and other relevant aspects of football that they need to perform at - if they want to be competitive at European and international levels. This will only help these individual players develop to a high level, and hopefully with them, the level of football in Singapore will rise as well, forcing greater competition in the region," declares Luka Lalic, in an interview with VAVEL.
"Our key emphasis in terms of player development is training and competitive intensity. With this focus on intensity, our boys will eventually get to a level where they can match their counterparts all across the world. Our trainees can leverage on the structure that we've put in place that will ensure holistic development with football at the heart of it. They will grow as people, while also getting a football education to match their academics - and receive exposure at the highest levels to aid their football growth and perhaps even open doors to a career abroad, " he added.
Ms Lim Seon-ah, spokesperson of SON academy, noted that cooperation among football clubs is important for the development of Asian football. "Through this game, children from all over the world became one through soccer, having enjoyable memories. These memories could be a good motivator for young players who dream of becoming professional football players. In addition, we expect that it could be a good opportunity to share information and prepare for future exchanges not only with youth players, but also with soccer classes and institutions worldwide," she said.
When asked about how countries like Singapore can elevate their standards of football, Ms Lim Seon-ah told VAVEL , "If you faithfully practice basic skills (situation awareness, ball control, etc) and unless you over-practice, you can grow into a competitive player when you become an adult, so it will have a profound impact on Singaporean football. You need to find talented players. After that, when the above-mentioned parts are satisfied, it will be the foundation for talented players to be produced."

The junior Sailors even beat their counterparts from Indonesia 4-2. The Indonesian team could not keep up with the LCS junior team's high pressing game and only managed to score two goals by set-pieces.
However, the junior LCS team lost to a Colombian side 5-2 who were physically bigger and stronger. As this was a friendly tournament, no real standing or position was announced. But mathematically, the LCS youth team finished 2nd ahead of the Korean and Indonesian teams by goal difference.
Results
Sailors vs SON Academy, Lost 3-1
Sailors vs Colombian team, Lost 5-2
Sailors vs Vietnamese team, Won 13-0
Sailors vs Indonesian team, Won 4-2
Sailors vs Mongolian team, Won 5-1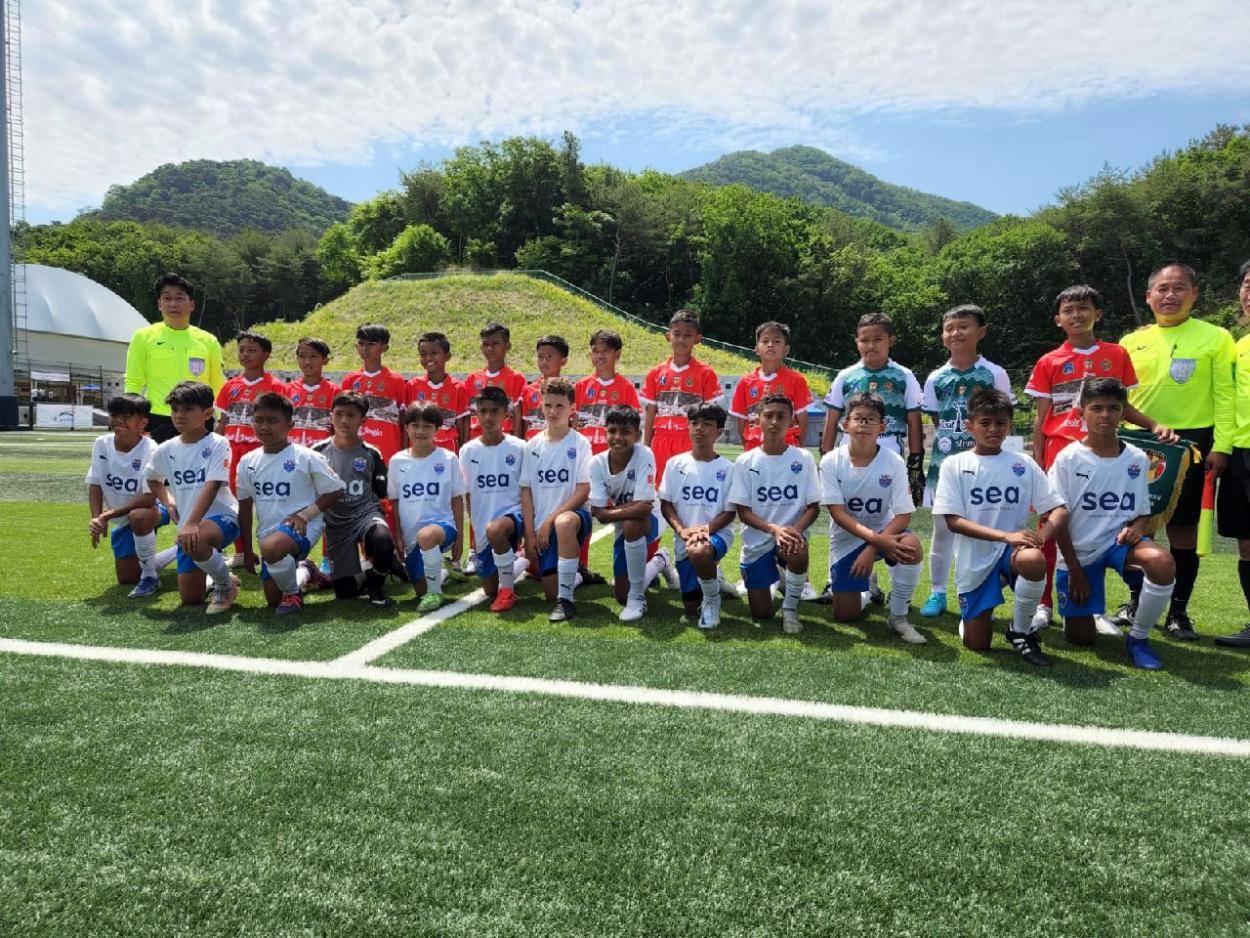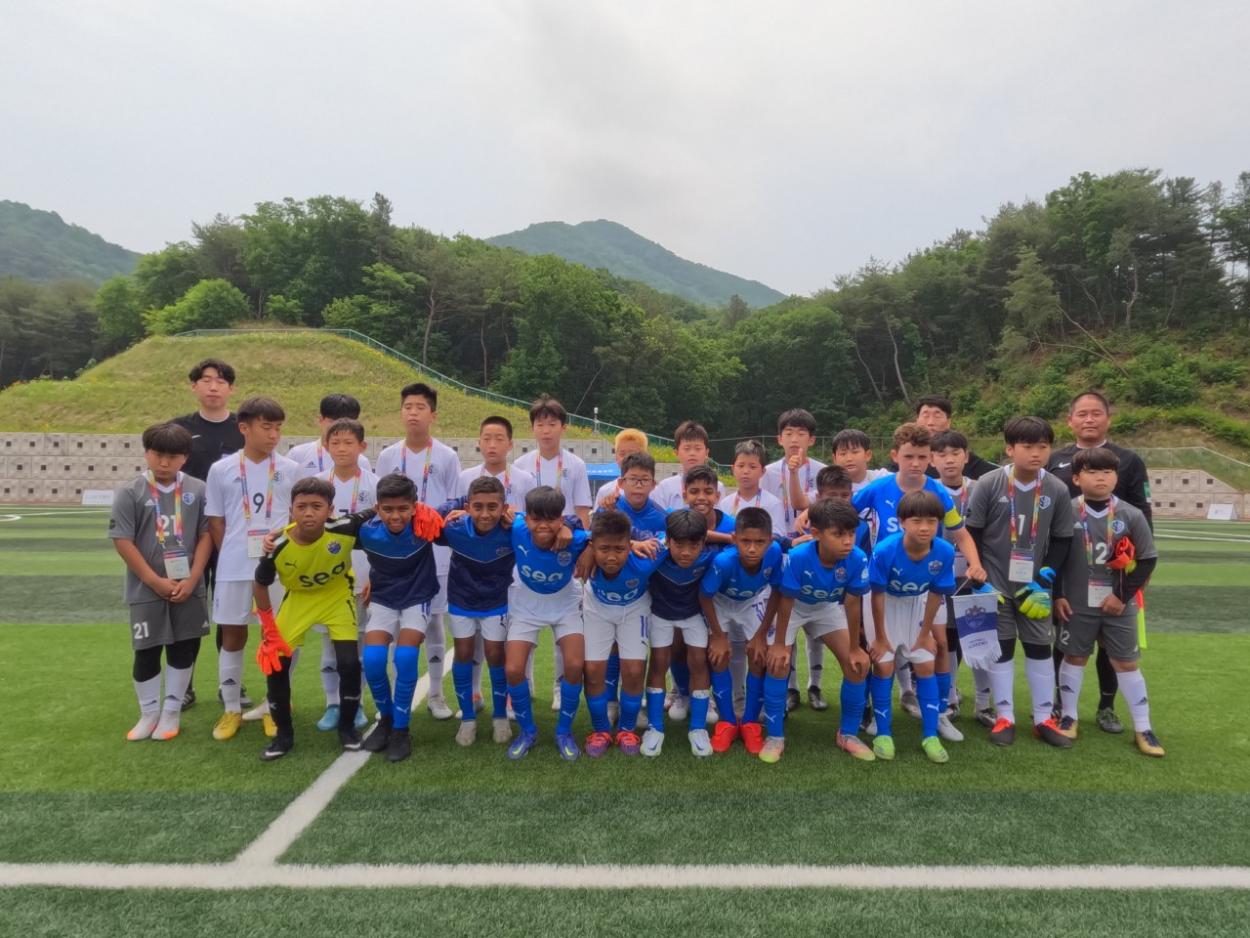 Surprisingly, results and goals were not what left the deepest impression on the youth players.
"I was very excited to travel for a tournament for the first time and after the tournament, I feel this is the best experience in my life so far!" exclaimed 10 year old Sailors player Marcellus Kee.
"I met players from different countries and learnt from them," he added.
Marcellus has returned home with a different mindset. "I will try my best to compete - win or lose - it will make me a better player from the whole experience." He looked forward to more overseas training opportunities and competitions in the future. He said, "I'm definitely looking forward to more overseas experiences like our trip to Sweden in a months' time!"
Besides the development of their ability to play football, the coach said that the journey taught the players other invaluable skills.
"Players will gain important life skills when travelling overseas with a team like being independent and adaptable as they are away from their parents, discipline and responsibility in how they conduct themselves and how they take care of their belongings, they will learn the importance of teamwork and camaraderie in achieving set goals as a team and when facing adversity," explained Ashraf.
The team was also able to bask in the culture and heritage of the country as well.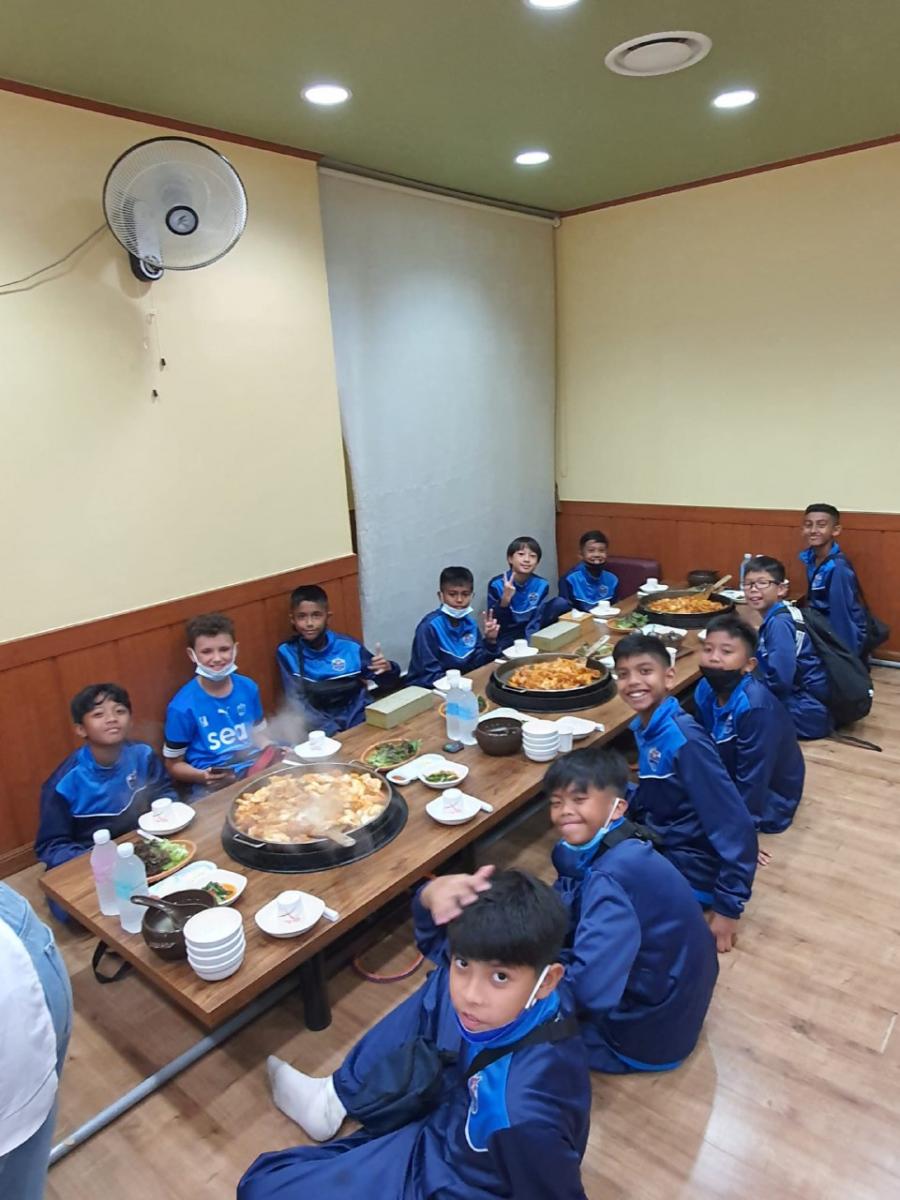 Luka Lalic emphasised that the academy's focus is not on results, but rather on player development. "We are always looking to provide our players with the best possible competition - meaning the hardest possible challenge for them. For example, our players will always compete against older age groups - up to three years older - as long as it is safe.
The COE leagues are reserved for our "B" teams, and we will look to get our players into senior football as soon as possible. A competitive level of football is important for player development, and while we always aim to win matches, we will always look to ensure that our players are tested in every competition that we take part in. The club's first team is more focused on winning, but for us it's nothing about results, and all about player development," explained Luka Lalic.
That last point is one of great significance to the young players in the academy. The academy aims to create a new generation of Singapore footballers, launch their professional careers in top leagues overseas, and ultimately give Singapore a chance to compete with the international greats.
Luka Lalic hoped that other academies and clubs would try to emulate LCS academy. Despite this, the fact is that the other teams would obviously wish to compete with the Sailors, but are simply left unable to due to the gulf in finances accessible, which means it's not really a matter of taking ownership as much as one of unmatched contests.
Luka Lalic had a definite response: "Now that our training facility at Mattar Road is completed, we will look to share knowledge as much as possible, through conferences, workshops and in-house courses. We have several staff within the academy who come with vast experience at the highest levels and are eager to share their knowledge with their counterparts in Singapore.
We will move to do our part to help this rising tide of Singapore football, and we welcome the other academies that are doing more on their own. This will help foster a higher level competitive environment in Singapore, which will serve to challenge our players - something we are constantly looking to do - and it will be beneficial to all young Singapore players."
Luka Lalic also stated that Singaporeans can play a part in the development of youth football by being open-minded to potential changes in the existing culture in Singapore. " Being open-minded to change the existing culture is something Singaporeans can do to help. There is a lot of focus on studies and jobs outside of football and sports - with a view that sports isn't exactly a viable career.
People still fall in love with football in Singapore, but there isn't really an embracing of that love and a commitment to live and breathe football as a career. This culture does not come from one person or organisation, it seems to come from the nation, or at least a part of it. Changing this culture is one of our biggest aspirations - near the top of our list of things to do - and we are determined to create a culture in which people will commit to football. We aim to make Singaporeans believe in football again, and dream that they can make the impossible, possible," explained Luka Lalic.