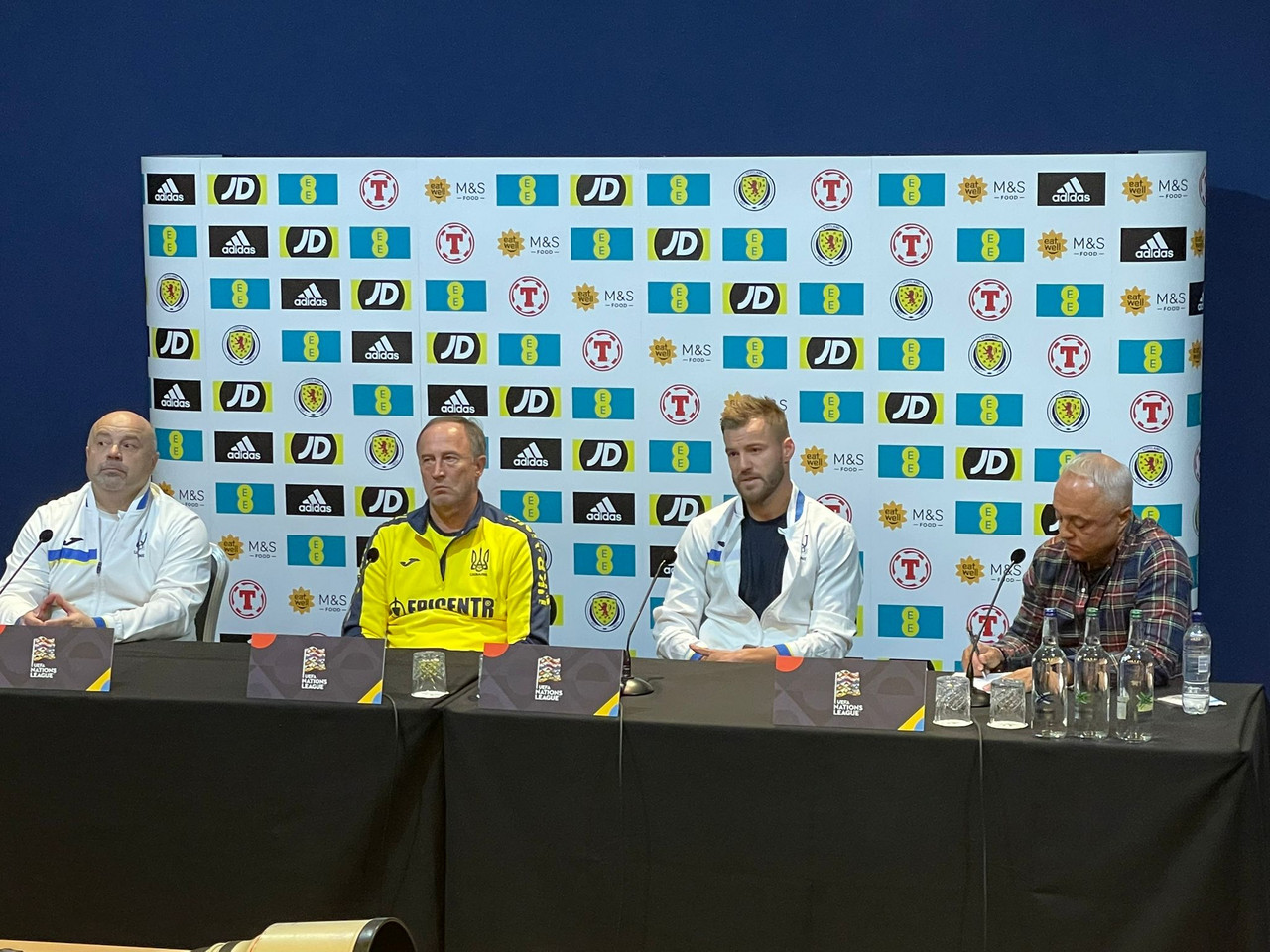 Andriy Yarmolenko has backed up UEFA's decision to exclude Russia from competing in the UEFA EURO 2024 qualifiers, by restating his belief that the country should be "isolated from the whole world".
The winger was joined in the pre-match press conference by manager, Oleksandr Petrakov, who was also the subject of a puzzling appeal by the Russian Football Union (RFS) to UEFA, requesting to ban him for his previous remarks about the invasion of his country.
Petrakov's response was short and sweet, confirming that he would "repeat everything that he said before". The manager also brushed aside UEFA's decision to fine him, in response to the appeal and thanked the organisation and president, Aleksander Ceferin, for their support and help towards Ukraine, in the recent months.
Ukraine will meet Scotland tomorrow, in a crucial clash in League B, Group 1 of the UEFA Nations League. The winner of tomorrow's game will temporarily take top spot of the group - a place currently occupied by Ukraine.
On the team's motivation following their return to Glasgow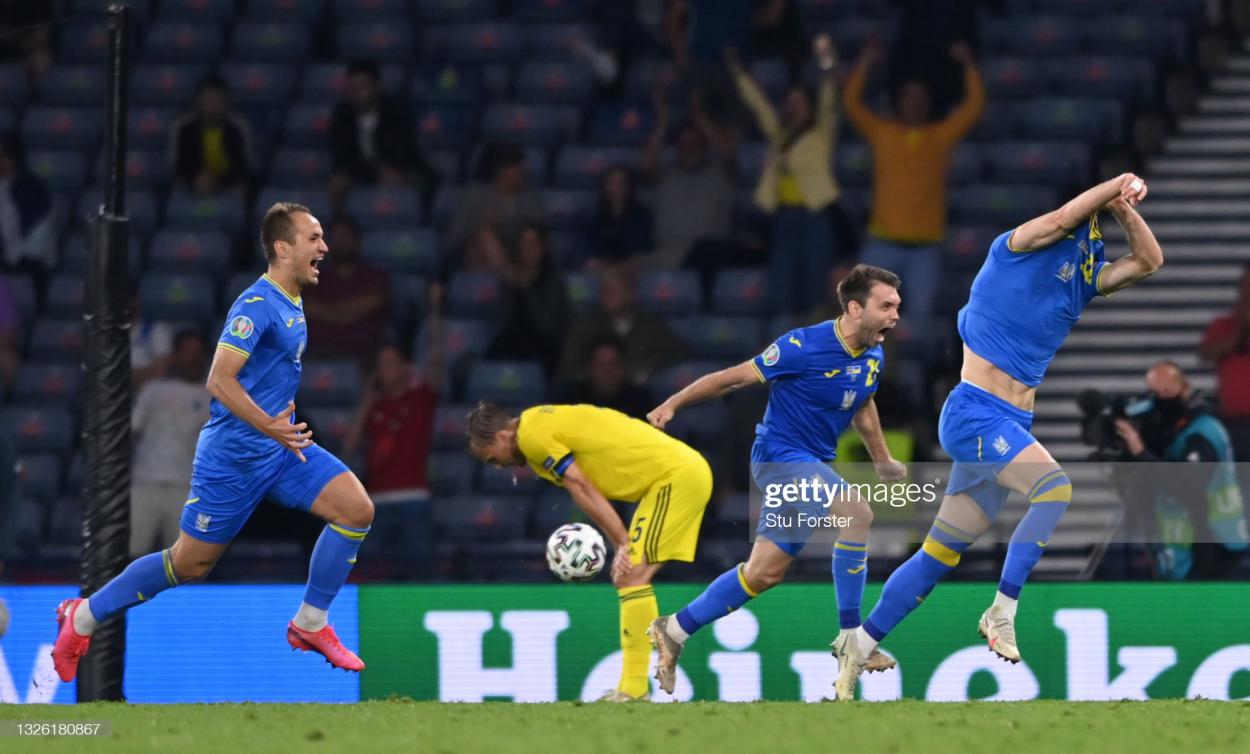 Ukraine make their third trip to Glasgow, following on from their UEFA EURO 2020 Round of 16 game against Sweden. The success of that night was added to by their win against Scotland in the semi-final of the 2022 FIFA World Cup qualification play-off, earlier this year.
Yarmolenko began the press conference by saying: "We have very positive memories of Glasgow, but this is the past. We are getting ready for a new battle. So all concentration is now on tomorrow".
Ukraine's second all-time record goalscorer also recognised the threat that the hosts will pose to them, tomorrow evening.
"We know Scotland is a very strong team, but we have to think about our game. We have our plan, we know how to play and hopefully we will win, but we know it will be difficult" - added Yarmolenko.
On his personal form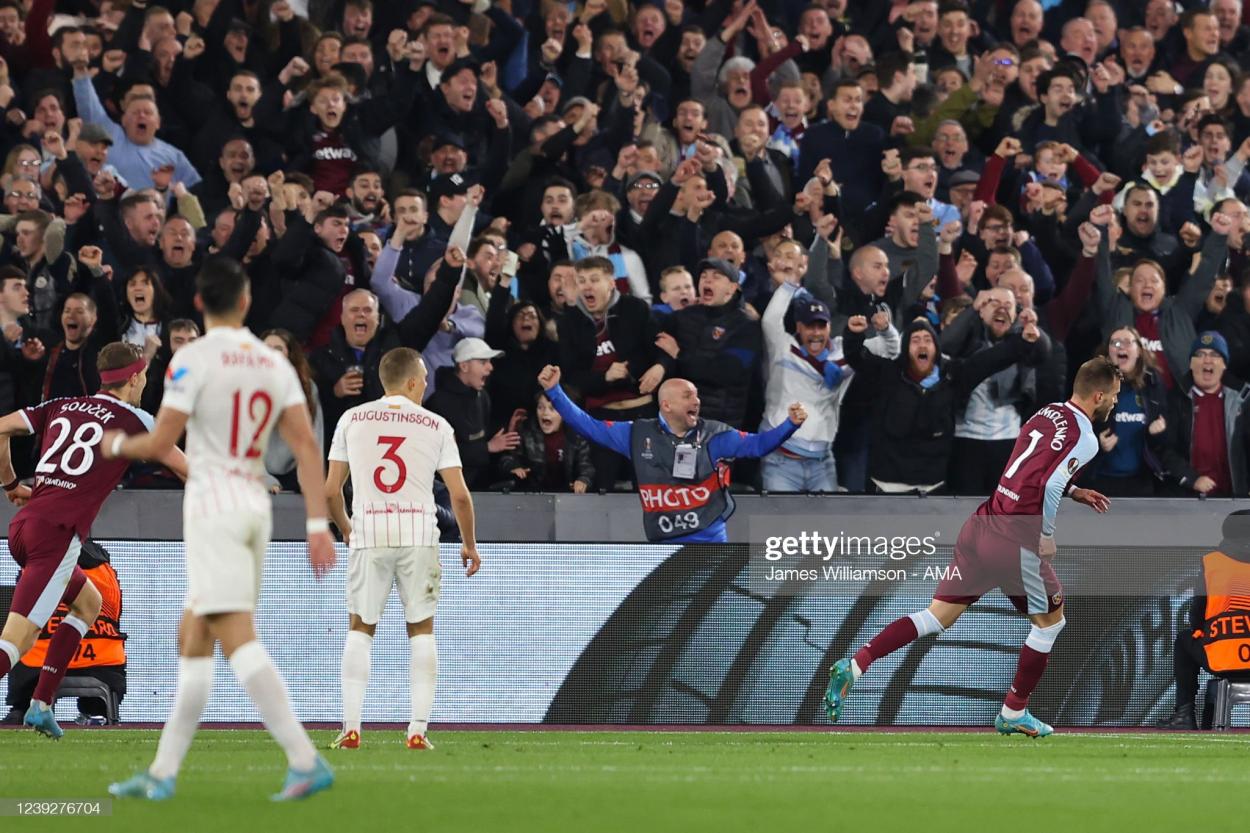 Yarmolenko's four year spell at West Ham came to an end this summer. He rejoined his former manager, from their time at Dynamo Kyiv, Serhiy Rebrov, in the U.A.E., at Al-Ain. The move has allowed him to have more regular playing time, which he hopes can benefit the national team.
"We played three games in the league and I think I am in a better condition now. Tomorrow's game will show. For a football player, the main thing is playing matches, now I am playing them".
"I am feeling good and hope to help the team tomorrow".
On Russia and UEFA
The aforementioned decision from UEFA to exclude the Russian national team from taking part in UEFA EURO 2024 qualification was supported by both Yarmolenko and Petrakov.
Regarding the ban, the winger stated: "My thoughts about Russian football and sport is that this country should be isolated from the whole world. They are a terrorist state, which kills our people, our children every day. There can be no mention of sport".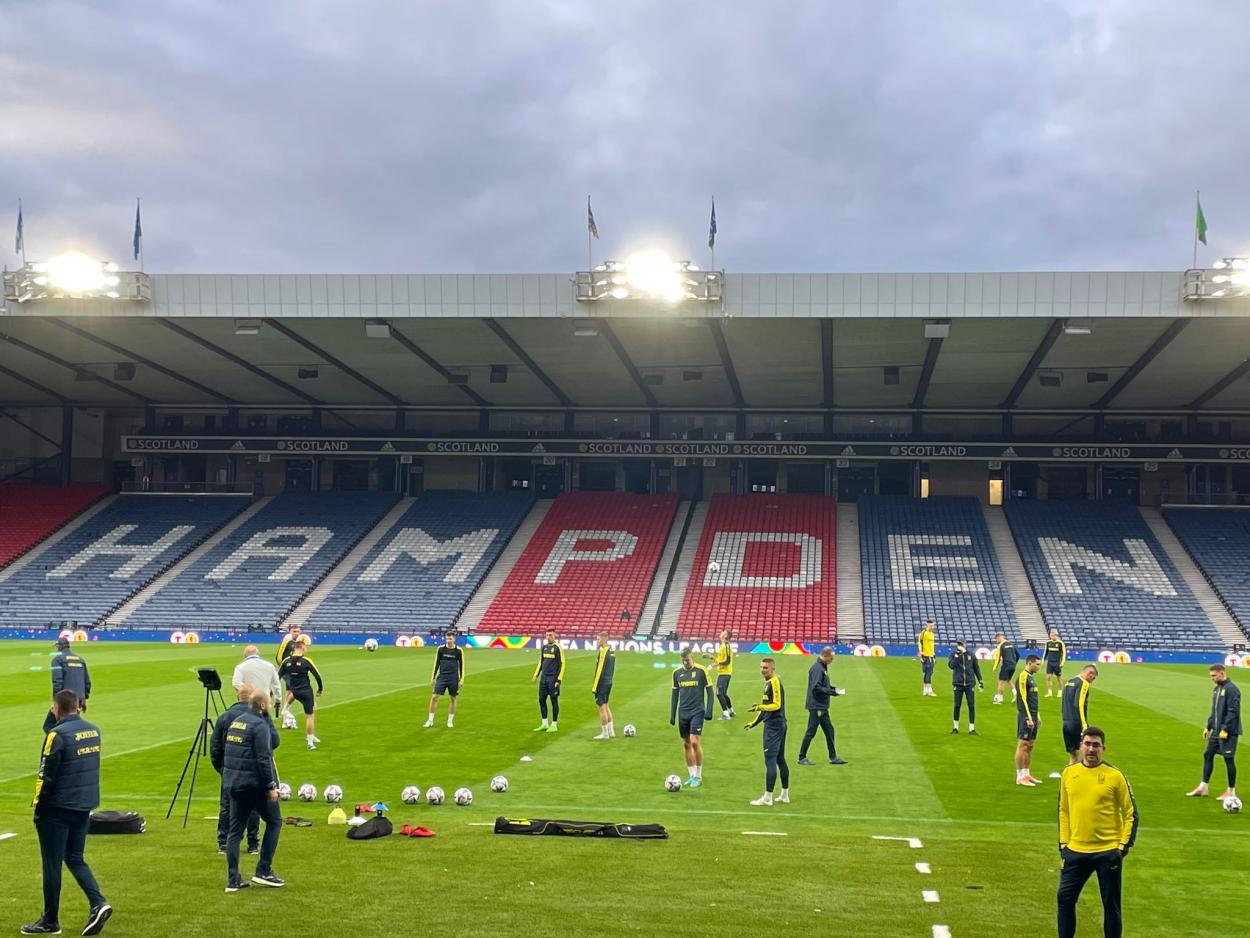 Yarmolenko was reflecting the thoughts of his fellow team-mates, as he went on to say: "All Ukrainian players want only one thing - punish them as strongly as possible and isolate them from the whole world".
"I will be happy if they exclude them from all competitions, not only in football, but all that exists".
Petrakov was asked about his thoughts regarding the RFS's ambitions to ban Ukraine's manager. "I would repeat everything that I said, again. I do not refute my words and stand by them".
"I was fined, I don't know how much the fine was [the fine was paid by the Ukrainian football federation (UAF)]. I was told by the UAF about this."
The RFS took offence to Petrakov's comments to an interview for The Guardian, in April. One of the quotes from it was: "I thought, if they come to Kyiv, I will pick up a weapon and defend my city. I am 64 but I felt it was normal to do this. I think I could take two or three enemies out".
Regarding the exclusion of Russia from the UEFA EURO 2024 qualifiers and the lack of decision regarding Belarus, Petrakov stated: "this is the decision of UEFA, they make them and I won't comment on it. UEFA have helped us, Aleksander Ceferin has helped us in the last months, so I will not comment".
On playing for the Ukrainian people
For the second time since the start of the Russian invasion, Ukraine's national team get together to play competitive international fixtures. Yarmolenko was asked his thoughts about playing for all the people in their home country.
"Nothing has changed. There is still war in our country. With our game, we want to bring our supporters and all of Ukraine, some kind of happiness".
"So we go out and play for our country, for all the people who are in Ukraine and want a distraction from the war".
"We would like to bring a small smile across the face of Ukrainians, at least for 90 minutes".
Petrakov on team news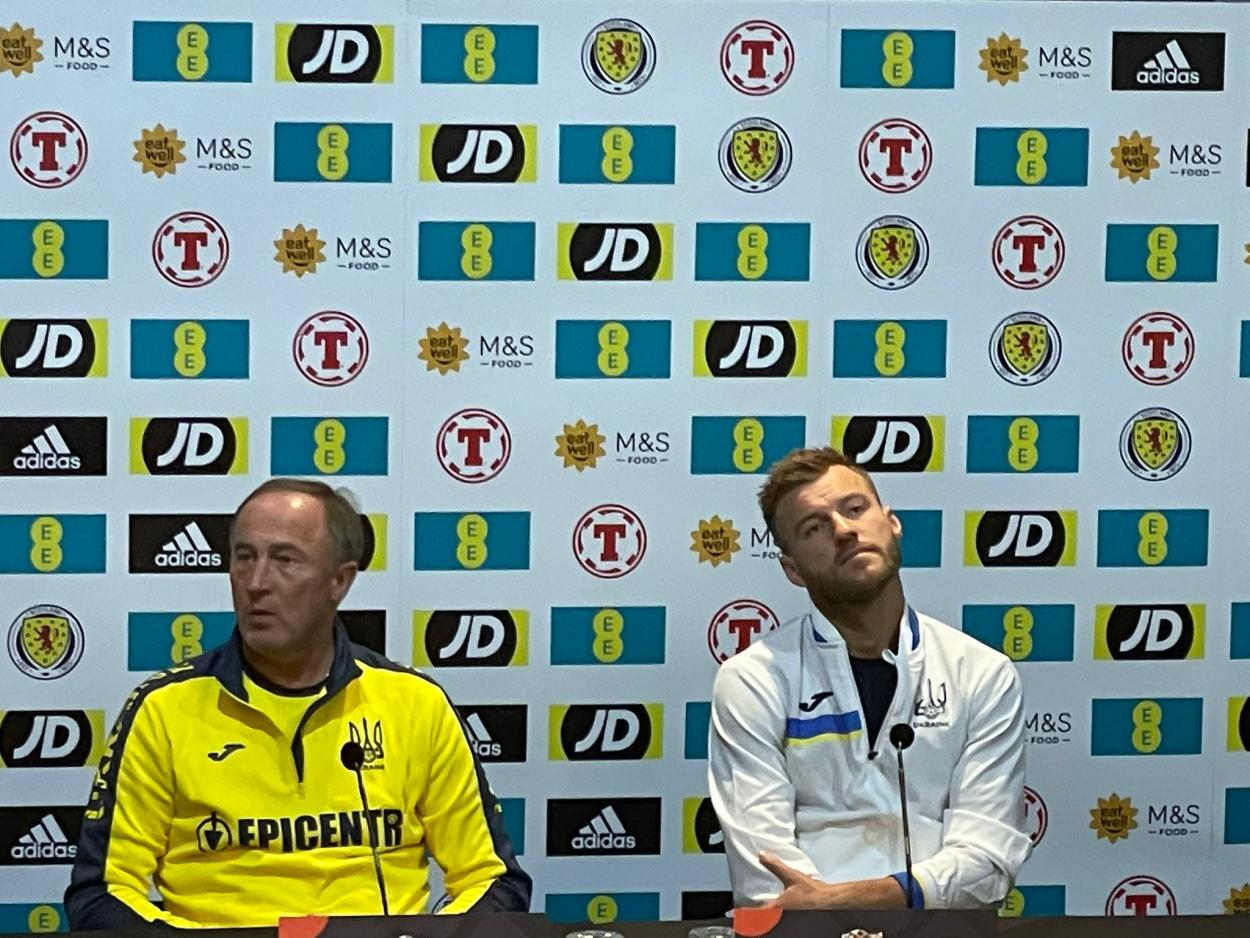 The notable absences of Mykola Shaparenko, Oleksandr Zinchenko and Georgiy Buschan leave Petrakov with some selection issues, particularly in midfield.
The manager was asked regarding any additional issues within the squad: "There is a minor injury to Vitaliy Mykolenko and Viktor Kovalenko, as well. The rest are ok and will be training".
Regarding whether or not the left-back will take part in the match, Petrakov responded: "We will decide tomorrow. We are getting ready for the game in a good state".
It remains to be seen whether or not Ukraine will utilise the traditional, four-man backline, which brought them success on their trip to Scotland in June. Petrakov's historically preferred three-man partnership in the centre of defence remains an equally realistic option.
The manager was keen to avoid giving out his tactical plans in the press-conference. Regarding a question, interpreted as a suggestion, whether Petrakov would revert to his preffered formation, the manager playfully responded: "It is good that you are concerned with how we will play. Thank you for the advice, but we will sort it out amongst ourselves".