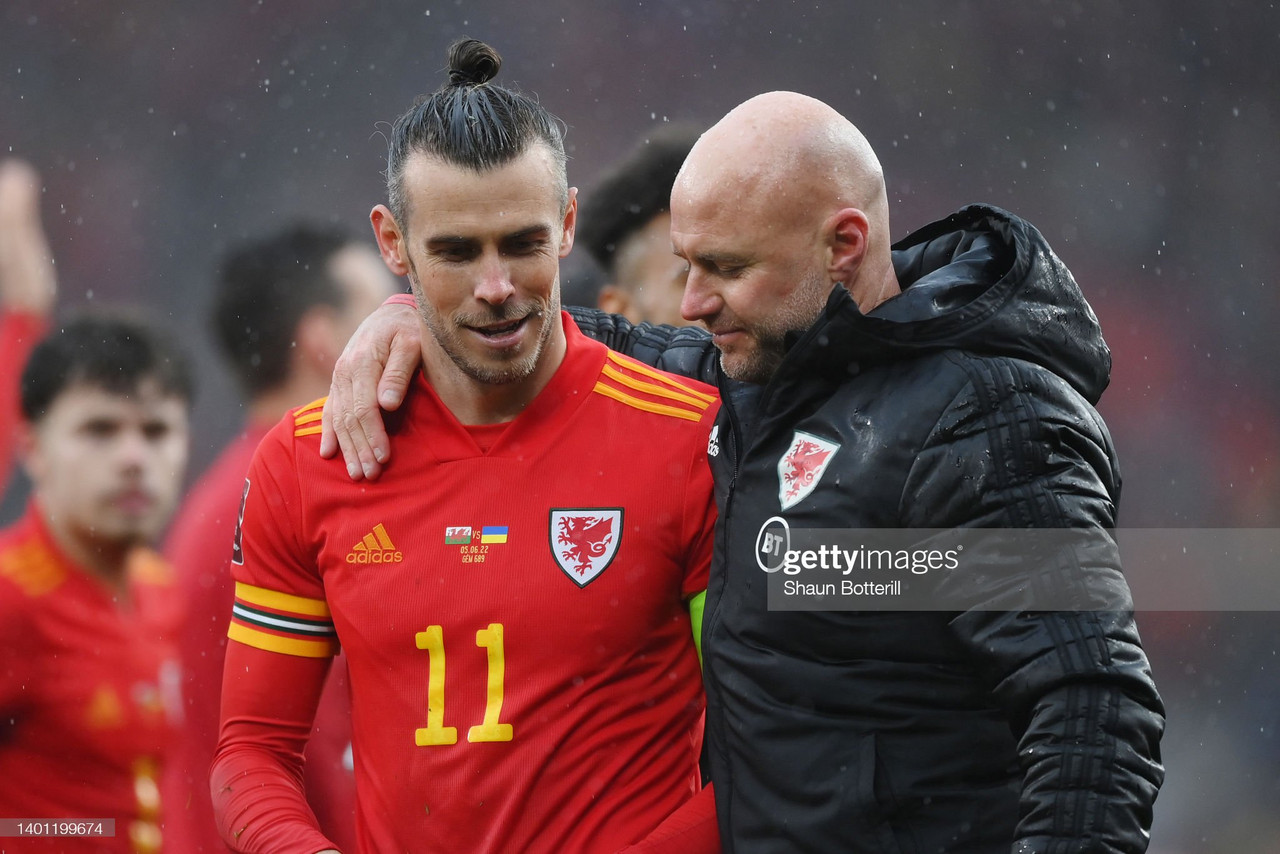 Wales boss Rob Page has suggested Gareth Bale will become a part of the national team's coaching setup following his retirement from football on Monday afternoon.
The legendary winger called time on his career after guiding his nation to their first World Cup since 1958.
Bale was also a star player for Tottenham Hotspur in the Premier League, leading to Real Madrid signing him for a then-record transfer fee in 2013.
The 33-year-old won an incredible 16 trophies during his time with Los Blancos, including five Champions Leagues.
The versatile Welshman who played in four different positions during his career last played for Los Angeles FC in the USA, winning the MLS Cup.
Following his retirement, Wales manager Page hailed Bale's career and his influence on Welsh football, and suggested he still has a future in the Welsh national team even if it is off the pitch.
Page was keen to recognise the impact Bale has had on not only Welsh football, but his impact on making The Dragons more recognisable internationally too.
Having been one of the footballing greats of the past decade, the man who netted 227 goals throughout his career will be remembered for his incredible pace and power.
He made a name for himself in his famous 'taxi for Maicon' nights in the Champions League where he destroyed the Brazilian and Inter Milan, scoring a hat-trick at the San Siro and then beating the European champions of the time 3-1 at White Hart Lane.
Iconic goals such as his famous run past Marc Bartra, which he went on to score from, in El Clasico to win Real Madrid the 2014 Copa del Rey and his bicycle kick against Liverpool in the 2018 Champions League final will always be associated with the 'Welsh Wizard' too.
Page paid tribute to Bale's incredible club and international career.
"It's phenomenal what he's done for us, not just from a footballing point of view but as a nation as well, he's put Wales on the map through what he's done in European football with Real Madrid, what he's done in the Premier League with Tottenham when he was starting off and then in the World Cup.
"Not just from a footballing point of view but culturally too, everyone in Wales should be very proud of what he's done.
"He's so proud to put that jersey on every time, he's the first through the building [to training] and he's a credit to himself and his family the way he conducts himself around the group and with the young players when they come into camp and how he looks after them.
"Of course he'll be missed and it's not the news we wanted to start the year with but we all knew it was going to come one day, we just didn't know when it was going to come."
In his statement announcing his retirement to Welsh fans on Monday afternoon, Bale stated that retiring from international football was the hardest decision of his career.
During tough years with Real Madrid, it became even more evident that Bale's priority was with his country, famously holding a 'Wales. Golf. Madrid. In that order' flag after securing their place in Euro 2020.
Bale also said that he would not be stepping away from the Wales side despite his retirement, leading to questions over what his role in the squad would be.
Page confirmed that Bale is interested in taking a role in and around the squad in the future.
"When you've got somebody of Bale's stature and what he's done for Wales and the impact he can have, even having him in the changing room around the players, I've got to take advantage of that.
"He's interested to do it in whatever capacity, that's something we'll have a chat about further down the line in the next couple of weeks no doubt.
"I think there might have already been discussions before this about staying involved in some capacity, but the important thing right now is to celebrate his career and what he's done for us as a nation.
"I looked back at the montage of the goals he scored, I think I smiled at every goal that he put in because he doesn't score bad goals.
"We'll let him have some time with his family and when the time is right we'll have a conversation about how we keep him involved and what capacity we keep him involved in."
On Wales' transition to football without Bale
The loss of such a key player and huge influence in the dressing room will be damaging for The Dragons.
However, Page was keen to stress that the younger players in the squad would be given the chance to prove themselves in the near future.
The 48-year-old suggested Nottingham Forest attacker Brennan Johnson will have a key role to play without Bale, amongst other developing players.
The progression of new players into the Wales squad was a key factor in Bale's decision to retire according to his former international manager.
"We've seen some of the young players we've brought through, we introduced players like Brennan Johnson in the last 12 to 18 months and you can see the progression that he's making.
"There are other young players now. Taking JJ [Jordan James] away with us to the World Cup with us to have that experience training with the boys day in day out is going to hold him in good stead for the future.
"Oli Cooper we took to the World Cup as well and exposed him to that environment.
"It's not about a compete change now, it's about drip feeding these young players in from top clubs and giving them that opportunity and challenge now.
"Having spoken with Gareth, that was part of the reason behind it [his decision to retire] as well, he didn't want to hold up anyone else's progress as well and you've got to commend him for that as well."