Key players Lene Mykjåland, Isabell Herlovsen and Ingrid Moe Wold have all been named in the Norway squad for the Olympic qualifiers, although there was no room for June Pedersen and Kristine Leine in Roger Finjord's selection.
A strong squad
Norwegian manager Roger Finfjord has named a squad with few surprises. The only concern before the selection was whether the likes of Mykjåland, Herlovsen and Moe Wold would be fit and ready.
While there's still some doubt about how much they can play, they have been selected. This also means that Piteå IF's June Pedersen has been left out.
With the availability of star players such as Maren Mjelde, Ada Hegerberg, Herlovsen, Kristine Minde, Caroline Graham Hansen and Mykjåland, Finfjord will hope his team is ready for the challenge against strong nations such as Sweden, the Netherlands and Switzerland.
Only one of the nations will join France and Germany as the European contenders for Olympic glory.
An even group
The games against the other European nations will take place on the 2nd, 5th and 9th of March in Rotterdam, where they all have a fighting chance of qualifying.
On the close group, Finfjord said to vg.no: "In a championship this would undoubtedly be called the 'group of death'".
He also believes that small margins could be the deciding factor.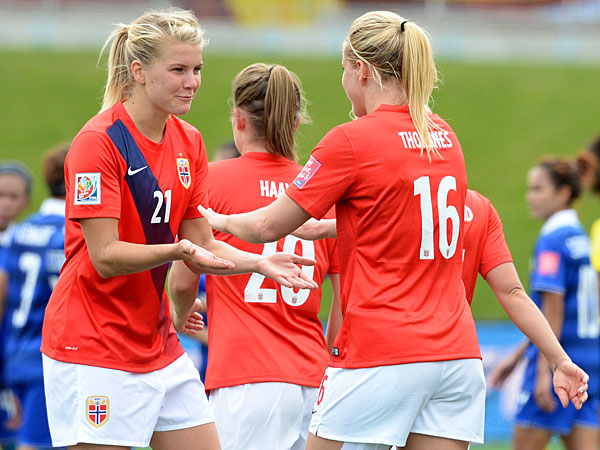 A gamble with trio
A little under a week ago, Finfjord stated he was not ready to take any chances with experienced star players Mykjåland and Herlovsen.
However, despite it being a fight against time, Finfjord stated to vg.no that it is vital to have them in the squad for such important games.
On the selection of Mykjåland and Herlovson, Finfjord highlights that they "have the x-factor which can be crucial at the end of the games" but he is also realistic and says that they "need to figure out how much [Norway] can use them in each game".
Pre-tournament camp
The Norwegian clubs have released their players for national team duty, which means that the Norwegian-based players will travel to the Netherlands on the 26th of February, and be joined by the foreign-based players a few days later.
Norway squad in full for Olympic qualifiers
Goalkeepers: Ingrid Hjelmseth (Stabæk Fotball), Cecilie Fiskerstrand (LSK Kvinner FK), Kristine Nøstmo (SK Trondheims-Ørn).
Defenders: Maren Mjelde (Avaldsnes IL), Trine Rønning (Stabæk Fotball), Marita Skammelsrud Lund (LSK Kvinner FK), Nora Holstad Berge (Bayern Munich), Stine Reinås (Stabæk Fotball).
Midfielders: Lene Mykjåland (LSK Kvinner FK), Gry Tofte Ims (Klepp IL), Ingvild Stensland (Stabæk Fotball), Emilie Bosshard Haavi (LSK Kvinner FK), Kristine Minde (Linköping FC), Andrine Stolsmo Hegerberg (Kopparbergs/Gøteborg FC), Ingrid Moe Wold (LSK Kvinner FK), Andrine Tomter (Avaldsnes IL).
Forwards: Isabell Herlovsen (LSK Kvinner FK), Elise Thorsnes (Avaldsnes IL), Caroline Graham Hansen (VfL Wolfsburg), Hege Hansen (Avaldsnes IL), Ada Stolsmo Hegerberg (Olympique Lyonnais), Synne Sofie Jensen (VfL Wolfsburg), Lisa-Marie Karlseng Utland (Trondheims-Ørn).