At the beginning of March, Sweden will play three games against Norway, the Netherlands and Switzerland, with the winner joining France and Germany in Brazil for the Olympic Games. Pia Sundhage has only selected 21 out of 23 player so far, which leaves the door open for Kosovare Asllani.
Controversial omission
It is no secret that Asllani and Sundhage have a long and strained relationship.
The coach has publicly criticised the player, and Asllani hasn't shied away from being critical of the Swedish manager. The attacker recently had her contract with French giants Paris-Saint Germain terminated, and got a fresh start with English outfit Manchester City.
The hope was that this would also be a stepping stone towards getting her spot with the Swedish national team back, but so far this has not happened.
Sundhage explained to aftonbladet.se that Asllani needs more time at her new club, and says that Sweden think "they have better players right now", and specifically states that the "door isn't closed" for Asllani.
She recently played 45 minutes for Manchester City in a training game against Swedish champions FC Rosengård, her only minutes for City to date.
In the other camp, Asllani's agent Arash Bayat, has little time for Sundhage's explanation and doesn't understand the omission. Speaking to fotbollskanalen, he says: "It is really weird that she hasn't been selected." He also stated that Asllani is happy at her new club.
He elaborated to expressen.se that Asllani herself is taking the snub calmly, but he is annoyed.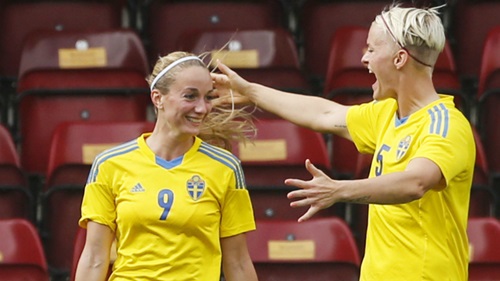 Still a strong squad
Despite the absence of Asllani, who might still be selected, Sweden are going to the Netherlands with a strong squad.
In established stars such as Caroline Seger, Hedvig Lindahl, Nilla Fischer, Lisa Dahlkvist, Sofia Jakobsson and Lotta Schelin, Sundhage has plenty of experience available.
Sundhage will also hope that some of the young players like Stina Blackstenius and Pauline Hammerlund, who have been some of the best and most exciting players in Sweden this past year, will continue their good form and provide good alternatives for someone like Schelin.
Sweden squad in full for Olympic qualifiers
Goalkeepers: Hilda Carlén, Emelie Lundberg, Hedvig Lindahl.
Defenders: Jonna Andersson, Emma Berglund, Magdelena Eriksson, Nilla Fischer, Freja Hellenberg, Lina Nilsson, Linda Sembrandt.
Midfielders/forwards: Petra Andersson, Emilia Appelqvist, Lisa Dahlkvist, Jopsefine Johansson, Caroline Seger, Pauline Hammarlund, Stina Blackstenius, Sofia Jakobsson, Fridolina Rolfö, Lotta Schelin, Olivia Scough.