FIFPro revealed it's inaugural Women's World XI to SI.com on Thursday, as it continues it's push to grow and develop the women's game.
The world union of football players has released a men's XI since 2005, so this is a big step in that sense.
The voting process and the final list
Professional players of 33 different nationalities across the globe were asked to name one goalkeeper, four defenders, three midfielders and three forwards as to who they felt were the best in their position in over the entire year of 2015.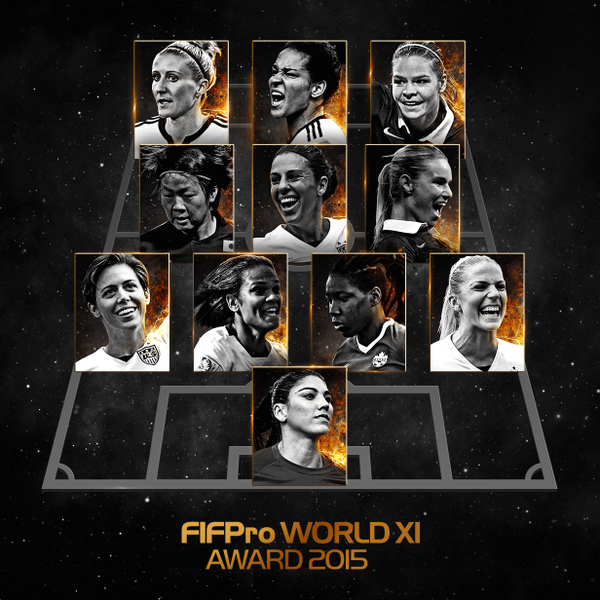 Below is the complete list for the FIFPro World XI Awards 2015:
Goalkeeper: Hope Solo (USA, Seattle Reign FC).
Defenders: Kadeisha Buchanan (Canada, West Virginia University), Wendie Renard (France, Olympique Lyonnais), Julie Johnston (USA, Chicago Red Stars), Meghan Klingenberg (USA, Portland Thorns FC).
Midfielders: Amadine Henry (France, Olympique Lyonnais), Carli Lloyd (USA, Houston Dash), Aya Miyama (Japan, Okayama Yunogo Belle).
Forwards: Anja Mittag (Germany, Paris Saint-Germain), Eugénie Le Sommer (France, Olympique Lyonnais), Célia Šašić (Germany, FFC Frankfurt).
Noticeable absences
The list overall, is one that most would agree on. However, there are some notable absentees. For example, Becky Sauerbrunn (USA, FC Kansas City), Kim Little (Scotland, Seattle Reign FC) or Ada Hegerberg (Norway, Olympique Lyonnais) could have easily staked a claim for a place in the eleven.
No English players were featured either even though the nation finished third at the 2015 FIFA Women's World Cup. One could argue that Lucy Bronze, (Manchester City W.F.C), who was named in the tournament's best XI, should also have been included in this team.
We look forward to seeing the players featured on this list to be also featured at the Ballon D'Or gala in the future, just as their male counterparts do on each occasion.