The Division 1 Feminine returned with this weekend and all eyes were focused on those at the bottom. With only a few weeks left in the season, the battle for relegation showed signs of separation.
At the top, three teams continued on with expected wins, but one failed to pick up all four points.
Guingamp grab a vital win
Guingamp faced up against another team fighting for survival in VGA Saint-Maur at the weekend, and came out on top, picking up all four points. Salma Amani was the star of the show, picking up two goals as her team romped their way to 5-2 win.
This win also puts Guingamp six points above the relegation zone, whereas Saint-Maur are 11 points from safety with only five games to go.
Staying at the bottom, Nîmes Métropole Gard could not withstand the barrage from Paris Saint-Germain, as the Parisiennes ran out 5-0 winners - meaning Nîmes also now sit 11 points adrift. Cristiane scored the only goal before half-time, after which Erika, Rosana and Marie-Laure Delie, who would finish the game with two goals to her name, ended the contest in the second half.
La Roche-sur-Yon could not add to their crucial win in the last round either as they too fell to 2-0 defeat at the hands of Montpellier. Sofia Jakobsson and Viviane Asseyi scored the only goals of the game as Montpellier continue to chase down PSG for that second place finish - just two points behind them.
La Roche, however, are now six points from safety.
Juvisy fall further back
The other big news of the round was Juvisy's 1-1 draw against Rodez. In what was billed to be a tightly contested match, Tatiana Coleman (who scored and was sent off in the previous round) opened up the scoring for Juvisy, only for Flavie Lamaitre to equalize for Rodez.
Both teams pushed for a victory, but neither could find the winning goal which leaves Juvisy now trailing Montpellier by four points in the table.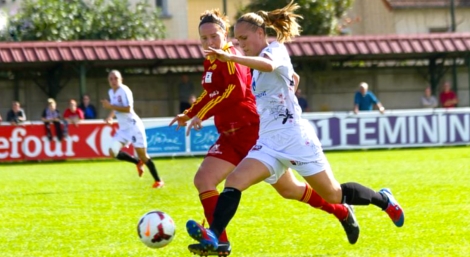 Routine wins
Elsewhere, Olympique Lyonnais continued their march to the title with a 3-0 win over Saint-Étienne. Wendie Renard continues her treatment for injury and did not feature in this match as a result, but Lyon had no problem dispatching their opponents as Eugénie Le Sommer, Camille Abily and Ada Hegerberg all bagged the goals that helped them get the win.
Soyaux, meanwhile, moved up the table to fifth with an expected 3-0 win over ASPTT Albi; the goals coming from Allison Blais, Laura Bourgouin and Viviane Boudaud.