The Coupe de France Féminine quarter-finals were played this weekend and all the expected winners came through.
Some of the top-flight teams had to push right until the very end to get their wins and they will now all battle it out for a spot in the final.
Rodez survive
In what was seen as the tie of the round, Rodez had to come through penalties in their win over Guingamp.
Guingamp opened the scoring through a converted penalty by Salma Amani and then furthered their lead through Faustien Robert. In the second half though, Rodez regained their composure and managed to tie up the game with goals from Océane Saunier and Audrey Cugat.
Neither team could break the deadlock and it came down to penalties, where Guingamp's Aminata Diallo and Marion Boishardy failed to convert their kicks as Rodez went through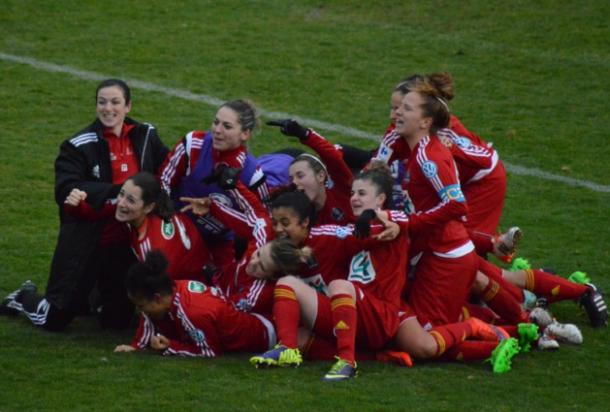 Montpellier produce late magic
In what was almost the shock of the round, Montpellier scored three late goals to overcome VGA Saint Maur.
The Division 1 Feminine relegation candidates opened the scoring through Maeva Solomon and held on for as long as they possibly could to their lead.
Montpellier pushed for an equaliser though and their pressure finally told as Laura Agard broke free in the box to tie up the game. Goals from Kelly Gadea and Andressa Alves gave their team a more commanding lead and the match finished 3-1 to Montpellier.
Lyon storm past Dijon
The surprise package of this season's competition so far, Division 2 Feminine's Dijon FCOF could not match the quality that is in France's top team and Olympique Lyonnais rolled past them, winning by six goals to nil.
Goals from Griedge Mbock-Bathy, Ada Hegerberg (who picked up two on the day), Amel Majri, Claire Lavogez and Elodie Thomas ensured that the tournament favourites would continue on to the semi-finals.
PSG gain a routine win
Paris Saint-Germain had no problems dispatching lower-league opponents FC Metz. Ouleymata Sarr, Cristiane and Marie-Laurie Delie all registered goals for the Parisienne side in a 3-0 win as they eased through.
PSG will now face Montpellier in the first semi-final, while Lyon take on Rodez in the other. The games will be played on April 16.