An expected, tightly contested match between Germany and France, arguably Europe's top two teams, turned out to be exactly that as Germany capitalised on a set piece to win 1-0, Leonie Maier with the late goal.
The two nations had not faced each other since the 2015 FIFA Women's World Cup quarter-final, where the Germans came out on top in a penalty shootout. This game had the same team coming out with the win, but the two matches were decidedly different.
Injuries and new faces
Both teams were without a few familiar faces to most due to injury, which allowed the two coaches, Silvia Neid and Philippe Bergeroo, to allow other players to have a chance to show what they can do.
For Germany, Sara Doorsoun made her debut at left back, while Isabel Kerchowski started at right midfield in what looked like a 4-4-2 formation by the Germans.
France put together a makeshift defense featuring Jessica Houara D'Hommeaux, Sabrina Delannoy, Griedge Mbock-Bathy and Amel Majri. Kheira Hamraoui also started in midfield, replacing the mainstay of France's midfield Amandine Henry. The formation chosen by Bergeroo was a 4-5-1, as it usually is with the French.
Plenty of possesion but no real chances
The first 20 minutes of the game passed with not many chances as both team pressed each other and possessed the ball well, but failed to find their touch in the final third, leading to a lot of stray passes, offside calls or poor crosses. The only incident of note in this time period was in the 14th minute when Marie Laurie Delie escaped Saskia Bartusiak's attentions and was through on goal, only for her to be called back by the referee who decided to stop play for the foul by Bartusiak.
Dzenifer Marozsan tried her luck with a long range shot which Sarah Bouhaddi managed to save and handle fairly easily. Other shots by both teams were either cleared or blocked as both defences proved to be very strong.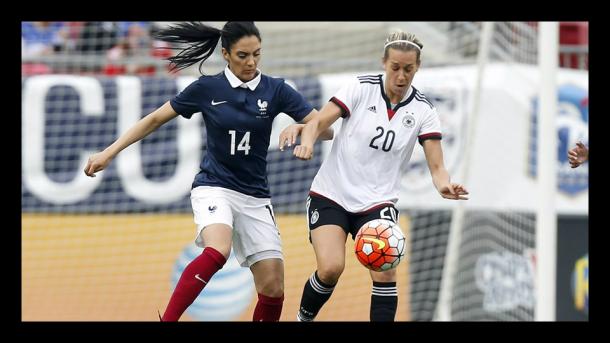 Opportunity arises
The first real chance of the game fell to Eugenie Le Sommer after some fine passing from the French. Le Sommer picked up the ball in midfield before off-loading to Louisa Necib. Necib found Claire Lavogez out wide who then put a great cross which the on-rushing Le Sommer could not get a clean connection on. Almuth Schult was able to scramble the ball away before her defenders cleared the ball.
France begin to push forward
The second half started slightly similar to the first half as both teams kept a lot of possession in the midfield, but France began to try and impose their attack more.
The clearest opportunity of the game fell to Le Sommer. Necib played her in with a lovely through ball, only for Schult to come up big with a great close range save.
France continued to probe, primarily through their right-hand side, but could not find a way through the German defence.
Maier capitalises on Bouhaddi mistake
As the game came into it's final ten minutes, France's Bouhaddi mis-controlled a backpass to her which resulted in a corner for Germany. Lena Goeßling delivered the ball, which was headed by Mbock-Bathy but straight to the feet of substitute Anna Blasse. The defender's shot was blocked and Maier was there to sweep the rebound in at close range.
France tried to push for an equalising goal, primarily through the speed of another substitute, Elodie Thomis, but they could not find the break through.
The match ended and the Germans celebrated their first win of the cup, while France wondered at another match ending in a familiar way for them; plenty of possession with no clinical finishing while their opponents took their chances and won.