Norio Sasaki has confirmed today that he has left his position as the head coach of the Japanese Women's Football Team, the Nadeshiko.
The news comes after a shocking qualifying tournament to go to the 2016 Rio Olympics. Japan failed to gather enough points to finish in the top two positions, and thus qualify for the tournament, for the first time in 12 years.
Success throughout his reign
Sasaki has had huge success with the Nadeshiko since taking over in 2008. He guided them to their first ever World Cup trophy in the 2011 edition in Germany, after the country had suffered a devastating natural disaster back home.
He then led the team to a silver medal at the 2012 London Olympics and, last year, helped them finish as runners-up in the 2015 FIFA Women's World Cup in Canada.
Sasaki was named FIFA and AFC Coach of the Year in 2011 and finished runner-up in 2015 in the former, behind Jill Ellis.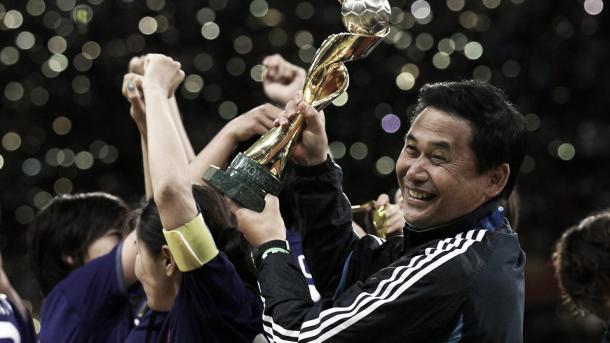 A suspected decline
However, even during the World Cup in 2015, questions began to arise of the Nadeshiko's performance levels.
There was a feeling that they seemed to be a team in decline, especially after their performances against England and eventual winners, the USA.
This decline became more noticeable during the 2016 Olympic qualifying tournament, where Japan lost their first three games and finished third after wins against Vietnam and the Korea Republic. This resulted in them failing to qualify for the Rio Olympics.
Sasaki on his departure
Sasaki spoke of his decision to leave the team, stating that he took his job as the national team head coach seriously and if results aren't there, as a coach "you have to take responsibility." He feels like if they had qualified, maybe they could have "worked some Norio magic" in Rio, but unfortunately he could not work "any magic in qualifying."
Sasaki went on to say that he feels he left the team in a good place, and that they "will come back," adding that he will "continue to support them" wherever he may be.
It will be interesting to see who Japan hire next and where the team goes from here. Sasaki has left a great legacy behind him and brought the nation on to the world map as one of the top technical and successful teams in the women's game for the last few years.