With just six games to go in the Division 1 Feminine, it's all to play for in the final stretch of the season as teams bid for success at the right end of the table, and others scrap for survival at the bottom.
It's been a hectic week in the world of women's football, with international football taking over our screens for the last two weeks. With a lot of the top players in D1 returning from a demanding schedule in friendly tournaments with their countries, fatigue and a lack of quality could plague this weekend's action.
However, with so much at stake, tiredness is sure to be at the back of every player's mind in another crucial round of fixtures.
Relegation favourites need to step up
The focus is on the wrong end of the table this weekend, with the majority of fixtures being between teams entangled in the relegation race.
Nîmes Metropole Gard need to get something from their clash with Saint-Étienne on Sunday afternoon if they want to keep their hopes of staying up alive, but, with just one league win to their name all season, the hosts of the tie will certainly be confident of registering a comfortable victory.
Saint-Étienne themselves are still just nine points clear of the drop zone so can't take anything for granted, but they look to be safe in seventh, with the five teams below them those really in danger of going down.
Rodez sit one place and two points above Les Verts in the standings, but are another team who could yet play a crucial role in the scrap for survival as they come up against second-bottom VGA Saint-Maur in Sunday's early kick-off.
Saint-Maur are tied on points with Nîmes at the bottom, only above them by a slightly better - but still horrid - goal difference, and are also desperate to add to their one league win in order to improve their slender chances of survival.
The two are a massive 11 points from safety now, and victories this weekend are simply a must.
The third and final team in the relegation zone; La Roche-sur-Yon's case is only slightly better, but they are unlikely to reduce the six point gap between them and safety this weekend as they come up against leaders Olympique Lyonnais, meaning it's the perfect time for those below them to apply the pressure.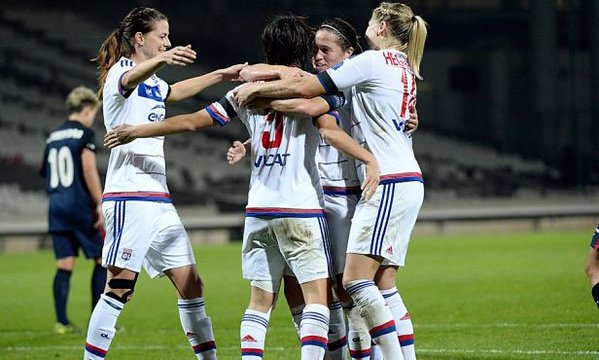 Mid-table mediocrity?
The rest of the weekend's games see teams seemingly safe take on sides desperately trying to keep up with their dreams of Champions League football.
Montpellier are two points off of second-placed Paris Saint-Germain and can move into the top two with a win over ASPTT Albi on Sunday, as PSG do not play until next Saturday. Albi, meanwhile, are just two places above the drop zone, but they have a comfortable seven-point cushion that should help them stay up.
Fortunately for the latter, La Roche are unlikely to cut that cushion with a win against Lyon, whilst Guingamp, who sit directly below them, are the team that will play Les Parisians next weekend. Thus, an expected defeat for Albi will not be as costly as it could be, though they will be keen to avoid it regardless.
Fourth-placed Juvisy's home fixture with Soyaux completes the weekend line-up; a clash of two sides unable to really go anywhere in the standings.
The hosts are nine points off the top, six points off the top two and even four points off of third-placed Montpellier, with them instead to simply claim the title as 'the best of the rest' this season. Soyaux, meanwhile, are right below them in fifth - albeit by a massive margin of 14 points. 11 points above the drop and 20 behind the top two, their season is seemingly over, though they will want to finish as high in the table as they can and won't roll over easily.
With nothing to really motivate either, it will be an intriguing tie, but surely an entertaining one as well as it will be played with freedom, with no pressure on the two teams.