The UEFA Women's Champions League returns this week with four intriguing quarter-final fixtures, one of which sees the dominant force of France take on the dominant force of the Czech Republic.
It's Olympique Lyonnais vs Slavia Praha, with the latter in their first ever quarter-final and coming up against a side who have won all six of their previous last eight ties.
Both have a strong grasp on their domestic scenes, but can they assert their authority in Europe this Wednesday?
Closer domestic challenges
Lyon are the obvious favourites for the tie. They have the European experience and the proven quality to match, whereas Slavia are more so just continuing a beautiful dream in the competition.
The Czech side have won their league title for the last two seasons, but Sparta Praha are giving them a run for their money this year and currently sit top of the standings on goal difference.
Lyon, meanwhile, are taking France by storm once again, but are being closely pursued by a Paris Saint-Germain side who held them to a goalless draw last month. Still, they are three points ahead of their fierce rivals and on track for another Division 1 Feminine title.
Road to the quarters
It's fair to say that Lyon haven't really been tested in the competition up to this point, with them cruising past Medyk Konin and Atletico Madrid with aggregate wins of 9-0 and 9-1 respectively.
However, the lack of a challenge doesn't matter too much as the quality of those two is reasonably similar to the quality of Slavia. That again makes them overwhelming favourites to clinch a convincing win on home soil on Wednesday then.
This week's visitors, on the other hand, have been made to work hard for their place in this round. They beat Brondby 4-2 on aggregate in the round of 32 whilst managing a 2-1 win over Zvezda Perm at the last stage.
They've made the most of their home legs so far, winning both to make up for no victory in either away leg, but heading into that next week without having clinched a result in France would represent game over in this tie.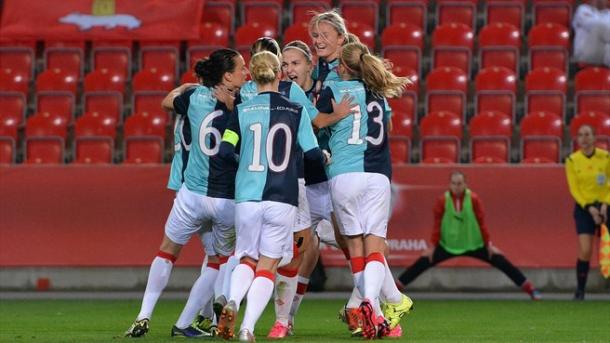 Team news
There have been plenty of changes for both sides since their last fixtures in this competition at the back end of 2015.
Both have made several changes to their Champions League squads in that time, with Lyon replacing the departed Wang Fei with Salomé Elisor, whilst Slavia have added a trio of names in Kristýna Čiperová, Yingjie Hu and Marketa Matejikova.
The French giants were granted a weekend off ahead of this game and will come in with fresher legs too, whereas Slavia faced Slovan Liberec on Sunday morning, winning 5-0.
The Czechs will be disappointed that their huge clash with title rivals Sparta comes this Saturday too, as it means they may have to de-prioritise this illustrious tie given their chances of winning it. Lyon, on the other hand, have few concerns about facing strugglers ASPTT Albi on Sunday.
The chances of the visitors fielding a second-string team could be higher then, though rotation could have it's benefits as they have five regulars who are one booking away from missing the second leg. A rest for them on Wednesday would avoid that chance of suspension.
The hosts also have players walking on thin ice, and will be hoping that Aurélie Kaci and Amel Majri watch themselves to avoid their own potential punishments for another yellow.