Olympique Lyonnais have announced that Eugénie Le Sommer has extended her contract until 2019.
The France international has been a mainstay for the club and this will be welcome news for Lyon fans. She follows the likes of Pauline Bremer, Ada Hegerberg, Elodie Thomis, Amel Majri and Sarah Bouhaddi, who have all committed their futures to Olympique Lyonnais lately.
Le Sommer has been ever-present for Lyon since she first signed with the team in from Stade Briochin in 2010 and has scored 164 goals in 183 appearances for the club.
Le Sommer aims for the treble
Le Sommer summed up her delight on the club's official website, saying that she and the club together were "off to another three year adventure" where they aim to succeed as much as possible.
She also stated her desire to help the team win all of the competitions they are currently involved in, and that the club's new facilities made this an easy choice for her.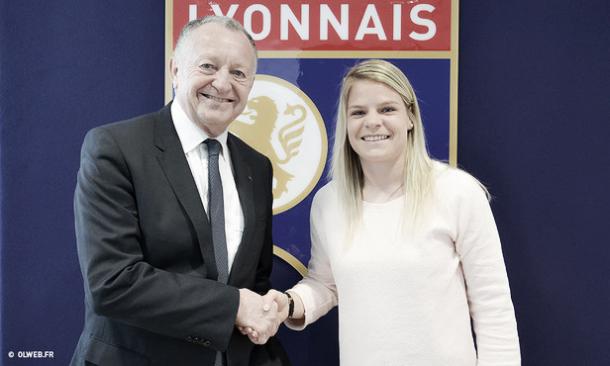 Aulas wants to build the best team possible
Jean-Michel Aulas, the chairman of the club, was present for Le Sommer's contract extension and spoke of his desire to continue to extend contracts and sign new players that would make Lyon "the best team they have ever had" in the next season.
On Le Sommer herself, Aulas expressed his desire to have her remain at the club, stating that she was one of the club's "best players" and that she, along with the club, have been through a "massive development" together. Aulas also mentioned that he intended to have a quality team that matched the new facilities that both the men's and women's team at Lyon will be using for the foreseeable future.
One setback to Aulas' rebuilding at the club has been Amadine Henry's recent move to the NWSL, but he took the time to say that they parted on good terms and she will be welcome back at the club during the American league's off-season.