The Division 1 Feminine continues this weekend, and it should bring with it all it's usual drama as the end of the season nears.
It's at the bottom where the attention will be focused on Sunday, with some key battles to take place as teams look to strengthen their bids to stay up.
There's plenty still to play for in France's top division, and teams cannot take their foot off the gas any time soon.
Time to fight
It's now or never at the bottom of the table and the big game this weekend sees Nîmes Metropole Gard, second-from-bottom, take on La Roche-sur-Yon, third from bottom.
If Nîmes taste defeat, it's essentially game over for them in terms of staying up. They are already 10 points from safety, and for them not to narrow that gap would be a huge blow and potentially see their time in this division, for now, come to an end.
La Roche are six points from safety, meanwhile, and will target a win in this game to keep their chances of staying up alive.
However, the team they are chasing are Guingamp and a win for Las Costarmoricains on Sunday would put a dent in La Roche's chances of playing top flight football next season.
Guingamp face Saint-Étienne in a game too close to call, with both comfortably above the relegation zone but in danger of being sucked back into danger. A win for the former would go a long way in keeping them up this season, whilst victory for the latter would practically put the seal on survival.
Title race continues
If any of the relegation scrappers do suffer defeat on Sunday, then defeat for some of their fellow strugglers could act as consolation.
ASPTT Albi, for one, will not be expected to pick up points at the weekend as they head out on the road to face Olympique Lyonnais. Lyon hammered Slavia Praha 9-1 in the first leg of their UEFA Women's Champions League quarter-final on Wednesday, and they will be in the mood for goals again as they welcome Albi.
The visitors are 10 points above the drop as it stands, but could see that gap closed after this matchday. It'll be about limiting the damage then as they look to maintain a goal difference superior to most of those around them.
Lyon are bidding to keep their three-point lead over Paris Saint-Germain, who are welcomed by bottom side VGA Saint-Maur on Sunday afternoon.
Les Parisiens were held to a goalless draw by Barcelona in midweek, and will look to build up their confidence ahead of the return leg this Wednesday by emphatically seeing off Saint-Maur. With a wildly inferior goal difference to Lyon, they will be looking to work on improving that too.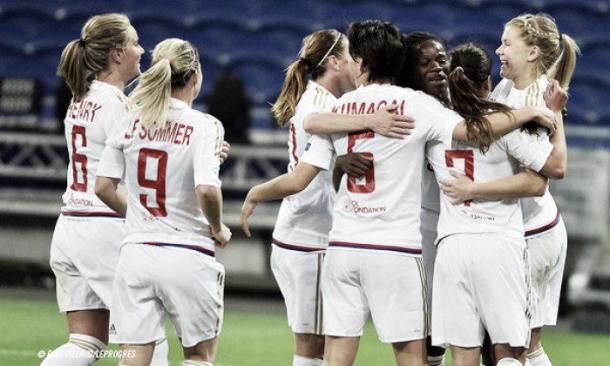 And a couple of medocre scraps
Amidst all the plenty to play for games, there are a couple of matches for teams who can't really move in the standings too.
Montpellier and Juvisy actually present a mouth-watering meeting though, as third welcome fourth with both hoping to keep up the pressure on the top two.
It seems impossible that either Lyon or PSG will let their hold on the top two slip, but those behind them will be ready to pounce if they do, meaning the winner of this game is extremely important to keep their seasons alive.
Montpellier are five points behind second, and Juvisy six, so the loser of this game is sure to fall out of contention for a Champions League berth - which gives a game with a potential 'end of season' feel to it a much more competitive edge.
One meeting with that nothing to play for vibe, however, will come in the form of Soyaux's welcoming of Rodez. The latter are currently sat in fifth, 14 points above the drop but 20 points off the top two, whilst the hosts are 11 points safe and 23 points from the European spots.
With nothing to play for, it might not be the most fiercely fought fixture, but both teams boast a lot of quality in their ranks that has helped them stay safe this season, and they will want to continue to shine as the season rounds off.