Barcelona were held to a goalless draw in their home leg of their UEFA Women's Champions League quarter-final tie with Paris Saint-Germain on Wednesday.
Barca more than held their own in the game, but it was PSG who had the better chances throughout and should have taken more than just a narrow lead on the evening.
The French giants can now take the initiative into their own home leg this coming Wednesday as they look to progress to the last four, with the winner sure to play Olympique Lyonnais after they hammered Slavia Praha 9-1 in the first leg of their quarter-final.
An intense first 45 minutes
The match started brightly with both teams posing a challenge to each other. It was a first half full of intensity and it was evident that the aspect on which both teams based their play style was technical, however the Parisian were clearly the most physical side on the pitch.
On the other hand, the Catalans proved to be dangerous on the counter-attack and also with their quick footwork, which gave the French defence a hard time.
Barcelona were lively in the match and created several goal-scoring opportunities, but the big chances fell mainly to PSG. Despite Barca gaining ground, it was their opponents who almost forged ahead in the first half, and Sandra had to produce a miraculous save to deny a superb effort from Cristiane.
The visitors were dangerous through a volley from the Brazlian too, as well as a shot from Germany international Anja Mittag, but both of them went wide of the target.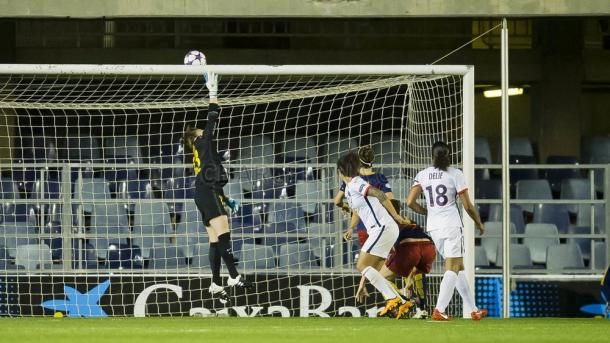 PSG dominate the second half
In the second half, nothing changed with the French club imposing their game from the early minutes.
Barcelona survived on two occasions when, once again, the talisman duo of Cristiane and Mittag produced some wonderful occasions to try and break the deadlock - but all were in vain.
As time went by, Barcelona started to settle for the 0-0 and they were brave in resisting PSG's siege until the final whistle, leaving qualification wide open ahead of next week's second leg in Paris.
The French will be disappointed that they didn't take their chances, but the result is better for them as they head into their home leg without having let Barca nick an advantage.