There's no doubt that Olympique Lyonnais will emerge as the victorious side from this UEFA Women's Champions League tie. After winning 9-1 at home last week, the return leg in the Czech Republic is simply a formality.
Slavia Praha, however, will be looking to bow out from their most successful European campaign to date on a high, especially in front of their own fans.
Rampant first leg
A week ago in France, a confident and world class Lyon attack was on show for all to see as they smashed in nine goals.
Ada Hegerberg grabbed two of these, with her leading the scoring in the competition with 10 goals, while Camile Abily and Griedge M'Bock Bathy also bagged braces - the former's second a spectacular bicycle kick.
Kateřina Svitková gave Slavia a surprise consolation in the game, and a high quality one at that, but the Czechs had little to celebrate in truth on the night.
Their only other achievement was keeping Lyon at bay for an entire 19 minutes, though that was rendered irrelevant once the hosts had broke the deadlock and banged in nine.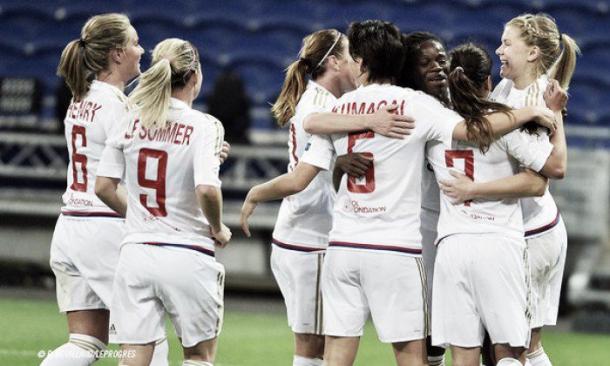 Since then...
Both teams have played since that first leg, and both have won.
Slavia responded to a 9-1 thrashing by dealing one out themselves, beating Slovan Liberec by the same scoreline on Sunday. However, even those nine goals couldn't give them more than a second place finish in the regular season standings, with Sparta Praha topping the table.
They are now preparing to fight for one of two available European spots in the end of season Championships with the rest of the Czech Republic's top four.
As for Lyon, they also handed out a thrashing at the weekend as they beat ASPTT Albi 6-0. Hegerberg bagged a hat-trick in that win, taking her to 26 for the season in the Division 1 Feminine and making it five goals in two games for her.
The Norway international's goals have played a big part in Lyon's pace-setting season, and that win means they stay top by three points.
Team news
Diana Bartovičová and Tereza Kožárová are back from suspension to boost Slavia in their bid to go out on a high on Wednesday.
They could also be boosted by the potential of a weakened Lyon side. The French giants have an important game at the weekend as they come up against Juvisy, looking to avoid any slip-ups as they continue a course that seems destined for them retaining their title.
Third-placed Juvisy present a tough test, especially off the back of their 3-1 win away at Montpellier. Lyon will not want to risk the chance of fatigue and injuries from this meaningless game with Slavia, especially with them unable to slip-up in the league.
Regardless of the team they deploy, however, everyone will expect the French to emerge victorious on Wednesday.