Paris Saint-Germain against Barcelona is the UEFA Women's Champions League quarter-final in which qualification is still wide open for both sides following their 0-0 draw at the Mini Estadio last week, which took place in front of a club record attendance of almost 10,000 people.
These two clubs are pouring lot of money into women's football in the interest of earning the status as one its the elite clubs, and in men's football they already dominate the scene.
Another huge crowd is expected at the Stade Charlety where the Parisians hope to continue chasing their European dream, while the side from Catalonia are striving to emulate the men's success on European soil. It will be the perfect venue for such a mouth-watering contest which can raise the image and profile of women's football.
Between the games
PSG registered a 3-1 victory last weekend over VGA Saint-Maur to keep their title hopes alive, despite Olympique Lyonnais seeming unbeatable.
However, despite facing the team who is at the bottom of the table, PSG had to work hard to earn this win as they were immediately behind in the first half. They equalised only in the 77th minute, which eventually led the way for the Parisians to add another couple of goals to earn three precious points.
Even Barcelona wrapped up an important victory in their domestic league to remain one point from leaders Athletic Club. Their 4-0 victory over Rayo Vallecano did not require lot of effort and they looked superior throughout the 90 minutes. However, if they aim to qualify from this round, they need to tighten up a bit more at the back, where they endured a lot of pressure in the first leg from PSG's front line.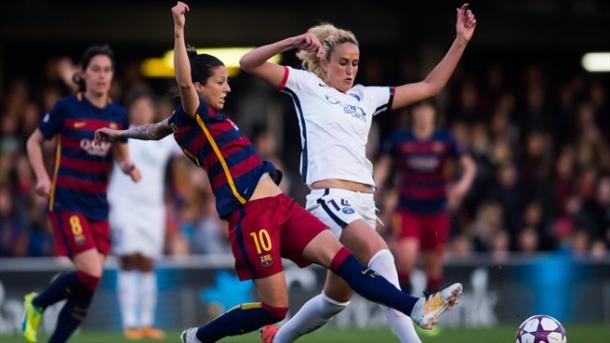 Verdict
There are two point of views for the French club. They either live up to their status as favourites and acquire qualification in 90 minutes, or struggle to break the deadlock and risk leaving qualification open in extra time and eventually in a penalty shoot out.
In the first leg, the Parisians deserved to take the lead as they were evidently the best team on the pitch, but didn't.
Meanwhile, Barcelona won't risk it all and will opt for more containment and operate with the counter attacks whenever possible. Leaving the match tight until the final 15 minutes would be ideal for them, as that would send PSG into a bit of a nervy situation, while the Catalans could prevail from this situation and try to snatch an away goal which would complicate the match for the hosts.