It didn't rain goals like in the last game, but Slavia Praha showed immense fight and spirit to hold the French giants to a draw. In a game that was dominated by Lyon, the Czech champions put on a solid defensive display, and while Lyon had plenty of chances, they never really looked like the side we are used to seeing.
Lyon dominate but can't find a way past Slavia
It was a Lyon side who were saving players for their big game against Juvisy in the league, and gave playing time to many of their usual subs and younger players. Ada Hegerberg had the biggest chance of the first half, but uncharacteristically, the Norwegian missed, and she was visibly frustrated. The best chance of the first half for Slavia game courtesy of Kožárová.
The second half continued on from the first, with the same pattern. A lot of Lyon possession, but with a resilient Slavia defence, who fought for every ball. It was a very sloppy Lyon side, but they did get more chances in the second half. First chance came two minutes in, but Elodie Thomis couldn't quite connect with the ball at the back post.
Slavia showed some good aggression in pressing the Lyon defence on the ball, but Lyon's defence and midfield elegantly played their way around it. However, once they reached the penalty area, they were stopped.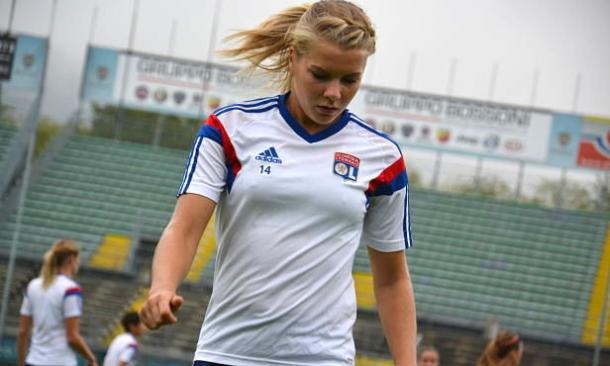 The onslaught continues
Slavia also had a few chances, mainly coming from counter attacks down the wing, but the few crosses that came form it, was safely handled by Sarah Bouhaddi. In the 66th minute, Claire Lavogez finished of a good sequence of play form Lyon, but as a good representation of the match as a whole, a Slavia defender threw herself in front of the shot, and blocked it for a corner.
It wasn't until the 83rd minute that we got the biggest chance, but Eugenie Le Sommer's shot narrowly missed the goal. In the final minutes of the game, Claire Lavogez went down with what looked like a serious knee injury, and had to be stretchered off.
The game ended 0-0, but due to Lyon's huge 9-1 win from the first leg, they are safely through. Either Paris Saint-Germain await in the semi-final.