Paris Saint-Germain booked their place into the final four of the UEFA Women's Champions League with a dramatic victory over FC Barcelona in a match which, as predicted, was very close and full of exciting moments.
Cristiane's flying header and Sandra Panos' howler made up the late goal which separated both teams after 180 minutes, the only goal of both legs.
Tight and end to end opening half
Unsurprisingly, PSG started brightly and were dangerous after only couple of minutes when Barcelona's back line almost deflected a cross into their own net, but Sandra was alert to stop it.
The Parisians remained high up the field, however Barcelona did not sit back and they were also trying to get forward where possible, leading to an end-to-end encounter.
Barcelona's goalkeeper Sandra seemed to be repeating the same feats of the first leg, as she was parrying every thing that came her way. PSG exposed the Catalans on the flanks, where they were whipping constant crosses without capitalising on none. In the first half, Cristiane was by far the most dangerous player on the field where, together with her compatriot Rosana, they continued to trouble Barcelona's back line.
On-form Sandra produces costly and unfortunate error for PSG to win it
The second 45 minutes were nothing different, with the hosts immediately on the attack trying to break the deadlock. Cristiane almost did exactly this in the 50th minute, but she could not direct her low drive into the net.
As time went by, Barcelona were sitting back to preserve the stalemate which would eventually lead to extra time and then a penalty shoout-out. Caroline Seger missed an absolute sitter in the 65th minute when, following a Cristiane's set piece, she could not turn the ball into the net from few yards out.
PSG introduced record-making striker Anja Mittag as we entered the latter stages of the game to increase their presence in Barcelona's own half, but it was the Catalans who almost forged ahead in the 79th minute only for them to squander a golden opportunity.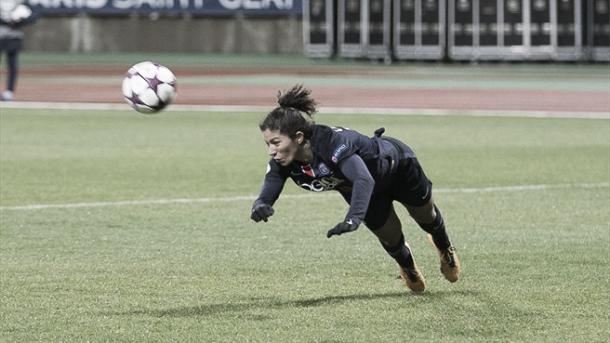 This moment seemed to motivate the Parisians even more as they started to put everything into their attacks in search of the first goal of the tie, one which would avoid the extra time.
On 86 minutes, they were rewarded for their constant creation of goal-scoring opportunities when, following a cross from the left flank, Cristiane produced a stupendous flying header and, with the complicity of Sandra's howler, put PSG in front.
There was still time for the Catalans to level matters, but this goal dealt a huge blow to them and they did not have any more energy to press.
PSG almost scored another only for Sandra to pull off another great save, but it didn't matter in the end as one was enough to set up an all-French semi-final with Olympique Lyonnais.