Teams headed into this weekend of Division 1 Feminine matches knowing that anything less than three points could change the course of their season.
Lyon stay ahead of PSG
At the top of the table, Olympique Lyonnais secured a vital away win at Juvisy. With Claire Lavogez out for six to eight weeks, Lyon were happy to welcome back from injury captain Wendie Renard and Lotta Schelin to help with their title defense in the remaining weeks. Pauline Bremer scored the only goal of the game and gave Lyon a vital three points which keeps them ahead of Paris Saint-Germain at the top of the table.
This match was always going to be a difficult one for the reigning champions as Juvisy are chasing down Montpellier to finish third in the league. After not finding the back of the net in the first half, Bremer found the breakthrough for Lyon in the 71st minute.
PSG also won their game this weekend, beating Saint-Étienne away by four goals to nil. Marie-Laure Delie got a brace in this game, defender Sabrine Delannoy also chipped with a goal while Kenza Dali scored the goal of the game with a free-kick outside the box. PSG remain right behind Lyon and will hope to capitalise on any errors by the champions in the remaining weeks.
La Roche battle for survival
La Roche-sur-Yon continued their fight to stay in D1 after a tough home win against the team above them in the table, Guingamp.
In what was billed as one of the big matches of the weekend, Lisa Fragoli got the only goal of the game in the 81st minute. This leaves La Roche three points behind Guingamp with three games to go. They will be another team hoping to capitalise on any mistakes from the team above them in the standings then.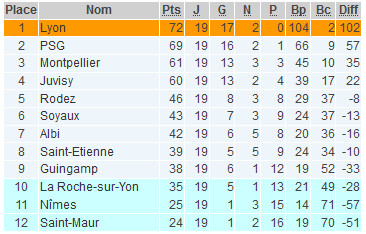 Relegated teams continue to struggle
Nîmes Metropole Gard and VGA Saint-Maur continued their awful veins of form which have already seen them relegated from D1.
Nîmes lost by two goals to one against ASPTT Albi, who rose further up the table into seventh, while Saint Maur were defeated by Soyaux, who won the game by two goals to nil.
Elsewhere, Montpellier kept ahead of Juvisy by winning their away match at surprise package of the season, Rodez. The goals came from Sofia Jakobsson, Laëtitia Tonazzi and Rumi Utsugi. However, unless PSG collapse in spectacular fashion, Montpellier will finish below the Parisiennes and out of the Champions League spots.